Banc of California Plans Major Push Into LA Market
Monday, April 26, 2021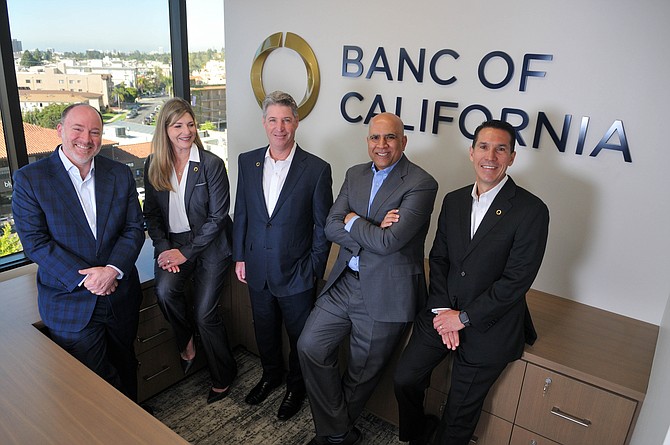 Santa Ana-based Banc of California Inc., which in March agreed to buy local rival Pacific Mercantile Bancorp in a stock transaction valued at $235 million, is planning to make a big play in Los Angeles.

The bank is looking to establish a significant corporate presence in the market, starting with new digs in Brentwood that will serve as a base to pursue more L.A. business.

"We are migrating more toward Southern California and the westside of Los Angeles versus Orange County," said Jared Wolff, president and chief executive of Banc of California. "The bank is technically headquartered in Santa Ana, and I've taken office space in Brentwood, and our name is going on top of a pretty big building there."
 
Banc of California, which has about half of its 29 branches in Los Angeles County, has leased space at a 10-story tower located at 11611 San Vicente Blvd., with its signage expected to occupy a prominent position in a few months. The space will primarily serve as corporate offices for Wolff and senior executives, with a branch on the fifth floor.

Wolff, who joined the bank in March 2019, has assembled a tightly knit team of executives, including several from his former employer, Beverly Hills-based PacWest Bancorp.

While at PacWest, Wolff was directly involved in 20 acquisitions between 2002 and 2014 in various roles, the last as president of the Pacific Western Bank unit.
 
Other executives brought into Banc of California by Wolff hail from the top ranks at Wells Fargo & Co. and MUFG Union Bank.

Another strategic hire, Alex Kweskin, formerly managing director of human resources with the $132 billion-in-asset MUFG Union Bank, plans to join Banc of California on May 3 as executive vice president and chief human resources officer.
 
"Technically, our headquarters is still where it is in Orange County. There's a regulatory process that we've got to go through to move our headquarters," said Wolff, who lives in Santa Monica and told his bank's board of directors at the time of his hiring in May 2019 that he'd only commute for one year.

"I think our bank has not done a great job of being as present as we could on the westside (of L.A.)," Wolff said. "So, we've obviously been increasing our presence since I've gotten to the bank here, and we'll continue to do that."
 
Joining Wolff in shuttling between the bank's dual headquarters in Brentwood and Santa Ana will be several senior executives, including Lynn Hopkins, executive vice president and chief financial officer of Banc of California; Jay Sanders, president of private and specialty banking (who has an office in Century City); Robert Dyck, chief credit officer; Ido Dotan, executive vice president and general counsel; Hamid Hussain, president of real estate and commercial banking; and John Sotoodeh, president of community and business banking.

Wolff worked with Dotan on M&A deals for PacWest when Wolff was at PacWest and Dotan was at the law firm Sullivan & Cromwell. Dotan followed Wolff to Banc of California in May 2019.

Hopkins was the chief accounting officer during Wolff's tenure at PacWest, and later the CFO. She moved to Banc of California in May 2019.  

Dyck, who was chief credit officer with PacWest during Wolff's tenure, joined Banc of California in September 2019.

Orange County questions

With the new Brentwood home in the works, the future of Banc of California's corporate headquarters building in Santa Ana is in question.    

The bank paid $76.4 million to buy the posh 10-story property at 3 Macarthur Place for its headquarters in late 2015, about a year before it fully moved in from leased facilities around Orange County.

"The bank, well that was before I got there, bought a building in Orange County and created a monstrous building there that has our name at the top," Wolff said. "The building is primarily occupied by Banc of California, but it is leasing some of the other floors."
 
About a quarter of the building's 260,000 square feet is empty, industry sources said.
"I don't think owning real estate that size is a good idea for our bank, and so we will look at ways to be opportunistic about how we use our real estate," Wolff said.

"I'm not making a statement that we shouldn't have a large presence in Orange County. I'm making a statement that we are going to continue to increase our presence in Los Angeles. And separately from that, a bank our size doesn't need to own a $100 million building in Orange County. If there are ways to unlock that capital, then we would look at ways to unlock that capital," he added.
 
Some branches, potentially from both banks, will be shuttered as some of Pacific Mercantile's branches overlap with Banc of California's markets.
 
The leased space at 949 South Coast Drive in Costa Mesa that serves as Pacific Mercantile's headquarters is roughly 3 miles from Banc of California's headquarters — offering Wolff another opportunity to consolidate.

"There's a large branch overlap. They have three branches, so you know if you have branches in the same communities, it doesn't make sense to have both, and we're going through the analysis now of what will best serve our combined clients. And so we're making those decisions in due course," Wolff said.

"In terms of people, there's a lot of great people at (Pacific Mercantile), and we're going to need those people to continue to serve the clients, and we haven't made any final hiring decisions yet. But you know we're going through that process now of figuring out who the best fit is long term," he added.

Cutting costs

Since Wolff took over at Banc of California, he has trimmed the size of the bank's assets from $10 billion to $8 billion, reduced expenses and dramatically cut down on some riskier lending.

He also saved $7 million annually over the next dozen-plus years by terminating the bank's naming rights deal with the Los Angeles Football Club stadium downtown.
 
In addition, Wolff reduced risky collateralized loan obligations, or CLOs, by about two-thirds their original size. At the end of 2020, the bank had a portfolio of $677.8 million of these riskier CLOs, all of which have variable rates, meaning they adjust when interest rates rise or fall. It had $1.7 billion in CLOs at the end of 2018.  

CLOs are often backed by corporate loans with low credit ratings or loans taken out by private equity firms to conduct leveraged buyouts. Nearly all of Banc of California's CLOs have top credit ratings.

"I took the bank from a little over $10 billion in assets down below $8 billion, so I shrunk the bank to stabilize the foundations that we could then grow the right way," Wolff said. "We demonstrated that we were able to do that."
For reprint and licensing requests for this article, CLICK HERE.