Business of Sports: How the Clippers Win With Their Sponsors
2021 Business of Sports Special Report
Monday, April 12, 2021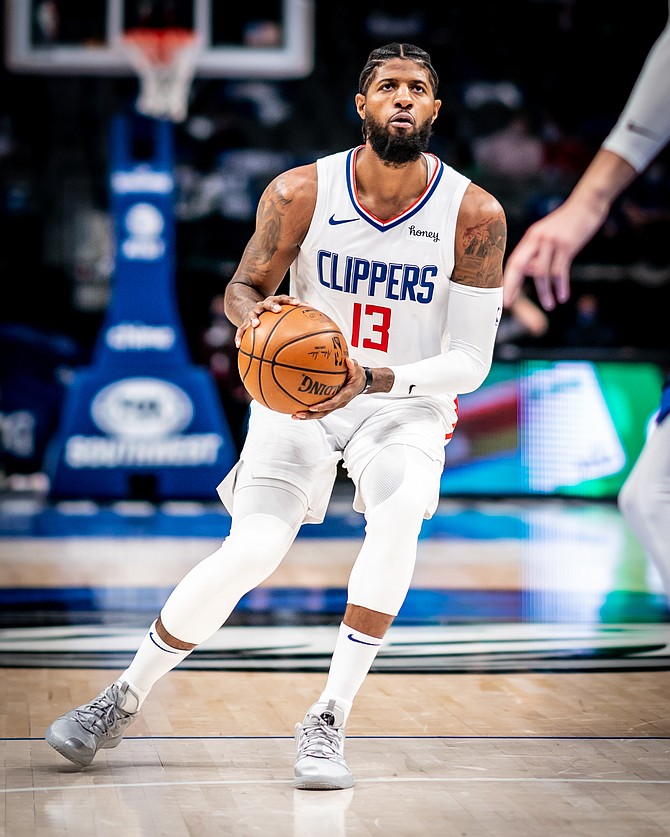 The way the Los Angeles Clippers see it, they've got two star-studded rosters.

One, of course, is the team's on-court lineup, a group anchored by Kawhi Leonard and Paul George that ranks among the National Basketball Association's best.

Off the court, meanwhile, the Clippers have assembled a collection of big-name corporate partners, a mix of long-term sponsors and newer advertisers that includes Cedars-Sinai Medical Center, City National Bank and Honey Science Corp.

The team's sponsors have played an important role in the Clippers' ability to weather the unique challenges of the pandemic.

"What has been instrumental to our business is a creative, go-getter staff that has been solution orientated and loves a challenge," said Scott Sonnenberg, the Clippers' chief global partnerships officer since 2018. "It has allowed our focus during the pandemic to not just stand pat with partner relationships but also bolster the roster a bit."

Partnership revenue for the 2020-21 season is up 10% over pre-pandemic seasons, according to the Clippers, and that revenue has increased 21.5% since 2017-18.

Although fans have been absent from Staples Center for more than a year — the Clippers plan to welcome back a limited number of fans starting April 18 with a game against the Minnesota Timberwolves — the team's business operations have been working overtime since last March.

A healthy relationship

Take the Clippers' relationship with Beverly Grove-based Cedars-Sinai, the team's official health provider since 2016.
 
During home games televised on Bally Sports SoCal (formerly Fox Sports' Prime Ticket), the Clippers have given Cedars-Sinai permanent logo space along the apron of the court — the floor area next to the team benches — as well as signage on the players' chairs.
 
The Cedars-Sinai logo is also in constant rotation on the LED sign at the courtside scorer's table, along with sponsors such as State Farm, Chick Fil-A Inc., Subway, Nike Inc., Pep Boys, Carmax, Verizon, City National Bank, Vizio Inc., and Clippers' CourtVision powered by Amazon Web Services.

The Clippers and Cedars-Sinai have teamed up during the pandemic to conduct community outreach with virtual and in-person programs, such as co-sponsoring a holiday gift drive caravan that handed out toys and masks to thousands of children.
 
"It's all about developing a true and authentic partnership that's more than just slapping a logo onto something and cutting a check," said Gordon Kolodny, who has served as executive director of marketing at Cedars-Sinai for more than 14 years. "We've had to reexamine everything, roll up our sleeves and demonstrate a value that worked for both sides. You want synergy and ways to better the community."

Jonathan Tillman, senior vice president of team marketing and business operations for the NBA, said the "bubble" experience to wrap up the 2019-2020 season last summer in Orlando, Fla., accelerated technical innovation.

Elements such as augmented reality for digital signage projected onto the court, which started in Orlando, were continued by teams when they returned to their own arenas.

"In light of the circumstances and the evolving way we have always put into the product, the onset of the pandemic gave teams and their partners a new way to look at things," Tillman said. "For the Clippers and Cedars-Sinai, it was natural for them to educate fans how to be safe, socially distanced, washing their hands, staying fit physically and mentally.
 
"That was all through leveraging new assets and pulling a lot of new levers in this environment across the board. It is something we have been thinking about and developing for a number of years, and this is the opportunity to enhance the timelines," he added.

Cedars-Sinai and the Clippers also created public service announcements featuring the team's players and staff.

And the two organizations amplified programs such as Write the Story and Healthy Habits to highlight health care workers in the community who have stepped up during the Covid-19 pandemic.
 
The Clippers' deal with Cedars-Sinai runs through the 2023-24 season. 

A Honey of a deal

The team also recently upgraded its partnership with Honey, making the downtown-based online coupon company the Clippers' new official uniform patch partner.

Although terms of the sponsorship were not disclosed, an NBA franchise can reportedly earn $7 million or more annually by allowing a company to attach its logo near the top left shoulder of the team's jersey.
 
Honey also has its logo affixed to the baseline area under each basket.

Other Covid-era deals reached by the Clippers included partnerships with sports betting space Betway Group and sports drink Gatorade.
 
The team also created opportunities with sponsors such as Lexus to host a virtual weekly dinner series for courtside seat holders. To entertain this exclusive group for these events, the Clippers sometimes bring in celebrities such as actor Jeff Garlin, team executives and local chefs.

In another recent move, the Clippers struck a deal in August with CAA Sports, a division of Century City-based Creative Artists Agency, to sell the naming rights for their future home at the Inglewood Basketball and Entertainment Center. The team is expected to break ground on the complex this summer and start play there for the 2024-2025 season.
 
Clippers' exec Sonnenberg, who came to L.A. after a 14-year run in global sales with the Chicago Bulls, said the Clippers enjoy an advantage because they play in a "destination market."
 
"I've always felt we were in a strong position to deliver regardless of a normal or an abbreviated season, or one with no fans," Sonnenberg said. "As we put this new building in place and can talk to current and potential partners, we're in a great position to take them to where they want to be. And our ability to adapt and look forward now allows us to sustain our business and look for even more growth."
Keep reading the 
2021 Business of Sports Special Report
.
For reprint and licensing requests for this article, CLICK HERE.