LA500 2020: Media & Entertainment
Monday, May 25, 2020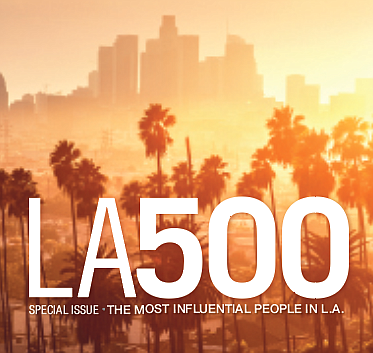 Abrams, J.J. — Bad Robot Productions
THE LATEST:  In September, Abrams' Bad Robot Productions signed an exclusive deal worth a reported $250 million to create films, TV series, video games and digital content for AT&T's WarnerMedia, parent company of the new streaming service HBO Max. Abrams, director of 2019's "Star Wars: The Rise of Skywalker," the ninth film in the "Star Wars" series, reportedly walked away from a more lucrative $500 million exclusivity deal with Apple TV Plus because WarnerMedia offered a broader landscape of media franchises and feature film possibilities.
BACKGROUND:  Abrams co-founded Bad Robot in 2001 and went on to produce hit TV series such as "Lost," "Alias," "Fringe," "Westworld" and "Person of Interest." On the film side, he helped revive the "Star Trek" franchise with new blockbuster titles and also put his stamp on the "Star Wars" universe, directing two films — "The Rise of Skywalker" and "The Force Awakens" — that each earned more than $2 billion at the box office.
YEARS ON THE LA500: 5
Allen, Byron — Entertainment Studios Inc.
THE LATEST:  In March, Allen made an $8.5 billion cash bid for Tegna Inc., the broadcasting and digital business of Gannett Co. Inc. That same month, Allen's five-year legal battle with Comcast Corp. over racial discrimination was derailed when the Supreme Court ruled that his $20 billion lawsuit against the media giant needed to meet a higher threshold to continue. Allen had sued Comcast for refusing to carry his entertainment channels.
BACKGROUND:  Allen, who started his career as a teenage standup comic, founded Culver City-based Entertainment Studios is 1993. He has built the company into a global media brand that owns TV stations and produces content for broadcast, cable and digital outlets. In 2018 Allen acquired The Weather Channel's television assets for roughly $300 million. Last year, he announced plans to launch The Weather Channel Español. Also in 2019, Allen was tapped as an equity and content partner for Diamond Sports Group and acquired four small-market TV stations for $165 million.
YEARS ON THE LA500: 2
Azoff, Irving — Azoff Co.
THE LATEST: Music mogul Azoff was inducted into the 2020 class for the Rock 'n' Roll Hall of Fame, which also gave him the Ahmet Ertegun Award. Named after the legendary founder of Atlantic Records, the award recognizes nonperformers who have had a significant impact on rock and roll. Azoff manages a range of businesses through his conglomerate Azoff Co., including A-list artists with Full Stop Management, songwriter representation with Global Music Rights and live entertainment with Oak View Group.
BACKGROUND:  Azoff has spent 50 years in the music industry, starting with his move to Los Angeles in 1970. His first client was the late folk musician Dan Fogelberg. Soon after he took on the Eagles — a relationship that would last more than 40 years. Azoff has served as CEO at MCA Records and Giant Records and led Live Nation Entertainment Inc., where he guided the company's merger with Ticketmaster Corp. Azoff also produced noted 1980s movies "Fast Times and Ridgemont High" and "Urban Cowboy," among others.
YEARS ON THE LA500: 2
Bergman, Alan — Walt Disney Studios
THE LATEST:  Bergman, who shares chairman duties with fellow LA500 member Alan Horn, saw Disney earn an estimated $11.1 billion at the worldwide box office in 2019. Seven Disney movies topped $1 billion at the box office, including "Star Wars: The Rise of Skywalker" and "Avengers: Endgame," which became the highest grossing movie of all time after bringing in $2.79 billion. In November, Disney dove into the streaming wars with the launch of Disney Plus, which had 10 million sign-ups in its first 24 hours. As part of its recent acquisition of 21st Century Fox, the company also added streaming service Hulu to its roster.
BACKGROUND:  Two months after Disney completed its $73.1 billion acquisition of 21st Century Fox in March 2019, Bergman was promoted to co-chairman. He has been with Disney since 1996, beginning as a director in the corporate controllership group. Bergman was named president of Walt Disney Studios in 2005.
YEARS ON THE LA500: 5
Brodkin, Karen — Endeavor
THE LATEST: Brodkin has expanded her leadership of Endeavor's sports representation efforts with WME Sports. Her responsibilities include content licensing, strategy and development. In the past year WME Sports has signed David Beckham, Tom Brady and Kawhi Leonard. Brodkin also serves on the Sports and Entertainment Leadership Council for Los Angeles Children's Hospital and the Los Angeles Leadership Committee of the U.S. Soccer Foundation.
BACKGROUND:  Brodkin joined Endeavor in 2014, a year after the agency's $2.4 billion purchase of sports and talent management company IMG. She previously served as executive vice president of business and legal affairs at Fox Sports Media Group, where she was instrumental in launching the Big Ten Network and Fox Sports. As an entertainment attorney, Brodkin represented clients such as Garth Brooks, Spike Lee, Warner Bros. and New Line Cinema. Brodkin is a member of the Leadership Circle of the Harvard Kennedy School Women's Leadership Board and sits on the Board of L.A. Family Housing.
YEARS ON THE LA500: 5
Burke, Stephen — NBCUniversal
THE LATEST:  Stephen Burke announced in December that he would step down as chief executive at NBCUniversal, a position he has held for the past eight years, when his contract expires in August. His resignation date would have coincided with the conclusion of NBC's coverage of the 2020 Summer Olympic Games, now postponed until 2021 due to coronavirus concerns. In May, Comcast agreed to sell its 33% stake in Hulu for at least $5.8 billion in a deal that closes within five years. Comcast plans to launch its Peacock streaming service in July.
BACKGROUND:  Burke's oversight includes a portfolio of news, sports and entertainment networks; a TV station group; and theme parks. He was named chief executive in 2011 after serving for 13 years as Comcast's chief operating officer. Before that, Burke served in various positions at Walt Disney Co., including president of ABC Broadcasting. He serves on the boards of Berkshire Hathaway Inc. and JPMorgan Chase & Co.
YEARS ON THE LA500: 5
Carter, Maverick — LRMR Marketing & Branding
THE LATEST: Carter's Uninterrupted, an athlete empowerment multimedia platform co-founded with business partner LeBron James, expanded its profile in 2019 by launching a collegiate-inspired apparel collection that builds on previous collaborations with Nike, Bristol Studio and Eric Emanuel. LRMR's SpringHill Entertainment Film and TV company, named for the Spring Hill apartments in Akron, Ohio, where Carter grew up, includes a Netflix series about Madame C.J. Walker, an entrepreneur in hair care for black women that launched in April 2020. Other projects in development include a comedy series about a sneaker store for HBO. The company's Ryan Coogler-directed "Space Jam 2" starring James, is slated for release in summer 2021.
BACKGROUND:  Carter and James co-founded LRMR Marketing & Branding in 2008 to manage their investments and assets. Under the LRMR umbrella, the pair currently oversee a growing roster of companies, including Uninterrupted, SpringHill, and Robot Co., a marketing business whose clients have included JPMorgan Chase and Beats by Dre.
YEARS ON THE LA500: 2
Carter, Shawn "Jay-Z" — S. Carter Enterprises
THE LATEST: In late 2019, the NFL tapped Jay-Z's Roc Nation to consult on entertainment productions such as the Super Bowl halftime show, as well as to get the rap superstar involved in the football league's Inspire Change Initiative. Cannabis brand Caliva, which brought on Jay-Z as a marketing strategist in July, debuted its first Deli by Caliva dispensary in Bellflower in November. The businessman also added to his champagne brand, Armand de Brignac, by introducing a new champagne priced at $1,000 a bottle.
BACKGROUND:  Brooklyn-born Jay-Z launched his music career by founding Roc-A-Fella Records in 1995. His first album, "Reasonable Doubt," was released in 1996. That same year he founded clothing brand Rocawear, which he would sell in 2007 to Iconix Group for $204 million in cash. He bought Norwegian technology company Aspirio in 2015 for $56 million and with a consortium of other musicians relaunched it as music streaming business as Tidal. He also owns entertainment company Roc Nation.
YEARS ON THE LA500: 3
Carteris, Gabrielle — SAG-AFTRA
THE LATEST: Actor-turned-activist Gabrielle Carteris was re-elected president of the Screen Actors Guild-American Federation of Television and Radio labor union in August 2019. Among the biggest challenges for the union this year: TV/theatrical contract negotiations. The current three-year deal with the studios, negotiated through the Alliance of Motion Picture and Television Producers, expires on June 30. The contract covers work by the union's 160,000 members and generates more than $1 billion in annual compensation. On the table are such issues as residuals, emerging media, and scenes involving sexuality and nudity.
BACKGROUND: Carteris rose to fame portraying Andrea Zuckerman on Aaron Spelling's hit 1990s teen drama "Beverly Hills 90210." Her high profile among teens led her to become involved in youth-targeted organizations, including DARE America, the Noxzema Extraordinary Teen program and MADD. As a producer, she created "Lifestories" and her own talk show, "Gabrielle." Carteris was first elected SAG-AFTRA president in 2016. During her tenure, she has been outspoken about age discrimination, gender parity and sexual harassment in the entertainment industry.
YEARS ON THE LA500: 1
Chapek, Bob — Walt Disney Co.
THE LATEST: Bob Chapek assumed the role of chief executive at Walt Disney Co. on Feb. 25, becoming the seventh CEO in the company's 100-year history. He replaced Bob Iger, who continues as executive chairman of one of the world's largest media companies. The announcement took entertainment industry watchers by surprise, especially given Chapek's parks and products background at a time when film, TV and digital entertainment content has become increasingly important to Disney. The move came on the heels of the November launch of the Disney Plus streaming service.
BACKGROUND: A longtime Disney executive, Chapek previously led the Disney Parks, Experiences and Products division, where he oversaw the company's travel and leisure businesses, which include six resorts, a cruise line and a guided family adventure experience. Before joining Disney, Chapek worked at H.J. Heinz and ad agency J. Walter Thompson.
YEARS ON THE LA500: 1
Chernin, Peter — Chernin Group
THE LATEST: In November, Chernin Group disclosed the existence of a $700 million investment fund called TCG, which had been doing business for about a year. At that point, the fund had spent $200 million to invest in nine companies including table game company Exploding Kittens, Zola bridal registries and Dadi, a male health company — a departure from Chernin's previous entertainment investments. Chernin Entertainment produced 2020 Best Picture nominee "Ford vs. Ferrari." In 2019 Chernin sent an email to high-ranking Hollywood execs in an effort to raise $15 million to fight anti-abortion legislation.
BACKGROUND: Chernin's streaming platform Otter Media was fully acquired in 2019 by AT&T's WarnerMedia in a deal estimated to be worth $1 billion. AT&T had owned a 50% stake in Otter, which has acquired companies that cater to young viewers through a mix of anime and YouTube talent. The executive founded Chernin Group in 2010. From 1996 to 2009, Chernin served as president and chief operating officer at News Corp., where he led the company's L.A.-based businesses including the 20th Century Fox film studio. Previously he was president and chief operating officer at Lorimar Film Entertainment.
YEARS ON THE LA500: 5
Chervin, Ted — ICM Partners
THE LATEST: ICM Partners struck a deal to sell a one-third stake in the agency to private equity firm Crestview Partners in December for $150 million. ICM said the funding would be used to fuel the agency's domestic and international expansion efforts. As with other Hollywood talent agencies, ICM has been hurt by the coronavirus, laying off support staff as the pandemic crippled the entertainment industry in the spring. ICM remains locked in a battle with the Writers Guild of America.
BACKGROUND: Chervin joined ICM in 2006 when the firm acquired the Broder Webb Chervin Silbermann literary agency, where Chervin was a partner. He is known for packaging hit TV series including "Breaking Bad," "The Big Bang Theory," "Modern Family," Scandal" and "Dancing With the Stars." Chervin serves on the board of the Academy of Television Arts & Sciences Foundation. A Harvard Law School graduate, he began his career as an assistant U.S. attorney in New York trying felony criminal cases.
YEARS ON THE LA500: 4
DeGeneres, Ellen — "The Ellen DeGeneres Show"
THE LATEST: In January, DeGeneres became the second person to accept the Carol Burnett Award at the 77th Annual Golden Globe Awards. The first recipient of the award was Burnett herself. In February, "Ellen's Game of Games" game show was renewed for a fourth season on NBC.
BACKGROUND: Louisiana-born DeGeneres started as a stand-up comic with a deadpan delivery before moving to film and television. She made history with her sitcom "Ellen" in 1997, when her TV character came out as a lesbian. In 2003, she launched her long-running talk show "The Ellen DeGeneres Show." DeGeneres voiced memory-impaired fish Dory in the Pixar hits "Finding Nemo" and "Finding Dory." She has received the Presidential Medal of Freedom and the Mark Twain Prize for American Humor. DeGeneres, who has hosted "Ellen's Game of Games" since 2018, served as host of the Oscars in 2007 and 2014.
YEARS ON THE LA500: 5
Eisner, Michael — Tornante Co.
THE LATEST: Tornante's popular animated Netflix show, "Bojack Horseman," took home its second consecutive Annie Award in 2020 and netted an Emmy nomination for Outstanding Animated Program in 2019. Weighing in on his former employer's 2019 management changes, Eisner praised the selection of Bob Chapek to succeed Bob Iger in the Disney CEO post in February.
BACKGROUND:  Eisner began his entertainment career at ABC, where he helped take the network from third to first place with landmark shows including "Happy Days" and "Barney Miller." He became president of Paramount Pictures in 1976, shepherding such hits as "Raiders of the Lost Ark," "Saturday Night Fever" and "Grease." Eisner was named chairman and chief executive of Walt Disney Co. in 1984 and spent the next 21 years expanding the company into a global media empire. After turning Disney Co. leadership over to Bob Iger in 2005, Eisner founded Tornante Co., a privately held firm that invests in, acquires and operates media and entertainment businesses.
YEARS ON THE LA500: 5
Emanuel, Ariel — Endeavor
THE LATEST: Emanuel's goal to take Endeavor to the next level unraveled amid market turmoil last October when the talent agency canceled its planned initial public offering. Endeavor and backer Silver Lake Partners, which has invested more than $750 million, spent the following months charting a new course while shouldering a reported company debt of $4.6 billion. The Covid-19 pandemic prompted extensive layoffs, while Emanuel has pledged to forgo his salary until the end of 2020.
BACKGROUND: Emanuel and Executive Chairman Patrick Whitesell merged their Endeavor agency with William Morris in 2009 to form WME Entertainment, the largest agency merger in history. In 2014, a $2.4 billion deal with IMG expanded the agency into the arenas of sports, fashion, media and events. In 2017, the company formed Endeavor Content, which develops and sells TV shows and movies. Endeavor is among several Hollywood talent agencies in conflict with the Writers Guild of America over deals that expand agency purview beyond traditional talent management duties.
YEARS ON THE LA500: 5
Feltheimer, Jon — Lions Gate Entertainment Corp.
THE LATEST: Despite a prolonged slump in Lions Gate Entertainment Corp. stock that lasted through 2019, Feltheimer remained publicly positive about the company's prospects for 2020. Late last year, the company said it planned to continue to invest in its premium cable company, Starz, and Lions Gate reported in February that the service had grown to 26.2 million subscribers. The studio's feature film slate grossed nearly $1.3 billion at the global box office in 2019.
BACKGROUND: Brooklyn-born Feltheimer has served as chief executive of Lions Gate since 2000. The company acquired Starz for $4.4 billion in 2016. In his more than 30 years in the entertainment industry, Feltheimer also has held leadership positions at Sony Pictures Entertainment's Columbia TriStar Television Group and New World Entertainment. Under Feltheimer the studio has produced Oscar winners such as "La La Land" and "Precious," the blockbuster "Hunger Games" franchise and award-winning TV series, including "Mad Men" and "Orange Is the New Black."
YEARS ON THE LA500: 5
Ferro, Jennifer — KCRW
THE LATEST: Ferro said that Santa Monica-based NPR affiliate KCRW will continue its commitment to cutting-edge music programming, which receives substantial airtime on the station. To that end, in January the station announced it had promoted longtime KCRW DJ Anne Litt to music director. Litt is the fifth person to hold the influential post since it was created in 1979 and the first woman in the job.

BACKGROUND: Ferro joined public radio station KCRW in 1994. Since starting as a volunteer, she has held various roles including assistant general manager and executive producer of the "Good Food" program. She has also worked in development, membership production, operations and marketing. In 2019 KCRW left its basement digs and moved into a new 34,000-square-foot, three-story glass structure built at a cost of $21.7 million on the Santa Monica College campus. Ferro is a senior fellow for the UCLA Luskin School of Public Policy and serves on the board of Zocalo Public Square.
YEARS ON THE LA500: 2
Gazzale, Bob — American Film Institute
THE LATEST: The America Film Institute postponed its Life Achievement Award Gala honoring Julie Andrews due to coronavirus concerns. Earlier that month, Gazzale and AFI Trustee Steven Spielberg announced a virtual AFI Movie Club to bring film fans together during the crisis. Last year the institution received a $350,000 grant from the National Endowment for the Arts to study gender parity in American film history.
BACKGROUND: The AFI was established in 1967 as a nonprofit educational organization. Gazzale, a film historian and TV producer, became the organization's third president and CEO in 2007. He had been with the institute since 1992, holding positions including director of international programs in New York and director, AFI productions, in Los Angeles. Gazzale has been a writer and producer of the AFI Life Achievement telecasts and has worked on "AFI's 100 Years … 100 Movies" series. He won an Emmy in 2013 for "AFI Life Achievement Award: A Tribute to Mel Brooks."
YEARS ON THE LA500: 2
Gianopulos, Jim — Paramount Studios
THE LATEST: Following the 2019 merger of Paramount parent Viacom and CBS Corp., which recombined the two entities owned by the Redstone family, Gianopulos' role was expanded to include oversight of filmed entertainment operations while continuing his Paramount duties. Paramount Pictures scored a box office hit with 2020's live-action animated "Sonic the Hedgehog," which raked in a much-needed $307 million in worldwide box office, making it the second-highest ranking film of 2020 to date.
BACKGROUND: Gianopulos joined Paramount in 2017, one year after the studio posted a $445 million annual loss. He replaced Brad Grey, who passed away in May of that year. A Hollywood veteran, Gianopulos got his start at Paramount and Lorimar before moving to Fox, where he oversaw hits such as "Avatar," "Deadpool" and Oscar Best Picture winner "12 Years a Slave." Gianopulos serves on the boards of the Motion Picture & Television Fund, USC's Entertainment Technology Committee and the Academy Museum of Motion Pictures.
YEARS ON THE LA500: 4
Goodman, David — Writers Guild of America West
THE LATEST: Goodman was re-elected as president of the WGA West in September, defeating Phyllis Nagy by a landslide. The win sent a strong message of support for Goodman in the union's battle with talent agencies and their practice of packaging talent to studios while also starting to produce their own content. Writers lost ground in the battle in late April, though, when a Los Angeles federal judge dismissed virtually all of WGA's claims against the talent agencies. The coronavirus stalled negotiations between the WGA and the Alliance of Motion Picture and Television Producers over a new contract. The previous pact expired May 1.
BACKGROUND: Writer and producer Goodman is best known for his television work, including the series "Family Guy," "Futurama" and "The Orville." He received a 2003 Nebula Award for the "Futurama" episode, "Where No Fan Has Gone Before." Goodman was born in the Bronx, New York, and is a graduate of the University of Chicago.
YEARS ON THE LA500: 1
Grainge, Lucian — Universal Music Group
THE LATEST: Grainge's year got off to a strong start when UMG artist Billie Eilish swept the top honors at the Grammy Awards. But in the weeks that followed, Grainge became one of the highest-ranking executives in L.A. to contract the coronavirus. After being hospitalized, he returned home to continue his recovery. UMG, meanwhile, posted strong first-quarter results with a 13% year-over-year gain in revenue to $1.9 billion.
BACKGROUND: Grainge joined UMG in 1986. He became chief executive in 2010 and added the chairman title in 2011. Grainge led the company through its acquisition of EMI's labels, which made UMG the largest music label in the world. Grainge has worked with or signed artists including ABBA, Jay-Z, Katy Perry, Rihanna, Sam Smith, U2 and Amy Winehouse. British-born Grainge was knighted in the Order of the British Empire in 2016 and was awarded the Commander of the Most Excellent Order of the British Empire in 2010.
YEARS ON THE LA500: 5
Grazer, Brian — Imagine Entertainment
THE LATEST: Grazer and Imagine business partner Ron Howard have waded into Hollywood's streaming wars. Last year the company sold a film adaptation of J.D. Vance's memoir "Hillbilly Elegy" to Netflix for $45 million, and the movie will hit Netflix and theaters later this year. In 2019, Grazer signed a first-look deal with the new Apple TV Plus streaming service to air Imagine Documentary films.
BACKGROUND: While developing TV pilots for Paramount Pictures in the early 1980s, then television producer Grazer met Howard, who became his friend and business partner. Their professional collaboration began with the hit comedies "Night Shift" (1982) and "Splash" (1984). They co-founded Imagine Entertainment in 1986 and severed a longstanding relationship with Universal Pictures in 2016 as Imagine expanded into documentaries, Broadway shows and the creative accelerator Imagine Impact. The company's "A Beautiful Mind" won the Academy Award for Best Picture in 2001. Imagine Television co-produced the TV hit "Empire" with 20th Century Fox Television.
YEARS ON THE LA500: 5
Horn, Alan — Walt Disney Studios
THE LATEST: As chief creative officer, Horn has oversight of production, marketing and distribution for properties including Disney, Walt Disney Animation Studios, Pixar and Marvel Studios. He's also responsible for the creative output of the new Disney Plus streaming service. In 2019, Disney theatrical releases pulled in an estimated $11.1 billion worldwide. Seven of the studio's films topped $1 billion at the box office, including "Star Wars: The Rise of Skywalker" and "Avengers: Endgame" — the highest grossing movie of all time.
BACKGROUND: Horn has served as chairman at Walt Disney Studios since 2012. In 2019, he was given the additional title of chief creative officer, and Alan Bergman was promoted to co-chairman. Horn presided over both the integration of Lucasfilm in 2012 and Disney's $71.3 billion purchase of 21st Century Fox's film and television properties in 2019. Horn also oversees content production for Disney's streaming services. Prior to Disney, Horn served as president and chief operating officer at Warner Bros. Entertainment.
YEARS ON THE LA500: 5
Hudson, Dawn — Academy of Motion Picture Arts and Sciences
THE LATEST: With a just-renewed contract through 2023, Hudson is set to oversee the opening of the Academy Museum of Motion Picture Arts and Sciences on Dec. 14. The date of the long-awaited opening of the mid-Wilshire institution was announced on the Feb. 9 Oscar telecast. A new museum director, Bill Kramer, assumed his post on Jan. 1. Earlier this year the museum's budget was revised from $388 million to $482 million. Cost overruns will initially be covered by a $100 million bond. The museum will launch a new round of fundraising when the facility opens.
BACKGROUND: Hudson became head of the Academy in 2011. She oversees the organization's education, outreach, research and preservation efforts, including the Oscars. Before joining the Academy, Hudson spent two decades at Film Independent, the organization that oversees the Independent Spirit Awards. The Arkansas native received her degree from Harvard University. She was formerly Editor-in-Chief of St. Louis Magazine.
YEARS ON THE LA500: 2
Huvane, Kevin — Creative Artists Agency
THE LATEST: 2019 was a tumultuous year for CAA, which along with other top talent agencies waged a legal battle with the WGA over packaging fees. In November, CAA announced that it planned to raise about $400 million to buy back equity from its agents and executives in a move that would reward agency employees, including Huvane, with equity positions. CAA replaced its management structure with an 11-member board to oversee day-to-day operations, headed by Co-Chairmen Huvane, Richard Lovett and Bryan Lourd.
BACKGROUND: Huvane joined CAA in 1995, and today oversees the agency's lifestyle division, which includes culinary, commercial endorsements and speakers. His clients include Jennifer Aniston, Sandra Bullock and Tom Cruise. In 2010 he was instrumental in securing investment in CAA from private equity firm TPF, a move that changed the way talent agencies operate. Huvane also leads the CAA-CBG Global Brands Group joint venture.
YEARS ON THE LA500: 5
Iger, Robert — Walt Disney Co.
THE LATEST: Iger stunned Hollywood with his Feb. 25 departure as chief executive after 15 years in the post. In turning over the reins to longtime Disney executive Bob Chapek, Iger said he planned to remain with Disney as executive chairman through the end of his contract on Dec. 31, 2021. Before stepping down, Iger oversaw the November launch of streaming service Disney Plus. His book, "The Ride of a Lifetime: Lessons Learned from 15 Years as CEO of the Walt Disney Company," was released in September. Disney closed its $71.3 billion acquisition of 20th Century Fox in March 2019.
BACKGROUND: During Iger's tenure as chairman and chief executive, Disney acquired Pixar, Marvel Entertainment and Lucasfilm. Iger began his career at ABC in 1974, rising through the ranks at Capital Cities/ABC Inc., which was acquired by Disney in 1996. Iger is married to Willow Bay, who currently serves as dean of the USC Annenberg School for Communication and Journalism.
YEARS ON THE LA500: 5
Iovine, James — Beats Electronics
THE LATEST: Music industry icon Iovine launched Beats Electronics with Dr. Dre in 2006 and sold it to Apple in 2014 for $3 billion. He stepped away from day-to-day duties at the company, better known as Beats by Dre, in 2018. Iovine remains with Apple as a consultant. He and Dr. Dre recently announced they would donate Covid-19 test kits and free meals to help residents of Compton. In April, Iovine invested in esports company Faze Clan as part of a $40 million funding round.
BACKGROUND: Iovine launched his career in the 1970s as an engineer on recordings by artists such as Bruce Springsteen, Tom Petty and U2. He co-founded Interscope Records in 1990 and oversaw the creation of pioneering hip-hop music with artists including Tupac Shakur, Eminem and 50 Cent. Iovine also produced the 2002 film "8 Mile" starring Eminem before launching Beats as a headphone maker and eventually the Beats Music streaming service. Iovine and Dr. Dre were the subjects of the 2017 documentary "The Defiant Ones."
YEARS ON THE LA500: 5
Katzenberg, Jeffrey — Quibi
THE LATEST: Katzenberg's mobile-only streaming startup Quibi launched on April 6, just as the coronavirus kept viewers home to watch content on bigger television screens. To address the issue, Quibi said in April that it would soon also make Quibi content available on Chromecast-enabled televisions, devices and browsers. In March, Quibi announced it had closed a $750 million funding round, bringing the streaming service's total funding to $1.75 billion.
BACKGROUND: Katzenberg's mobile video content company Wndrco, which launched in 2016, invested $21 million in Tinkergarten, a startup focused on outdoor classes and activities for children. Katzenberg teamed up in 2018 with ex-eBay CEO Meg Whitman to develop Quibi, a mobile platform and service to create and stream content optimized specifically for the varying aspect ratios of smartphone screens. A former executive at Paramount Pictures and Walt Disney Studios, Katzenberg co-founded DreamWorks SKG with Steven Spielberg and David Geffen in 1994, serving as chairman until 2004, when he co-founded DreamWorks Animation.
YEARS ON THE LA500: 5
Kennedy, Kathleen — Lucasfilm
THE LATEST: Kennedy became president of Lucasfilm in 2012 just after the company was acquired by Disney for more than $4 billion. She oversaw the re-launch of the "Star Wars" franchise. In 2018, her deal with Lucasfilm was renewed through 2021. The renewal was seen as a vote of confidence as it came on the heels of 2018's "Solo: A Star Wars Story," which grossed $392 million worldwide, a disappointment compared to 2017's "The Last Jedi" and 2016's "Rogue One," which grossed $1 billion globally, and 2015's "The Force Awakens," which raked in more than $2 billion.
BACKGROUND: Kennedy's first film as a producer was the 1982 hit "E.T. the Extra-Terrestrial," and her credits include "Jurassic Park" and "The Sixth Sense." Before joining Lucasfilm Kennedy headed The Kennedy/Marshall Co., which she founded in 1992 with director Frank Marshall. In 1981 she co-founded Amblin Entertainment with Marshall and Spielberg. Kennedy serves on the boards of the American Film Institute, L.A. Promise Fund, Library of America and USC's School of Cinematic Arts. She was an organizer of the Hollywood Commission to Eliminate Sexual Harassment and Advance Equality.
YEARS ON THE LA500: 5
Knowles-Carter, Beyoncé
THE LATEST: With much of the music world brought to a standstill by Covid-19 and no new tracks of her own released since 2018, Beyoncé has still found ways to make an impact. The Grammy Award winner appealed to audiences to support front-line health care workers in the One World: Together At Home benefit concert. She also donated $6 million to aid organizations through her BeyGOOD initiative. On the business front, Beyoncé has a $60 million contract with Netflix and a $50 million deal with Pepsi along with a partnership with Adidas for her Ivy Park clothing line. She and husband Jay-Z ranked at No. 49 on the Business Journal's LA500 of Wealthiest Angelenos with a net worth of $1.5 billion.
BACKGROUND: Houston-born Knowles-Carter got her start in the R&B group Destiny's Child. She launched a solo career in 2003 with the the album "Dangerously in Love." Beyonce and Jay-Z have performed on each other's albums and a joint realease in 2018 called "Everything Is Love," as the Carters. Their 2018 On The Run II stadium tour grossed more than $250 million.
YEARS ON THE LA500: 3
Langley, Donna — Universal Filmed Entertainment Group
THE LATEST: Langley, the first British woman to head a major film studio, was named a Dame Commander of the Most Excellent Order of the British Empire in the annual Queen's honors list for 2020. Under Langley's leadership, Universal has received numerous awards including, most recently, Best Drama and Best Director honors at the Golden Globes for Sam Mendes' "1917." In 2019, Universal Pictures and Focus Features won five Academy Awards, including Best Picture for "Green Book."
BACKGROUND: Langley oversees global production, marketing and distribution for Universal Pictures, Universal Pictures International, Universal Pictures Home Entertainment, Focus Features and DreamWorks Animation. After joining Universal in 2001 from New Line Cinema, Langley spent nearly 20 years rising through the ranks before being named sole chairman of Universal Filmed Entertainment Group in January 2019. During her tenure, Langley led Focus Features' global realignment with Universal Pictures International, oversaw the studio's successful integration of DreamWorks Animation, and launched the Global Talent Development & Inclusion group.
YEARS ON THE LA500: 4
Legrett, Kevin — iHeartMedia
THE LATEST:  In a January restructuring, iHeartMedia grouped its markets into four divisions. LeGrett and Scott Hopeck co-led the Regional Division. LeGrett now oversees the company's West Coast region division, taking responsibility across some of the country's largest markets. He has been the market president of Los Angeles since 2015, overseeing the sales, programming, digital and event teams in L.A. iHeart has eight radio properties in L.A., including KIIS-FM, home to Ryan Seacrest.
BACKGROUND:  LeGrett began his career at CBS Radio. In 2003 he moved to Citadel Broadcasting to serve as the company's president. LeGrett joined iHeart in 2010 as vice president and market manager for Rochester, N.Y. He became senior vice president of operations for iHeartMedia's regional markets in 2012, overseeing more than 220 radio stations and more than 50 markets in the Northeast and Midwest regions. LeGrett moved to Southern California in 2015 when he took on the role of market president for Los Angeles. In 2017 he assumed the added responsibility of president of the company's West Division. LeGrett is a board member of California Broadcaster Association.
YEARS ON THE LA500: 5
Leiweke, Tim — Oak View Group
THE LATEST: As the coronavirus began to disrupt the world of sports and entertainment this year, Leiweke's Oak View Group took a deep dive into the impact of the pandemic and began trying to figure out how it could shape the future of live events. At the same time, Oak View continued to move forward with planning for new venues, announcing in March that it will build a 23,500-seat arena in Manchester, England, at a cost of more than $400 million.
BACKGROUND: A former chief executive of Anschutz Entertainment Group, Leiweke co-founded Oak View Group in 2015 with Azoff Co. Chairman Irving Azoff. Oak View is a development and investment company for sports and entertainment events. Leiweke was named president of the NHL's Los Angeles Kings in 1996, becoming chief of the team's parent company, AEG, in 2001. Under Leiweke, the company built a portfolio of arenas, theaters, stadiums and clubs around the world, including L.A. Live.
YEARS ON THE LA500: 5
Lombardini, Carol — Alliance of Motion Picture & Television Producers
THE LATEST: The Covid-19 crisis has not taken away the pressure involved in reaching agreements between the AMPTP and various Hollywood unions. Separate labor contracts between Hollywood's major studios and networks and unions for the actors, directors and writers are all on the table this summer. The atmosphere is already tense because of the stalemate between talent agencies and the Writers Guild of America, which has sought to abolish the agency practice of packaging fees.
BACKGROUND: Since her appointment as AMPTP president in 2009, Lombardini has served as chief negotiator between more than 350 motion picture and television producers and entertainment guilds and unions, including the Writers Guild of America and SAG-AFTRA. The Stanford Law School graduate also serves on the health and pension funds for the Directors Guild of America, the Motion Picture Industry Pension and Health Plans, the Screen Actors Guild, the Writers Guild of America and IATSE National Benefits Fund.
YEARS ON THE LA500: 1
Lourd, Bryan — Creative Artists Agency
THE LATEST: In the face of Covid-19, CAA instituted a series of staff salary cuts of up 50%. Lourd, along with fellow agency leaders Kevin Huvane and Richard Lovett, announced that they would forgo their entire salaries for 2020. The moves came just months after CAA restructured its senior management, creating an 11-member board to manage day-to-day operations that would be overseen by Lourd, Huvane and Lovett. Lourd continues to represent some of Hollywood's biggest stars, including Brad Pitt, Scarlett Johansson, Ryan Gosling, George Clooney, Daniel Craig, Sean Penn and Chris Hemsworth.
BACKGROUND: Lourd has been one of the driving forces at CAA for nearly 25 years, helping turn the agency into a talent powerhouse that represents professionals in the entertainment and sports industries. Born in Louisiana, Lourd attended USC, where he earned degrees in journalism and international relations. He also sits on the boards of multiple organizations such as InterActiveCorp, Lincoln Center for the Performing Arts, the John F. Kennedy Center for the Performing Arts, the American Film Institute and Sean Penn's CORE.
YEARS ON THE LA500: 5
Lovett, Richard — Creative Artists Agency
THE LATEST: CAA's three co-chairmen — Lovett, Bryan Lourd and Kevin Huvane — announced in April that they would give up their salaries this year after the talent agency instituted Covid-related salary cuts for the staff. Away from the agency, Lovett has teamed with the Anthony and Jeanne Pritzker Family Foundation and the Ballmer Group to launch a fund to aid public school students in need amid the coronavirus pandemic. Each party seeded the fund with a $250,000 contribution.
BACKGROUND: Lovett began his career in the mailroom of CAA before rising through the ranks in the motion picture department. He was appointed president of CAA in 1995 and in 1996 helped create the CAA Foundation, which works to involve the entertainment community in philanthropy, with a focus on education. Lovett is chairman of the Entertainment Industry Foundation's Think It Up national education initiative. He also sits on the board of DonorsChoose.org. Lovett has been honored for his activism, earning the Shoah Foundation's Ambassador for Humanity Award, presented by Steven Spielberg.
YEARS ON THE LA500: 5
Meyer, Ron — NBCUniversal
THE LATEST: Hollywood veteran Meyer provides strategic guidance and counsel on all aspects of NBCUniversal, including its film and television assets, as well as the global theme park businesses. Meyer also leads the board of the Academy Museum of Motion Pictures. The museum announced in February that it had reached the 95% mark in its goal for $388 million in pre-opening funding. Major construction has been completed on the museum, and exhibit installation is underway at the facility. Last August, Meyer sold his Malibu home for $100 million.
BACKGROUND: After serving as president and chief operating officer of Universal Studios since 1995, Meyer was promoted to vice chairman in 2013. He came to the company from Creative Artists Agency, the talent agency he co-founded in 1975 with four fellow agents from the William Morris Agency, where he worked as a television agent for five years. Meyer served in the Marine Corps before his start in entertainment at the Paul Kohner Agency.
YEARS ON THE LA500: 5
Morden Kichaven, Ilyanne — SAG-AFTRA
THE LATEST: Morden Kichaven helps guide a huge union as it prepares for contract renewals with studios and networks. Morden Kichaven has also been appointed to the steering committee of the L.A. 2020 Future of Creative Talent Summit. She serves on the California State Entertainment Alliance Advisory Board and is chair of FilmLA.
BACKGROUND: Morden Kichaven became the first woman appointed executive director in SAG history in 2005. With the 2012 merger of the Screen Actors Guild and the American Federation of Television and Radio Artists, she represents more than 80,000 members in Los Angeles. Her work includes contract negotiations, enforcement, operations, administration, profit and loss, governance, external affairs, communications, and member programs. She also serves as liaison to labor relations, civic alliances and strategic partnerships.
YEARS ON THE LA500: 5
Murdoch, James — Lupa Systems
THE LATEST: Murdoch's Lupa Systems has reportedly joined up with venture capital firm Betaworks to launch an incubator that will invest in startups that are developing platforms and tools to combat fake news, abuse and spam on social networks.
BACKGROUND: Murdoch served as chief executive of 21st Century Fox, the company his father founded, from 2015 to 2019. He has also been co-chief operating officer at 21st Century Fox, deputy COO at News America Inc., and chairman and CEO at Sky, Britain's subscription broadcaster. Murdoch is also on the board of Tesla Inc. In early 2019, he launched investment company Lupa Systems; the New York-Mumbai venture invested $5 million in Artists, Writers & Artisans, a comics publisher run by former Marvel Enterprises executive Bill Jemas.
YEARS ON THE LA500: 5
Murdoch, Lachlan — Executive Chairman and Chief Executive Officer, Fox Corp.
THE LATEST: Fox Corp. announced in March that it has entered into a definitive agreement to acquire Tubi, a free ad-supported streaming company, for about $440 million in net cash consideration at closing. It wasn't the only big deal Murdoch was involved in last year. In December, he paid $150 million — a California record — for the "Beverly Hillbillies" estate in Bel Air.
BACKGROUND: Murdoch is one of the heirs to News Corp., the media company built by his father, Rupert Murdoch. Lachlan Murdoch has held a range of roles across Fox properties over the past two decades. He served as executive chairman of 21st Century Fox prior to the closing of the company's merger with The Walt Disney Co. in March 2019. He has also served as deputy chief operating officer at News Corp., chairman of Fox Television Studios and publisher of the New York Post.
YEARS ON THE LA500: 5
Murdoch, Rupert — Executive Chairman, News Corp.
THE LATEST: After closing the $71.3 billion sale of 21st Century Fox to Walt Disney Co. in March 2019, Murdoch turned his attention to Fox Corp., which was spun out of 21st Century Fox as part of the merger. Fox Corp. is a more media-focused entity centered on the Fox broadcast network, Fox News, Fox Sports and a portfolio of local TV stations.
BACKGROUND: A native of Australia, Murdoch inherited a newspaper at age 22 from his father and launched his media career. Murdoch oversaw the expansion and development of 21st Century Fox into an international media and entertainment company and, in 2013, the launch of News Corp. as an independent public company. Murdoch controls a media empire that includes Fox News, The Times of London. The New York Post and The Wall Street Journal. Murdoch became a U.S. citizen in 1985.
YEARS ON THE LA500: 2
Nazarian, Sam — SBE Entertainment Group
THE LATEST: Nazarian's SBE is a leading developer, manager and operator of high-end hotels and restaurants worldwide. In April, SBE entered into a joint venture that plans to open 138 ghost kitchens by the end of the year. The venture, C3, is seeking to hire more than 500 workers in Los Angeles and said it will be actively recruiting for six months.
BACKGROUND: Nazarian founded SBE in 2002. The company owns 28 hotels and more than 200 restaurants and nightclubs around the world. Its brands include SLS Hotels and Residences, The Redbury Hotel, Katsuya, and Hyde Lounge Hotels and Residences. Nazarian led the acquisition of the Morgans Hotel Group in December 2016. He began his career in the tech industry, when he co-founded a telecommunications business, Platinum Wireless, which he later sold. He studied at New York University and USC.
YEARS ON THE LA500: 5
Nevins, David — Chairman and Chief Executive Officer, Showtime Networks Inc.
THE LATEST: Showtime's streaming platform, Showtime OTT, saw a 148% increase in signups during the four weeks starting on March 20 when it announced that it would offer a 30-day free trial to new customers. Time spent on the service and total plays were each up more than 50% during that period. In November Nevins became chair of the ViacomCBS Content Council, with an aim of maximizing the use of IP and talent relationships across the combined company.
BACKGROUND: From 2002 to 2010, Nevins was president of Imagine Television, where he oversaw development and production. Nevins brought hit shows "Arrested Development" and "Friday Night Lights" to life as an executive producer. In 2010 he joined Showtime, where he helped launch series such as "Homeland," "Billions" and "Ray Donovan." Showtime parent CBS announced in 2018 that Nevins would add the role of chief creative officer for the broadcast network, overseeing programming, marketing and research across CBS Television Studios, the CBS Television Network's Entertainment division, and programming for CBS All Access.
YEARS ON THE LA500: 5
Penske, Jay — Penske Media Corp.
THE LATEST: Penske's PMC announced plans on April 2 to launch sports business platform Sportico, marking the company's first investment in the field of sports. Sportico plans to provide industry news, data, information, strategies, leadership, insight and live media. It will have offices in New York and Los Angeles and reporters around the world.
BACKGROUND: Penske has built the company he founded in 2004 into a print and digital business that reaches more than 220 million consumers per month. PMC owns 22 media brands, including Variety, Deadline.com, Robb Report and Rolling Stone. Penske previously built and sold Mail.com and was co-founder of Firefly, the first mobile phone for kids. He has sat on the boards of the Wharton Entrepreneurial School, the American Film Institute and the Paley Center for Media. The son of auto-racing legend Roger Penske, he also owns and operates the Dragon Racing team in the Formula-E series.
YEARS ON THE LA500: 5
Rapino, Michael — Live Nation Entertainment
THE LATEST: Live Nation has been hit hard by the coronavirus pandemic as the market for sports and concerts came to a standstill in March. Soon after the company secured a $120 million revolving credit facility loan along with announcing $500 million in cost cuts — steps that were well received by some on Wall Street. Rapino also announced that he would forgo his $3 million salary for 2020.
BACKGROUND: Rapino has served as Live Nation's president and chief executive officer since 2005. He led the transformation of Live Nation into a live music brand with operations in more than 40 countries and annual revenue exceeding $10 billion. Comprising three divisions — Ticketmaster, Live Nation Concerts and Live Nation Sponsorship — the company annually issues some 500 million tickets, promotes more than 35,000 events, partners with more than 1,000 sponsors, and manages the careers of more than 500 artists. Live Nation's ecommerce sites average 80 million unique monthly users.
YEARS ON THE LA500: 3
Ryan, Tom — Pluto TV
THE LATEST: One year after Pluto TV was acquired by Viacom for $340 million, the free ad-supported streaming service continues to expand its content offerings. Programming is fueled by a mix of shows from parent company Viacom, which merged with CBS at the end of 2019, as well as deals with other networks, including the recently added "The Walking Dead" from AMC. The service currently reaches 22 million monthly users. Ryan is responsible for managing Pluto's 250-plus live channels and thousands of on-demand movies and TV shows.
BACKGROUND: Digital veteran Ryan co-founded music service Cductive before moving onto roles at Virgin Mobile. He served as senior vice president of digital strategy at EMI Music and as CEO of Threadless, a crowdsourced design and ecommerce company. Ryan co-founded Pluto TV in 2013. He is a graduate of Dartmouth College.
YEARS ON THE LA500: 2
Salke, Jennifer — Amazon.com Inc.
THE LATEST: Veteran programming executive Salke, who took the reins at Amazon Studios in 2018, has helped develop Emmy-winning comedies ("The Marvelous Mrs. Maisel" and "Fleabag") for Amazon Prime and committed to a big-budget series tapping of the "Lord of the Rings" universe. In 2019, Salke was a big spender on film content at the Sundance Film Festival. And in 2020, films from the South by Southwest Festival, disrupted by the coronavirus, were hosted exclusively on Amazon Prime Video.
BACKGROUND: Salke spent nearly a decade at 20th Century Fox Television, where she helped shepherd shows such as "Glee" and "Modern Family." In 2011 she became president of NBC Entertainment, which developed hit series such as "This Is Us." Early in her career, Salke worked at Aaron Spelling Productions, home to series such as "Melrose Place" and "Beverly Hills 90210."
YEARS ON THE LA500: 3
Sarandos, Ted — Netflix Inc.
THE LATEST: The coronavirus pandemic has been a boon for Netflix, which reported a surge in subscribers starting in mid-March. The streaming giant added 15.8 million subscribers in the first quarter to reach 182 million worldwide, a 22% year-over-year increase. Netflix also received 24 Oscar nominations this year and scored wins for Laura Dern's supporting actress performance in Noah Baumbach's "Marriage Story" and Best Documentary for "American Factory."
BACKGROUND: Sarandos oversees the acquisition and creation of Netflix content, including original series and films such as "Stranger Things" and the Covid-era sensation "Never Have I Ever." Sarandos has been responsible for Netflix's content operation since 2000 and led the company's transition into content production in 2013 with the launch of the series "House of Cards" and "Orange Is the New Black." Sarandos also serves on the boards of the Academy Museum and the Academy of Television Arts & Sciences, the Tribeca Film Festival and American Cinematheque.
YEARS ON THE LA500: 5
Scherma, Frank — Co-Founder and President, RadicalMedia
THE LATEST: Veteran producer Scherma is in his second year leading the Television Academy, which produces the Emmy Awards. Scherma's RadicalMedia partnered with female-focused production company Spark & Riot in September 2019 to produce content for brands, studios and networks.
BACKGROUND: Scherma founded RadicalMedia in 1993, and the company has captured Oscars, Emmys and Golden Globes. RadicalMedia helped create the pilot for "Mad Men," worked on National Geographic's "Mars" and has churned out documentaries on athletes such as Kobe Bryant and entertainers such as Nikki Minaj and Ed Sheeran. Scherma is a former member of the Television Academy Foundation's Digital Strategy Committee. Previously, he served as vice chair of the Academy's board of governors and was a member of the Creative Arts Emmy Award show committee.
YEARS ON THE LA500: 2
Schlamme, Thomas — Directors Guild of America
THE LATEST: Emmy-winning television producer Schlamme was named to a second two-year term as president of the Directors Guild of America last June. The board of the Directors Guild unanimously approved a new three-year agreement with the Producers Guild of America in early March. The contract included a nearly 50% increase in residuals for work on streaming platforms such as Netflix. On the guild's behalf, Schlamme in April signed an email from a coalition of Hollywood unions and guilds to their 500,000 members, encouraging solidarity, a focus on safety concerns, and links to Covid-19 resources and emergency financial assistance.
BACKGROUND: Schlamme is best known for his creative collaborations with TV writer-producer Aaron Sorkin. Schlamme's work on "The West Wing" netted him three directing Emmys. In addition, Schlamme has won directing Emmys for the Sorkin-created series "Sports Night" and "Studio 60 on the Sunset Strip," as well as for "E.R." and "Tracey Takes On…"
YEARS ON THE LA500: 1
Shell, Jeff — NBCUniversal
THE LATEST: Jeff Shell was named chief executive of NBCUniversal in January 2020, succeeding Steve Burke. He oversees the company's portfolio of news, sports, and entertainment networks, including NBCUniversal International Networks, Universal Parks and Resorts, and NBCUniversal Film and Entertainment. In May he restructured the company's senior management, as well as the leadership at NBC News. In the face of the coronavirus pandemic, Shell recently announced that top managers would take a pay cut.
BACKGROUND: Shell earned a bachelor's degree in economics and applied mathematics from UC Berkeley and an MBA from Harvard. He joined Comcast in 2005 as president of Comcast Programming Group, where he managed the company's regional and national networks. He became president of NBCUniversal in 2011 and was promoted to chairman of Universal Filmed Entertainment Group in 2013, overseeing NBCUniversal's film and network television businesses including NBC Entertainment, Universal Filmed Entertainment Group, Telemundo and NBCUniversal International.
YEARS ON THE LA500: 5
Silbermann, Chris — ICM Partners
THE LATEST: Silbermann's ICM Partners in December 2019 received a reported $150 million investment for a one-third stake in the agency from New York-based private equity firm Crestview Partners. ICM also acquired British music agency Primary Talent International in March.
BACKGROUND: Silbermann joined ICM Partners as co-president in 2007 following the agency's purchase of TV production company and agency Broder Webb Chervin Silbermann, where he packaged series such as "Grey's Anatomy" and "Criminal Minds." Silbermann graduated from UC Berkeley and serves on the school's board of trustees.
YEARS ON THE LA500: 4
Simmons, Bill — The Ringer, Bill Simmons Media Group
THE LATEST: Spotify agreed in February to pay nearly $200 million for The Ringer, the sports and pop culture podcast and media business launched by Simmons in 2016. The Ringer produces more than 30 podcasts, including shows by Simmons and personalities such as Larry Wilmore and Ryen Russillo.
BACKGROUND: Simmons began his career in Boston with a column called "The Sports Guy," which he originally sent to friends via email. The column's popularity landed him a guest columnist job at ESPN.com, and he became one of the site's most-read contributors. In 2015, he launched Bill Simmons Media Group, which includes podcasts spanning sports, pop culture and technology.
YEARS ON THE LA500: 2
Sitrick, Michael — Sitrick and Co.
THE LATEST: Sitrick has been called "the master of spin," and his Brentwood-based public relations firm is the crisis manager of choice for corporations, politicians and celebrities. Sitrick and Co. has been touted as one of the most expensive crisis managers in the business. Clients have included the estate of Michael Jackson and Papa John's founder John Schnatter. Sitrick, however, walked away from representing Harvey Weinstein in 2018.
BACKGROUND: Since founding Sitrick and Co. nearly 31 years ago, Sitrick has provided advice and implemented strategic communications programs for more than 1,000 companies. Prior to forming his firm, Sitrick served as senior vice president of communications for Wickes Companies Inc. and headed communications for National Can Corprec. He started his career as a reporter at the Washington Star and the Baltimore News American, as well as WSID Radio in Baltimore.
YEARS ON THE LA500: 5
Skoll, Jeffrey — Participant Media
THE LATEST: The Netflix documentary "American Factory," created by Participant Media and Higher Ground, Barack and Michelle Obama's production company, won the 2020 Academy Award for Best Documentary Feature. On the philanthropic front, the Skoll Foundation in April announced the five winners of the 2020 Skoll Awards for Social Entrepreneurship, including Glasswing International, the International Council on Clean Transportation, and the Organized Crime and Corruption Reporting Project.
BACKGROUND: Participant Media, the film company Skoll founded in 2004, has produced Academy Award winners such as "Spotlight" and "An Inconvenient Truth." Skoll was the first president of eBay and helped lead the company's initial public offering and the creation of the eBay Foundation. He founded the Skoll Foundation in 1999. He also created the Skoll Capricorn Investment Group and Skoll Global Threats Fund. Skoll holds a bachelor's degree in Electrical Engineering from the University of Toronto and an MBA from the Stanford Graduate School of Business.
YEARS ON THE LA500: 5
Spielberg, Steven — Amblin Partners
THE LATEST: One of most respected and prolific directors and producers in Hollywood history, Spielberg holds multiple Oscars and Golden Globes. His upcoming films as a director include the remake of "West Side Story," which is scheduled for release in December. As a producer, Spielberg's future slate includes another "Indiana Jones" installment and "Who Framed Roger Rabbit 2."
BACKGROUND: Spielberg chairs Amblin Partners, the company he formed in 2015. He leads the film and television production company in partnership with Participant Media, Reliance Entertainment, Entertainment One, Alibaba Pictures, and Universal Pictures. Spielberg won Best Director at the Academy Awards for "Schindler's List" and "Saving Private Ryan." The top-grossing movie director of all time, Spielberg has helmed box-office behemoths such as "Jaws," "E.T. The Extra-Terrestrial" and "Jurassic Park." He formed his own production company, Amblin Entertainment, in 1984, and 10 years later partnered with Jeffrey Katzenberg and David Geffen to form DreamWorks Studios.
YEARS ON THE LA500: 5
Whitesell, Patrick — Endeavor
THE LATEST: A difficult stretch at Endeavor, including a failed initial public offering last fall, became even more challenging when the coronavirus pandemic prompted significant layoffs at both Endeavor and the company's WME IMG talent agency. Whitesell and fellow Endeavor executive Ariel Emanuel said they will forgo their salaries for the remainder of 2020.
BACKGROUND: Whitesell and Emanuel created WME Entertainment in 2009 when they merged their Endeavor agency with William Morris. In 2014 they struck a deal with IMG to create WME IMG, a sports, fashion, media and events company. Before Endeavor, Whitesell worked at United Talent Agency and Creative Artists Agency. His clients included Ben Affleck, Christian Bale, Matt Damon, Jake Gyllenhaal, Hugh Jackman, Ryan Reynolds, and Denzel Washington.
YEARS ON THE LA500: 5
Winfrey, Oprah — Oprah Winfrey Network
THE LATEST: Despite extensive speculation and suggestions, Winfrey refrained from entering the race for the 2020 Democratic presidential nomination. Instead, she continued to focus on her OWN Network and its various offshoots, including the December launch of OWN on YouTube TV.
BACKGROUND: Winfrey became a household name during her syndicated talk show's 25-season run, which she parlayed into a media empire. In addition to launching OWN, Winfrey launched O: The Oprah Magazine and Harpo Films. She is one of the 500 richest people in the world, according to Forbes, which estimates her net worth at $2.6 billion. As an actress, Winfrey garnered an Oscar nomination for her 2014 role in "Selma" and an Emmy nomination for her work in "The Immortal Life of Henrietta Lacks." She has donated more than $425 million to charitable causes. Winfrey has been a member of the WW International board since 2015, when she acquired 10% of the company formerly known as Weight Watchers.
YEARS ON THE LA500: 5
Yanover, Paul — Fandango
THE LATEST: NBCUniversal-owned Fandango, which made its mark as an online movie ticketing service, has recently been pushing into the on-demand and streaming market in a big way. In April, Fandango took a big step in that direction when it acquired digital streaming business Vudu from WalMart. Vudu offers roughly 150,000 pay titles and 10,000 free movies and shows.
BACKGROUND: Yanover was named Fandango president in 2012. The company's portfolio includes Fandango, MovieTickets.com and Flixster. Yanover has also added Rotten Tomatoes and Fandango Movieclips to the Fandango digital network. Yanover began his career at Walt Disney Feature Animation. He also served as managing director of Burbank-based Disney Online, where he oversaw Disney-branded mobile and web activity. Yanover holds a master's degree in computer science from USC and a double-honors bachelor of science in computer science and economics degree from the University of Western Ontario.
YEARS ON THE LA500: 5
Young, Andre "Dr. Dre" — Aftermath Entertainment
THE LATEST: Music producer Dr. Dre is a principal of Aftermath Entertainment, the record label he founded in 1996. Part of Universal Music's Interscope Geffen A&M division, the label has represented artists such as Eminem, Kendrick Lamar, 50 Cent, Busta Rhymes and The Game. Dre earned further acclaim and fortune as a businessman, co-founding Beats Electronics with Jimmy Iovine in 2006 and selling the company to Apple for $3 billion in 2016. In early May, Dre and Iovine teamed up with Everytable Unite and the Compton United Relief Fund to provide 500 free meals a day to Compton residents affected by the Covid-19 crisis.
BACKGROUND: Compton-born Dr. Dre was a member of the hip-hop group N.W.A., whose triple-platinum album "Straight Outta Compton" was released in 1988. Dre co-founded Death Row Records in 1992 with Suge Knight and launched a successful solo performing career. In 2013 Dre and Iovine gave a $70 million endowment to create the USC Jimmy Iovine and Andre Young Academy.
YEARS ON THE LA500: 5
Zimmer, Jeremy — United Talent Agency
THE LATEST: As the Covid-19 crisis took hold, Zimmer and UTA co-presidents David Kramer and Jay Sures announced in March that they would forgo the remainder of their 2020 salaries. The agency also said it would furlough staff during the pandemic.
BACKGROUND: Zimmer co-founded UTA in 1991, building the agency into one of Hollywood's premier behind-the-scenes brands. Zimmer began his career in the mailroom at the William Morris Agency at the age of 19. He worked as a talent agent at ICM Partners, moving up to run its Motion Picture Literary and Motion Picture Packaging divisions. He then moved to Bauer/Benedek Agency and became a partner before engineering a merger with Leading Artists Agency to form UTA. Zimmer has represented artists such as Mariah Carey and DJ Khaled and actors such as Bryan Cranston and Kevin Hart.
YEARS ON THE LA500: 5
See the full LA500 list and features in the 2020 LA500 Special Edition.
For reprint and licensing requests for this article, CLICK HERE.