Jacmar Bulks Up for Retail
Restaurant supplier reaches out to consumers
Monday, March 30, 2020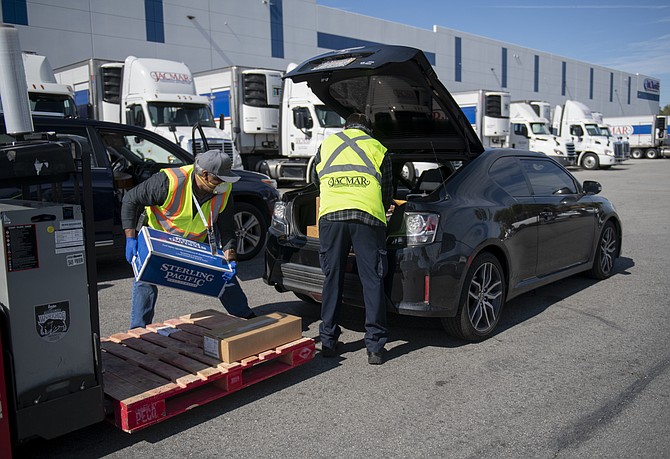 Delivery trucks sat idle as a line of cars snaked around Jacmar Foodservice Distribution's 232,000-square-foot warehouse in the City of Industry on a recent weekend.
Shoppers remained in their vehicles while workers filled their trunks with bulk groceries that had been destined for restaurants until Gov. Gavin Newsom ordered a halt to dine-in operations to prevent the spread of Covid-19.
Opening Jacmar's warehouse to the public for curbside pickup is one of several ways President and Chief Financial Officer Jim Hliboki is trying to keep his company afloat during the pandemic.

"When Covid-19 really started to get going a few weeks ago … we knew that sales were going to have to go down, but they all went down in one shot because once they started to close restaurants down, the bottom of the market fell out," Hliboki said.
"We saw our orders go down 75%. We're doing what every distributor around the country is doing, which is cutting back on our delivery days, consolidating (delivery) rounds and doing whatever we can to do everything as efficiently as possible," Hliboki added.
Jacmar, founded in 1959 and part of Alhambra-based Jacmar Cos.'s portfolio of investments, sells "everything that a restaurant needs" according to Hliboki, including meats, seafood, poultry and produce, as well as dry goods, dairy products, chemicals and food packaging.
"We like to joke that we were Amazon before there was Amazon because we take orders the night before and we deliver the next day," he said, adding that the company operates its own truck fleet and a second warehouse in Sacramento.  
The foodservice distributor ended 2019 with $265 million in revenue. The company has 180 employees.
Its clients are white-tablecloth, full-service, and fast-food restaurants and chains throughout California and Nevada, including BJ's Restaurants Inc., Islands Restaurants and Jacmar's sister company, Shakey's USA Inc.

Curb appeal
Jacmar had previously considered the idea of curbside pickup to distribute food to families in need. The pandemic provided the business angle.
"When this crisis first started to happen, and all of us started experiencing what it was like going out to the store and seeing nothing on the shelves, we said 'How do we get what we have in the public's hands, short of backing up a truck in a parking lot and selling out of the truck,'" Hliboki said.
With the emphasis on social distancing, Hliboki and his team decided to open the warehouse from 10 a.m. to 2 p.m. on weekends and Wednesdays, but "keep people in their cars because they don't really want to be in stores right now."
"Slim pickings" at big box stores prompted Mike White and Kristen Flynn to stop by Jacmar and stock up on shrimp, steaks, pasta and other staples they plan to share with three other friends.
"This is a very nice way to get a large quantity (of food) and split it up or to make sure you have enough." said Flynn, who's also Jacmar's vice president of human resources.
The warehouse price list distributed to shoppers includes a variety of items such as a 52-pound pack of ribeye steaks for $497; 52 pounds of chicken for $63; 20 pounds of shrimp for $109; and 32 pounds of clam chowder for $72.
But buying in bulk didn't work for all families shopping at Jacmar.
"The pack sizes are so large that the prices seem expensive to a lot of people," Hliboki said. "But we know as food service professionals what a good deal this really is compared to the grocery store.
"So, we said, 'Let's find cases we can break apart and create a meal out of it on an economical level.' For example, in the spaghetti and meatball kit there are 10 pounds of spaghetti, five pounds of meatballs and 109 ounces of marinara sauce, and we're selling that for $30. That's a great deal. In the pizza-making kit, there are four pizza dough balls, 109 ounces of pizza sauce and five pounds of shredded mozzarella, and that's going to cost $20."
Collaborative effort
Aside from opening the warehouse to the public, Hliboki is reaching out to food retailers and distribution centers to see if Jacmar's product surplus can help ease skyrocketing demand at grocery stores.
"It's been a lot of phone calls and a lot of meetings over the past week to try and find some partners to keep our guys going while the business is declining," he said.
Jacmar's predicament reflects the struggle food distributors across the country are facing.
The Virginia-based International Foodservice Distributors Association projects the industry will lose $24 billion over the next three months as the coronavirus pandemic shuts down restaurants, schools and hotels.
The association sent a letter to President Donald Trump asking for "assistance to increase access to capital to help these critical businesses weather this difficult storm."
"Foodservice distribution is a $280 billion industry, operating 15,000 distribution centers and employing 350,000 Americans," association President Mark Allen wrote in the letter. "Foodservice distributors typically operate with margins at 2% or below, so the loss of a major portion of a company's sales can have a dire impact."
Other Los Angeles County food distributors that have opened their businesses to the public include Boyle Heights-based B&R Foods Services, which supplies some 10,000 restaurants, and Kai Gourmet in El Segundo, which specializes in fresh seafood from New Zealand.
"I think everyone realizes that we are in this probably for a couple more months, and everyone is hoping and praying that it doesn't last much beyond that," Hliboki said. "But a couple of more months feels like an eternity right now to everybody."
For reprint and licensing requests for this article, CLICK HERE.