For the Win
Stan Kroenke's visions — for the Rams, SoFi Stadium and Inglewood — are becoming a reality
Monday, March 16, 2020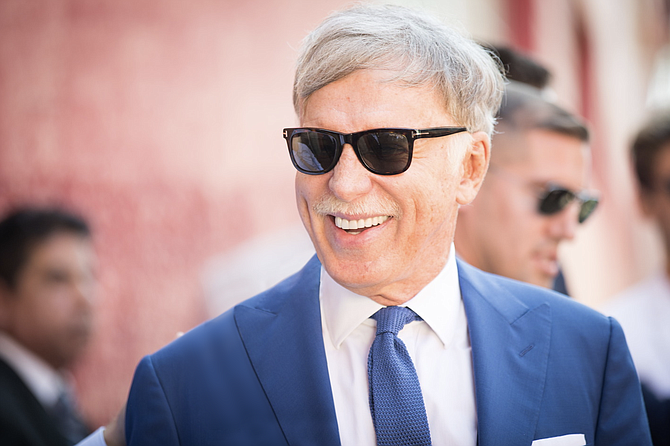 In the early 1990s, Stan Kroenke suggested to then-National Football League Commissioner Paul Tagliabue that it might be prudent to buy up Hollywood Park race track and the surrounding land in Inglewood.
At the time, the NFL wasn't keen on anything related to gambling, and Tagliabue passed.
Some 20 years later, after the track closed and the land became vacant, Kroenke returned to the idea. He secured the land, convinced the league it was time for his Rams to return to Los Angeles, and set about building a state-of-the-art complex on the 300-acre site.
With SoFi Stadium — privately financed at a reported cost of $5 billion — near completion and scheduled to open this summer, Kroenke can plant a flag as the 2020 recipient of the Los Angeles Business Journal's Business Person of the Year title.
Kroenke is usually reluctant to talk with the media, but he spoke extensively with the Business Journal from his Denver office on a range of topics, including how much he enjoys the business of sports in L.A., his almost-winning bid to buy the Los Angeles Dodgers, and the transformation taking place in Inglewood.
What's been your most memorable experience since moving the Rams back to Los Angeles?
Actually, it was flying back to Los Angeles after the NFL voted in January 2016 to allow us to move the franchise from St. Louis. As I was going to my hotel, three guys came running over — well dressed, maybe in their mid-30s, and very excited.
They said, "Oh, Mr. Kroenke, we knew you'd get this done."
And I said, "Really? You knew things we didn't know for sure? Interesting … Well, good."
And then they go: "Yeah, we just bought property in Inglewood."
"So you're gonna make some money, are you?"
And they go, "Yeah!"
That was a funny introduction, very warm. And by the way, it has never changed. It really is a wonderful thing the way we have been accepted. I do think it was a special relationship this city has had with the Rams. We always had Los Angeles people follow us, fly into games for years. And I think they viewed it as their team, and now it came back home. That's how we've been welcomed. It's a wonderful feeling.
You've said that you once imagined owning a sports franchise would be fun because it's part business and part sports, which is right in your wheelhouse. How's that working out for you?
(Laughing) I loved playing basketball — and, of course, I played baseball, but basketball was something I truly enjoyed — but I realized I couldn't play at the highest level. It's always good to have goals in life, and I thought it'd be a good goal, maybe I could own an NBA team someday.
The problem was I was just getting out of school, making some decisions, I just went into the real estate development business and that took me a while to create enough capital. So, while I was doing it, the prices went up, and I never quite caught up. I thought by the early '90s I could maybe have enough capital and do something like that, and by then, I remember Paul Allen bought his (National Basketball Association) team in Portland for about $80 million.
Most owners who bought teams back then likely didn't see it as a financial investment. It was only years later that TV rights and other elements tapped into this fountain of wealth.
You always start out as a true love. But I always believed in the old saying in business, "Don't fall in love with your deals." In real estate development, you have to be so optimistic. The Hollywood Park deal was sort of the ultimate in trying to be optimistic and planting your feet and do something people could talk about for many years. With the NFL, there were all sorts of deals across Los Angeles — downtown, inland (City of Industry), down south (Carson).
It's interesting, you know — I think the league should have bought Hollywood Park back in the late '90s (laughing). I told (then NFL commissioner) Paul Tagliabue at the time. The problem was that (a facility) with any type of gambling, that was certainly a no-no then, probably more heavily than with any sport. They just didn't want any touch of that, and so they didn't buy it. I told them that somebody's going to buy it, and it's going to end up being the best site for a football stadium.
You were in contention to buy the Dodgers eight years ago. Do you ever think about how things might have been different if your bid had been chosen?
We were, I think, the penultimate bid for the Dodgers. People on the inside will tell you we were in to the very last of it. But Guggenheim got it, and they've done a great job with it.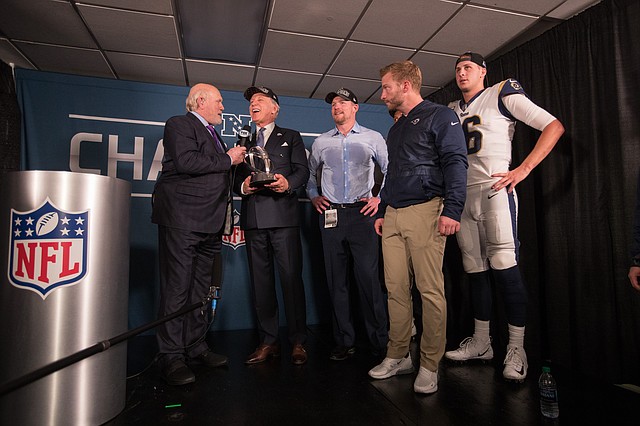 Did your ownership of teams in the NBA, NHL and MLS prepare you for the L.A. sports landscape? And do you interact much with the other owners in town?
When you're in these leagues, you're by definition interacting with them all the time anyway. I knew (former Lakers and Kings owner, and creator of the Forum) Jerry Buss and always had great admiration for him. Jeanie (Buss, his daughter now the controlling owner and team president of the Lakers), I see her often at league meetings and have had great respect for her.
I've always loved Magic (Johnson). I've known LeBron (James) since he was a young teenager and came into the league, and we made his acquaintance and he'd come out and watch games with us sometimes. I have super respect for him and for Phil (Anschutz, the Kings owner, part Lakers owner and builder of Staples Center) and Dean (Spanos, owner of the Chargers), and Steve (Ballmer, owner of the Clippers).
We're all competitors and play each other, but we also have really broad interests that align, and so many of those people become friends over the years.
Did you take any inspiration from Dr. Buss, particularly when it comes to family ownership of a team?
I've always had that in mind, but he was certainly one of the brightest. When you get a team in the NBA, you have to have a private interview with the commissioner and another owner. With me, it was with (Commissioner) David Stern and Dr. Buss, and I got a feel for him back then, admired the way he handled things, and built things and the quality of his teams.
It's sort of a case study in how you want to do it, but then you add the family side, and he probably looked at it a lot like I do. My son Josh is involved in all our businesses but really focused on sports.
Was it easy for someone of your age to become sold on the business of esports?
Josh heads all that up for us. We'll leave that one for him. All of us in pro sports know people like (New England Patriots owner) Bob Kraft is involved, the Philadelphia NBA owners (Harris Blitzer, buying Clutch Gaming). Part of it is trying to understand these different opportunities and who the customer is for them and try to learn from it. It's very interesting that way.
Since L.A. is such a dynamic business hub, have any new opportunities come your way since moving the Rams back?
It's interesting since I've been in L.A. for a long time and had a home there for two decades. I spent time in college up in San Francisco, so I've always liked that part of the world, but I didn't spend much time in Southern California. Then I figured out why everybody else did.
I worked (in L.A.) in real estate development in the early '90s, which over time led us into buying a home there. The weather is just unbelievable. Just the best. You overlay that with all the sports, and then all the people in the major media industry that live around here. That was always helpful to me.
I made lots of friends over the years because of that. It's interesting to look at that perspective — maybe New York would be another like it, but L.A.'s unique that way.
There are lots of companies I connect with — I've known Robert Iger and Disney for many years, and people around him. ESPN is around there. There are so many big relationships around L.A.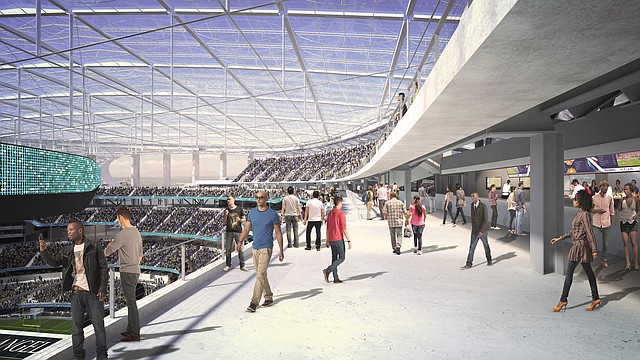 With SoFi Stadium construction almost complete, can you look ahead yet to what the next challenges might be?
The focus has had to be 100% (on construction). If you look at (NFL Commissioner) Roger Goodell's vision back in 2012, if there was any existing team in the league that for whatever reason was interested in moving to L.A., he had a vision, and creating an iconic stadium was one of them.
What was the start of the stadium building process like?
Our first meeting with HKS Architects, we didn't do (a request for proposal) because we were comfortable with them having designed the Dallas stadium that was biggest at the time (AT&T Stadium in Arlington, Texas, home of the NFL's Cowboys).
They also did the smallest new stadium in Indianapolis (Lucas Oil Stadium for the NFL's Colts) and they had under construction at that time the stadium in Minneapolis (U.S. Bank Stadium for the NFL's Vikings), which was a great example of what you could do in a mid-sized market. We felt they covered a lot of ground.
Did you have a clear vision for the Inglewood site?
I said at our first meeting that the opportunity in L.A. is so unique because we now have 300 acres of developable land, and that's not the same as having 300 acres in New York or London. This site was so well located and people already knew how to get there. I've had (NFL New York Giants co-owner and Hollywood film producer) Steve Tisch tell me he could find the Forum and Hollywood Park while he was asleep in the dark. It just tells you how easy it was in L.A. for people to know where it is.
There's also a whole other story here about how that community (in Inglewood) was sort of left behind (with the Lakers and Kings moving to Staples Center in 1999, and Hollywood Park closing in 2013). I really am proud with what we've been able to do there. Privately. And it is private with this investment.
What kind of impact do you believe the project will have on Inglewood?
I think we've raised that area, and the ways go back beyond those first three young men I ran into that had invested in Inglewood (in 2016) because they felt like we would get something done. I think the rising tide raises all ships. That's an old saying. We are proud of that. I believe it is a case study on private investment raising a city.
When we're done with construction, we will have had 12,000 people that had jobs on that site. Then there will be thousands more working there afterward. It's not just a short-term thing.
What were you aiming for when deciding what type of stadium to build?
This is the first stadium of this size to be built in L.A. in about 100 years, I think. (Chargers owner) Dean Spanos at one point said that he thinks this will change L.A. for the next 100 years. We hope we do that good a job. When we talked about our first quote on the cost for building this, I told everyone that our biggest challenge is not to undershoot the opportunity because this was so unique.
Hopefully people think we didn't (undershoot it). When I think of Hollywood Park, I don't know where it ranks in terms of private investment and private development on any scale, but I've had people tell me it's one of the largest ever in the U.S.
One of the things people have noticed as SoFi Stadium has emerged is how it can be seen from different areas of the city.
Yeah (laughing). I think that's sort of one of those extra plusses. We've had lots of people send us pictures. I just had someone in the sports business in the last week say they see it all the time flying into L.A. That's amazing. One of them said, "I thought that was a shopping mall at first." Anyway, now people can really start to see how it looks like the renderings we had.
There is also a lot of pressure in the business because of rising costs in construction, but we've never wavered with one bolt or with any one thing. We built exactly what we said we were going to build. We hope everyone's proud of it and we hope it meets Roger (Goodell)'s expectations. He's told me he used to work as a young gun in the NFL trying to get a stadium built in L.A., and I think, honestly, Roger is really pleased when he drives up to that site — just to see the reality of it. It's powerful for him.
With the SoFi Stadium complex adding NFL offices and the NFL Network moving there from Culver City, does it feel like the Rams are giving the league a new beachhead?
I think so. In the NFL, there are 32 owners, and a lot would look and say, I'd love to have the NFL Network (in my city), and that's a normal thing. At the end of the day, the reason it ended up there, and the league would tell you, is the talent exists in Southern California. It's where they live and are creative and produce things. To try to move that would be trying to move the town. The great thing I believe the NFL sees — and I think they've always wanted a Western sort of beachhead type thing as you said — (is) the fact it's next to the stadium. It's a growing thing. I was in a league meeting recently in Palm Beach (Florida), and I feel like everyone feels better and better about how we're doing the NFL Network and digital and all the initiatives we have in that endeavor.
In many ways it's like SoFi Stadium becomes a TV set.
That's exactly right. There are a lot of new ideas we've incorporated technologically, if nothing else. (Laughing) All of us owners, you have to be a fan. What makes a good owner? We all strive to win. The perfect owner would be one who never lost, right? I think all this starts with being a fan. Then to try to operate it so the economics work so you can have the longevity of success.
The hardest thing, I've always said, is to repeat success. There are times someone will have that outlier where they have success for years. Look at New England in the NFL, what they've accomplished with (quarterback Tom) Brady and (coach Bill) Belichick — that's just amazing. It gives us all a bar to strive for. That's what we're trying to do with the Rams. Trying to be right there every year and be competitive at the highest level.
As a developer, do you see parts of L.A. that are still ripe for transformation?
If you're innovative and creative, there is a lot of opportunity. You've got this Silicon Beach, and I don't see that getting slower. I first spent a ton of time in L.A. in the mid-'90s. A lot has changed since then, and it will continue to change and accelerate. I think the convergence of a lot of these technologies for content and streaming, all these kinds of thing, long term it (works) in favor of L.A. It's still a dynamic place that will get more so.
It seems people in whatever business they are, when they hitch to the back of technology and Moore's Law (the idea that the number of transistors on a microchip doubles every two years and halves the cost of computers), then things keep accelerating. That's really what you see. When they accelerate and reach a certain point to merge or converge some technologies, that's when you start to hear about things like flying cars.
Really?
No, I mean, it's kind of out there already. If you think about it — how could you fly something that's supposed to be like a car? It sounds so far out there that you would not think it's possible. But when you look at technology that's available today, every part of that process is available. It's just a matter of how you would organize it and how you would control the traffic part of this type of thing. Sure, it'll take a while for it to happen, for sure, but you could argue right now the materials are there to build one with the technology.
If we drive our electric cars to SoFi Stadium, will there be plenty of plugs to recharge?
I hope so. But what's really interesting, none of us would have projected even that. Again, in the real estate development business, with mixed-use retail, parking is important. Ten years ago, none of us would have predicted, "OK, here's this ride service that basically doesn't need to park; they just stop, they'll pull through and pick people up or drop people off." But that's a really pervasive type of approach now we have to accommodate.
There's a quote: "Water always wins." Bill Gates uses it. Technology is like water. Just look around. I won't be the first guy to ever say it, but it may be slower than you think, but it definitely shows up, and it changes things.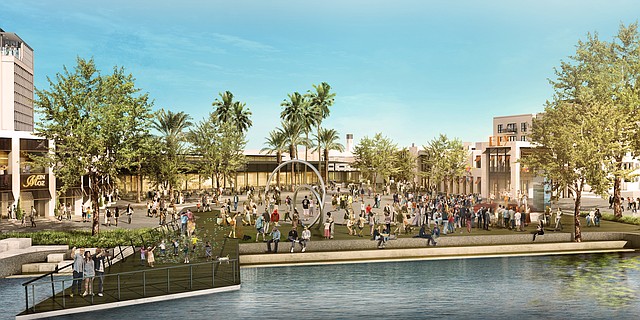 So those of us in L.A. will be underwater when the tides rise.
That's a whole other issue. If we get into that, we could talk about that awhile. My companies are also involved in a lot of solar and wind energy projects. I used to plant trees on my spring break in college and really enjoyed that. I saw someone came up with the idea that we could put everything back to preindustrial development levels if you just keep planting belts of trees. There are 3 million trees in the world now, but if you keep planting belts. … Maybe it sounds way out there, but we already have drone planters that plant trees at the rate of 10,000 a day. At SoFi Stadium, you'll also see green areas that we call canyons. They will be some of the most beautifully landscaped areas of the park.
They won't be someday converted into flying car landing ports?
I think we'll preserve our design. That's paramount for us.
When you see the Business Journal's Hall of Fame recognition, do you feel it's wa reflection of how you've become an important leader in the city?
Absolutely so. We'll join with lots of our friends and partners to work hard always at that. The Rams have done a lot of initiatives that focus on the city on many levels. We'll build a lot of good things with other business leaders in L.A.
There are lots of challenges, but what is it they say? Smart likes challenges. So, we hope to be connected with smart people and help out. If you look at the economic impact that SoFi Stadium will have just in the next couple of years, with Super Bowls and college football national championships and even WrestleMania, that's (substantial) business that is generated.
We plan to bring a lot more of those things, so it's very exciting.
Keep reading the special report on Stan Kroenke, the Los Angeles Business Journal's 2020 Business Person of the Year.
For reprint and licensing requests for this article, CLICK HERE.