LA500 Speaker: Michael Milken
Custom Content by the Los Angeles Business Journal
Thursday, June 11, 2020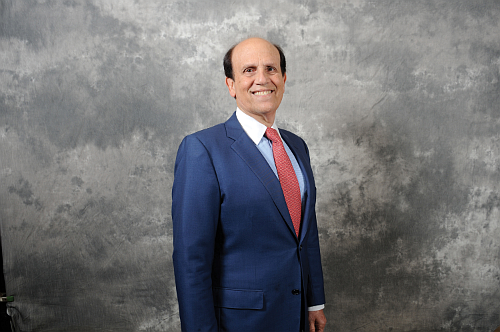 MICHAEL MILKEN
PHILANTHROPIST, FINANCIER, MEDICAL RESEARCH INNOVATOR, PUBLIC HEALTH ADVOCATE
MILKEN INSTITUTE
Named one of the '75 Most Influential People of the 21st Century' by Esquire magazine, Los Angeles native Mike Milken is well into his fifth decade of driving social change with a consistent focus on disrupting - and improving - the status quo. Lifestyles magazine says he has played an "outsized role in American society." His career has mirrored his four main professional passions: medical research, education, public health and access to capital. He has been uniquely successful in creating value, whether measured in lives saved (Fortune magazine called him "The Man Who Changed Medicine"), students inspired (Forbes said he is an education visionary) or jobs created.
Beginning in 1969, he financed thousands of companies that collectively created millions of jobs. He is often said to have revolutionized modern capital markets, making them more efficient, dynamic and democratic by expanding access to capital for thousands of smaller companies and by pricing and rewarding risk more efficiently. This financed much of the early growth of cable television, homebuilding, cellular phones and other industries.
His philanthropy, which began in the 1970s and paralleled his business career, expanded in 1982 with the establishment of the Milken Family Foundation, one of America's leading charitable organizations. Mike is also chairman of the Milken Institute, an economic think tank whose annual Global Conference brings more than 5,000 leaders from 50 nations to Los Angeles. Other annual conferences are held in London, Washington, D.C, Singapore and the Middle East. The Milken Institute School of Public Health at George Washington University was renamed in recognition of a gift from the Institute.
When the coronavirus pandemic swept the world in 2020, Mike drew on his five decades of working with leaders in public health and medical research to redirect the efforts of his foundations and the Milken Institute in several areas: connecting industry, public health schools and government agencies to expedite treatments and address shortages; provide policy recommendations; and disseminate accurate information.
His daily podcast, Responding to Covid-19: Conversations with Mike Milken, features interviews with leaders in business, government, public health and medical research.
Mike graduated with highest honors from Birmingham High School in Los Angeles, the University of California at Berkeley and the University of Pennsylvania's Wharton School, where he was a Joseph Wharton fellow. He and his wife, Lori, who are members of the Giving Pledge, have been married since 1968. They have three children and 10 grandchildren. More information is at www.mikemilken.com.
For reprint and licensing requests for this article, CLICK HERE.