Leading Technologies: WFH, WTF? Our World Beyond the Pandemic is Alright
Custom Content by the Los Angeles Business Journal
Monday, July 6, 2020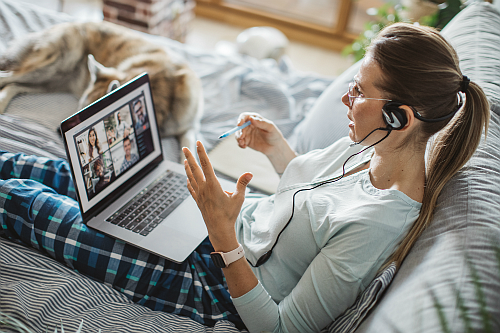 The glass is always full, but the air in the upper half counts too. Crises make the political, economic, and social climates volatile, vulnerable, and vital consumer focal points. Same goes for the technological climate. As businesses have pivoted to retain a resilient society, adapting current technological resources, as well as creating new ones, are a byproduct of COVID-19's obstacles. The cyclical impact of invention as a crisis management tool, as seen with Uber during the 2008 recession and the e-shopping surge during the 2002 SARS outbreaks, forecasts an expansive technological boom in the upcoming years. 
Navigating the cultural discussion to mitigate global panic requires a keen sense of damage control that expedites the digital landscape as both a means and ends of socio-economic problem-solving. NYU Stern School of Business Professor Scott Galloway suggests (and I agree) viewing COVID-19 as an accelerant as opposed to a change agent, this can already be seen through the rapid shift to remote work/learning, online entertainment, and telehealth tools. This digital readiness as an economic reaction may pose long-term solutions to pre-COVID problems seen in the physical workplace. 
Now that grocery shopping, school, and even healthcare exist online, the longevity of these solutions relies on the evolution of cloud and cloud supporting infrastructure. Various companies have adopted cloud resources as an experimental transition towards continuing the work/life balance dynamic. Most professionals are realizing success is a byproduct of manipulating "adult" time, which has never been done on a global scale until now. 
The new work-from-home paradigm is quickly redefining the traditional office infrastructure by introducing benefits to both employees and employers. As remote work has steadily increased throughout various work climates, many companies have adopted the practice as part of their company culture. This new office format has been gradually demanded by employees as a means of proliferating productivity and has been proven as efficient in various industries. The ample advantages of working from home, from creating a flexible schedule to heightened focus to family balance, are a result of proper telecommunications and department management. As many quotidian work tasks can be done remotely, modern businesses invest time and money in developing the right WFH protocols to suit their employees and production.
COVID-19 is the millennial's Darwinism, and now survival exists in the reboot of the human/technology dynamic. The "we are all in it together" mentality has become a more palatable concept towards a healthier office, higher productivity levels, and improved quality of work. Leveraging technology tools to improve the quality of life of employees while nurturing safe and secure WFH procedures.  The life-threatening spread of this pandemic is beyond abysmal, and I'm proud to witness the rapid and valiant global efforts of this human community. But, the inevitability of reinvention has helped us understand time as a finite resource in both business and life, and the current COVID-19 climate has given us the corporate silver-lining we've been asking for. 
Chant Vartanian is chief strategy officer, chairman and founder of M-Theory Group. Learn more at mtheorygroup.com.
For reprint and licensing requests for this article, CLICK HERE.