Leading Technologies: Tech Recycling Solutions for At-Home Employees
Custom Content by the Los Angeles Business Journal
Monday, July 6, 2020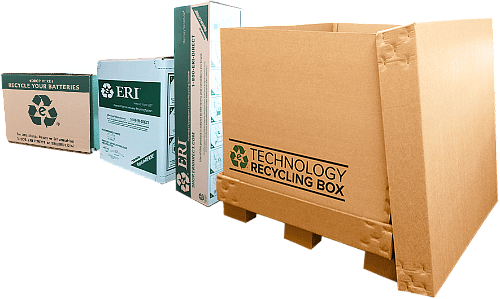 Coronavirus-related stay-at-home orders have thousands of employees working from home offices. For some, this isn't new. They've worked from home before. For others, it's a brand new experience. Only essential workers are allowed to go to work in these states. These workers include medical professionals, retail workers, and sanitation workers.  However even prior to the COVID-19 outbreak, more and more companies were allowing employees to work remotely, which requires unique solution for safe and responsible electronic recycling and IT asset disposition.
People are at home. When they're not working, they're clearing out old clutter. They're using their laptops, tablets, computers, and other electronic items more often than normal. Items are breaking down. Older electronics aren't effective for some workers, so companies are sending newer electronics to keep business flowing efficiently. These workers may not have the room for the old desktop that had to be upgraded. They cannot throw away electronics due to laws, regulations, and data concerns. They can't store them, nor should they for reasons of data security. How can towns, cities, and businesses help them properly dispose of their laptops, phones, computers, and other electronic devices?
The electronics recycling industry is facing new challenges during COVID-19. One of the first things some local recycling centers stopped accepting was electronics. Some have scaled their services down to household trash and plastics recycling for now. If you need to recycle outdated or broken electronics, what are people supposed to do? Technology recycling kits are a helpful solution for at-home workers.
When you have remote employees working from homes (or even satellite offices), managing IT assets can become difficult.  Leading IT and electronics asset disposition provider and cybersecurity-focused hardware destruction company ERI came up with a unique solution to ensure both environmental compliance as well as data security with its technology recycling kits or "box program."
The concept makes the process simple, transparent and contact-free. Order one of five boxes or crates. Fill the box or pallet with your electronic items. Seal the box or pallet using the materials included in the kit and apply the postage-paid label. Call UPS to arrange pick-up. UPS transports your electronics to one of our recycling centers where the data is destroyed, the items are refurbished or shredded and resold or processed for recycling.
If an item still has value to someone else, ITAD and recycling specialists will wipe the data, fix any problems or harvest usable parts. If the item has no value left, the glass, plastic, and metals are separated, melted down, and reused to make new items. Both of these processes keep electronic items out of landfills or incinerators where the metals and plastics harm the environment.
By implementing certified safety and environmental protocols, ERI is able to continue recycling electronics and has found a way to make it easy for at-home employees to recycle e-waste through technology recycling kits. 
For more information about e-waste recycling and ERI, call 1-800-ERI-DIRECT or visit eridirect.com.
For reprint and licensing requests for this article, CLICK HERE.