Cancer Awareness & Prevention: Behind the Frontlines: City of Hope Delivers Critical Cancer Care During COVID-19
Custom Content by the Los Angeles Business Journal
Originally published July 1, 2020 at 2:02 p.m., updated July 3, 2020 at 12:50 p.m.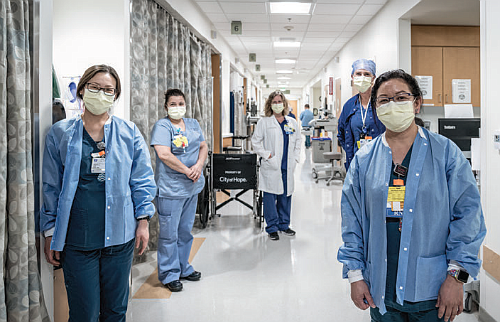 Aiden Anderson, a happy, active, inquisitive and rather talkative 7-year-old, likes to stare into the web camera, closer and closer, until all you see is his left eye. Typical kid.
Ever-smiling, he's excited about his upcoming birthday. Just not for the reasons you might expect.
"It's going to be 100 days since my transplant!" he pointed out.
When he was 5, this normally high-octane kindergartener started feeling tired. His school noticed. A nurse thought Aiden's belly looked distended. She sent him home. Within hours, Aiden's father was forced to take him to the hospital.
It didn't take long for tests to reveal the problem. Aiden had a slow-moving case of chronic myeloid leukemia, extremely rare in children — barely 100 cases are reported each year in the U.S. The news stunned Chris Anderson, Aiden's father.
"It was so shocking, I fainted," said Chris.
"I couldn't process it," recalled Ann Anderson, Aiden's mom. "I thought they must be wrong."
Chris rode with Aiden to a local hospital, where he stayed with him for 5 days while Aiden's symptoms – an inflamed spleen and liver – subsided.

Later, a biopsy discovered evidence of a malignant "blast": a sudden, rapid growth of cancer cells. Aiden would need a stem cell transplant at City of Hope. Soon.
Then fate dropped the other shoe: the COVID-19 pandemic.
Virtually overnight, life at hospitals across the country and around the world flipped upside down. Entire floors were set aside to treat the desperately ill. Hospital ships arrived.
Surely Aiden's transplant would be delayed. Ann felt that familiar feeling of desperation welling up inside of her – which is exactly why it was so shocking when the word came back from Aiden's City of Hope care team.
His transplant would proceed as scheduled.

A Fighting Chance
"At City of Hope, we have a responsibility to help the sickest among us," said Vijay Trisal, M.D., the organization's chief medical officer and Dr. Norman & Melinda Payson Professor in Medicine. "Despite the pandemic, we continue to deliver cancer care, performing complex surgeries, delivering radiation and dealing with devastating blood disorders — all with technology many other hospitals don't have available."
Compounding its own devastating health impact, COVID-19 has hampered care for other diseases, including cancer. A recent survey by the American Cancer Society showed that about a quarter of people currently undergoing cancer treatment are experiencing delays in care.
"Make no mistake," said Trisal, "delays in cancer care affect survival. Before the pandemic, survival rates for patients with acute lymphocytic leukemia were around 80%. Nationally, that number has plummeted because patients just don't have access to care."
A Different View
Aiden's mom is Chinese; his dad is African-American. It can be nearly impossible for biracial families to find a compatible, unrelated stem cell donor. The Andersons didn't even have to look. Aiden's big brother Ian turned out to be a perfect match.
"Ian volunteered to be Aiden's donor as soon as he learned he was a 100% match," said dad Chris. "There was no coaxing and pleading on our part. Despite knowing what was involved, he was ready to help immediately."
"We didn't delay anything," said pediatric hematologist and oncologist Nicole Karras, M.D., Aiden's doctor and an assistant clinical professor of pediatrics at City of Hope. "Cancer can't wait. If you delay, there's always a risk the cancer will come back."
But some things would be different from now on.
As the pandemic grew, City of Hope tightened the rules. Masks on everyone. Temperature screenings. And only one visitor per pediatric patient, Mom or Dad, not both. And you couldn't go home. Not for 45 days.
Chris Anderson took family leave from work and became Aiden's teacher while he was too sick to go to school.
But how the people at City of Hope handled it all left Ann permanently impressed.
"It was so calm at City of Hope," she remembered, tears in her eyes. "Even though it was so crazy outside. It brought me a lot of peace. As an educator [she's an assistant principal, Christopher's a math teacher], you want to treat the children as if they're your own. Everyone at City of Hope treated Aiden like he was their son."
Safety First
Aiden's experience is being replicated across the City of Hope campus, which, as a self-contained cancer center, has not received a barrage of coronavirus cases. Cancer treatment has continued uninterrupted, with multiple safety and security enhancements added, making it possibly one of the safest places for a cancer patient to be.
"People who are ill — from cancer or another underlying condition — will die from the coronavirus at higher rates, especially those whose immune systems are compromised," said Trisal. "That's why we were so active early on in the pandemic. It isn't by chance that we've had so few COVID-19 patients at City of Hope. It's the result of exacting precautions and a very active approach."
City of Hope's status as a world-renowned research institution played a role. Some of that research apparatus has been retasked to help with coronavirus testing during the current threat.
"Early on we were able to institute extensive testing at City of Hope," said Trisal. "And we can turn these tests around very quickly. This is absolutely critical to our approach. It accelerates care for the patient being tested and it helps keep everyone else safe. We reacted to the virus early, and that was the right call."
Second Chances
It was certainly the right call for Aiden, who's headed for that big birthday in very
good shape.
He has a bit of advice for anyone who might be concerned about coming to City of Hope during this challenging time.
"It's gonna be OK," he said reassuringly. "The nurses and doctors will take very good care of you!"
"We have a responsibility to care for the sick and we have a responsibility to keep COVID out," said Trisal succinctly. "Cancer doesn't stop and neither do we."
Learn more about City of Hope at CityofHope.org.
For reprint and licensing requests for this article, CLICK HERE.