Is AECOM on the Block?
WSP Global reportedly in talks for a deal
Friday, January 24, 2020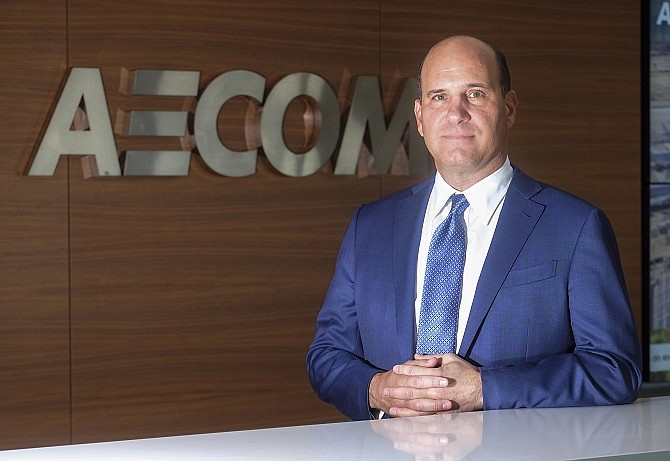 Century City-based engineering and infrastructure giant AECOM reportedly has been in possible buyout talks with Montreal-based engineering services firm WSP Global Inc.
According to the reports, which first surfaced in Bloomberg News on Jan. 13, WSP Global approached AECOM about possibly buying AECOM. The infrastructure giant has not commented publicly on the report.
WSP Global Chief Executive Alexandre L'Heureux downplayed the talks in a forum later that week, saying he regularly has discussions with his counterparts in the industry.
Neither company returned emails seeking comment.
Within hours of the news, Andrew
Wittmann, senior research analyst with Milwaukee-based Robert W. Baird & Co. Inc., issued a report saying news of discussions between the two companies had merit. He indicated that a buyout could fetch AECOM shareholders a price in the mid-$50s per share.
Word of the possible talks and the analyst's report sent AECOM shares up 5% on Jan. 14 to $49.74, from a close of $47.08 the day before. Since then, the share price has hovered around $50, closing Jan. 21 at $49.81.
Role reversal
For AECOM, a deal would mark a reversal of the company's stance for more than a decade.
Under Michael Burke, who became chief financial officer in 2006 and CEO in 2014, AECOM aggressively pursued acquisitions in a quest to create a global design and construction behemoth.
Between 2006 and early 2018 alone, it undertook about 50 acquisitions. The biggest, the $6 billion buyout of San Francisco-based contractor URS Corp. in 2014, came just months after Burke rose to chief executive. URS was the bigger company by revenue.
AECOM grew to $20 billion in revenue and nearly 90,000 employees by the end of 2018. But the company's stock price languished in 2018.
According to data from Bloomberg in June 2019, AECOM's three-year annualized shareholder return was about 5.8%, just above its peer group average of 4.6% but lagging substantially behind rival Jacobs Engineering Group Inc.'s 19.3% and KBR Inc.'s 25.3%.
In stepped activist New York investor hedge fund Starboard Value, which acquired 4% of the company and pressured AECOM to make changes. Burke attempted to respond, including shedding risky contracts, and eventually cut a deal to sell its management services business for $2.4 billion to affiliates of New York-based private equity firms American Securities and Lindsay Goldberg. Nevertheless, in November Burke said he would step down in March as Starboard placed three people on AECOM's board.
AECOM shares closed out 2019 up 63% at $43.13.
WSP Global has been on its own acquisition spree. It made a splash with its acquisition of New York-based engineering and construction industry mainstay Parsons Brinckerhoff for $1.24 billion in 2014. That same year, WSP through a merger moved its headquarters from London to Montreal.
WSP has since made several U.S. acquisitions, including the 2018 purchase of Morristown, N.J.-based Berger Group Holdings Inc. for an estimated $400 million, according to Engineering News-Record, a construction and engineering industry trade publication.
WSP had grown to about $5.8 billion in revenue by the end of 2018.
Too big to buy?
AECOM would be WSP's largest acquisition by far. The two companies have similar market capitalizations at about $8 billion each. But AECOM's revenues were more than triple those of WSP last year, and AECOM has about 100,000 employees, nearly twice the size of WSP's workforce.

Those ratios will be a bit smaller once the sale of AECOM's management services is complete, but it will remain by far the larger company.
Baird analyst Wittmann said in his report that he sees merit in WSP acquiring AECOM.
"Both AECOM and WSP operate across hundreds of local offices with headcount concentration across North America," he wrote. "Precedent mega-transactions in the industry have targeted net cost synergies, mostly through real estate consolidation."
He said that after AECOM completes the sale of its management services unit in a few months, its balance sheet will have no significant leverage, which would give WSP access to more than $1 billion in future borrowing capacity.
For reprint and licensing requests for this article, CLICK HERE.