A Giving Mood
Innovative local companies embrace volunteerism to connect with workers and their communities
Friday, January 10, 2020
On a recent Monday, Shaquinta Prince stopped by Leimert Plaza Park to plant native vegetation for a couple of hours before heading to the office.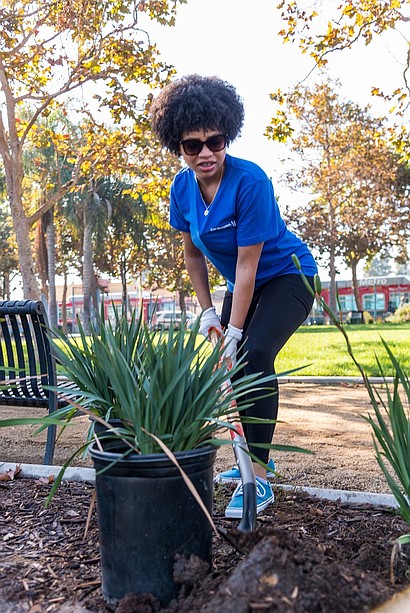 Her employer, City National Bank, was not only okay with the detour — they counted it toward her 40-hour workweek.
"We're not just writing the checks and putting our name on things," Prince said, referring to the Los Angeles-based bank's program that gives employees three hours of paid time off each month to volunteer in the community.
"We plant, we paint, we clean up the neighborhoods where we live and work, which is a really an important value-add for me," explained Prince, an officer and community relations specialist at City National.
Prince is among a growing number of employees who expect more from their companies than free snacks and 401(k) matching plans. These workers want to be part of businesses that reflect their social values.
They appreciate a corporate culture that's supportive of giving and volunteering, where the executive suite is working side by side with the rest of the team stuffing backpacks with school supplies or picking up trash at the beach — on a workday.
Local businesses are taking note and turning to corporate social responsibility programs to boost recruitment, retention and productivity. Kim Olpin, vice president of corporate engagement at L.A. Works, noticed an 85% year-over-year increase in calls for volunteering options for employee groups.
"This is something that a lot of corporations are definitely moving into … to help employees feel like they're part of the community, that they're not in a silo," Olpin said.
L.A. Works is kind of a matchmaker — it connects local nonprofits with corporations looking for opportunities to make a difference. Its staff also develops custom events, providing planning, supplies and logistics to groups of 50 to 1,000 volunteers.
Some are single-day, large-scale makeovers of schools or parks, while other events involve putting together food or supply packages. Corporations often identify a nonprofit they would like to assist, but Olpin also suggests projects suited for the volunteer group and its interests.
For some, employee volunteering is a one-off event. Other businesses, including Netflix Inc.'s office in Hollywood, collaborate with L.A. Works on a regular basis. In 2019, for instance, the streaming giant spent a day helping Para Los Niños, a nonprofit that focuses on early childhood education.
"We brought 500 Netflix staff there to brighten up the campus," Olpin said. "We added a bunch of murals, built lots of benches and seating, and we made little cape kits for all of the kids in the school so that they could be superheroes. ... That was a lot of fun."
On company time
When Olpin started working at L.A. Works three years ago, she organized "a lot more events on weekends" where employees' families could join in.
"I still do some of those, but the newer calls I'm getting (are from companies who) want to show their dedication to their employees by saying 'We're going to take 200 of you, and you're not going to work for a whole day, and instead you're going to work to improve the community.'"
Bonduelle Fresh Americas in Irwindale, which was known as Ready Pac Foods until the company was acquired by France-based Bonduelle in 2017, provides two days a year of paid volunteer time off to employees.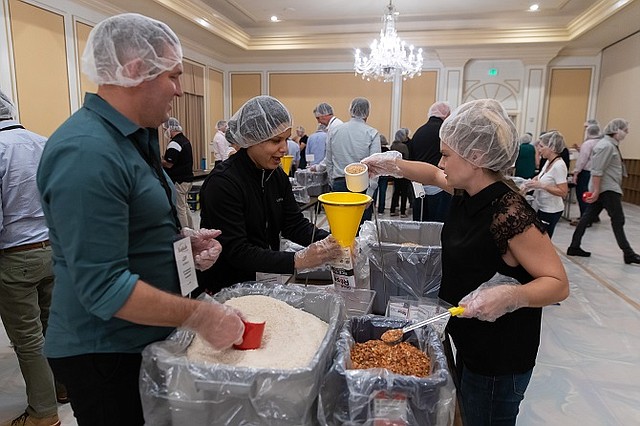 Bonduelle's volunteer crews recently worked with Rise Against Hunger to pack thousands of meals for vulnerable populations and with Heal the Bay in Santa Monica.
"When we're talking about community engagement and corporate social responsibility, we wanted to make sure that we're walking the talk — that this was a corporate-driven initiative, and it wasn't (about) employees giving their own time to go out and volunteer in the communities," said Mathew Caldwell, the company's corporate social responsibility manager. "It was truly a corporate service."
Honda North America Inc. in Torrance galvanized suppliers, dealers and associates to take part in the company's annual Week of Service in June. More than 600 volunteer activities took place nationwide, including food and blood drives, adopt-a-pet events, beach and park cleanups, collection of school supplies, and home repairs for people in need, according to Mary Miller, spokeswoman for the automaker's corporate social responsibility and inclusion and diversity efforts.
"In Southern California, we had nine community service projects involving 1,200 associates," Miller said, adding that Honda North America Chief Executive Shinji Aoyama was among volunteers packing meals for the Los Angeles Regional Food Bank. "We had another 34 projects that were led by our dealers and suppliers."
Providing paid time off to volunteer was feasible for some of the automaker's divisions, while others, like manufacturing associates who work on a production line, took part on weekends. Its dealers mostly focused on canned food drives, so "they don't have to shut their business down for the day," she said.
Amplifying good
The idea behind Week of Service — not to be confused with TV ads on Random Acts of Helpfulness by Helpful Honda Guys — stems from the automaker's desire "to be known as a caring partner in the community," Miller said.
"We've always been a good community partner, but in a little bit more of a quiet way," she added. "Honda's philosophy is to be the company society wants to exist. So, this just kind of falls right in with our philosophy."
Riot Games Inc., the West Los Angeles-
based developer of the popular "League of Legends" video game, organized a similar event in May. Its associates at 14 offices took part in a Global Service Day, contributing more than 1,200 hours of service in their local communities.
Projects included beautification of 93rd Street Elementary School in South L.A., feeding the homeless in Brazil and cleaning up a village in South Korea.
The company also encourages its employees to take on "personal karma" projects and provides volunteer matching — Riot Games contributes $15 for every hour a Riot employee volunteers with a charity.
"A lot of younger people want to work for organizations that have a purpose, something that is more meaningful than just making the dollar," said Riot Games karma team head Jeffrey Burrell. "What we're trying to do is to design our programs to really match people where they are and amplify the good that they already do."
Burrell's team also organizes low-key, monthly "pop-up" volunteer opportunities that are "way more popular than I thought it would be." The company's employees last fall spent a workday packing meals for the L.A. Regional Food Bank, while most of its other community projects are done on weekends — for now.
"(Volunteer time off) is something that we're actively looking to address and to try and make it more applicable for Rioters for next year," Burrell said.
Mattel Inc. hosted an annual Global Day of Play at its headquarters in El Segundo in June. Its employees stepped away from their desks to play with 200 children from the L.A.'s Best Afterschool Enrichment Program, Boys & Girls Clubs of Carson and patient families from UCLA Mattel Children's Hospital.
"This initiative is an important part of a companywide commitment to positively impact the lives of children while also igniting the passion for play in all our employees," Amy Thompson, Mattel's chief people officer said in a statement.
Walt Disney Co. in Burbank has embraced the 35-year-old, companywide VoluntEARS program that aims to "develop opportunities for Cast Members to contribute their personal time and expertise to make a positive impact on our community," according to the company.
Last year VoluntEARS provided more than 600,000 hours of volunteer service, including 82,500 in Los Angeles, according to the company. Workers can also apply for the Disney VoluntEARS grants program and turn their hours of service into a financial contribution to local schools and charitable organizations.
City National Bank, like Disney, is not a newcomer to the employee engagement scene — Prince and her coworkers log some 30,000 volunteer hours each year helping food banks and other nonprofits in their respective communities, according to Jennifer Nickerson, City National's corporate citizenship manager.
The bank also kicked off a national partnership with Habitat for Humanity in September. According to the bank, its staff committed to volunteering more than 2,400 hours to build and repair homes in California; Las Vegas; New York; Atlanta; Nashville, Tenn.; and Washington, D.C.
"Part of attracting and retaining top talent is demonstrating who you are in a community as a corporate citizen," Nickerson said. "Giving back to the community is part of who we are — it's part of our DNA — and this has been going on for years."
Keep Reading: 2020 Philanthropy Special Report
For reprint and licensing requests for this article, CLICK HERE.