H.F. "Bert" Boeckmann II, 89
Special Report: 8 Over 80
Friday, September 27, 2019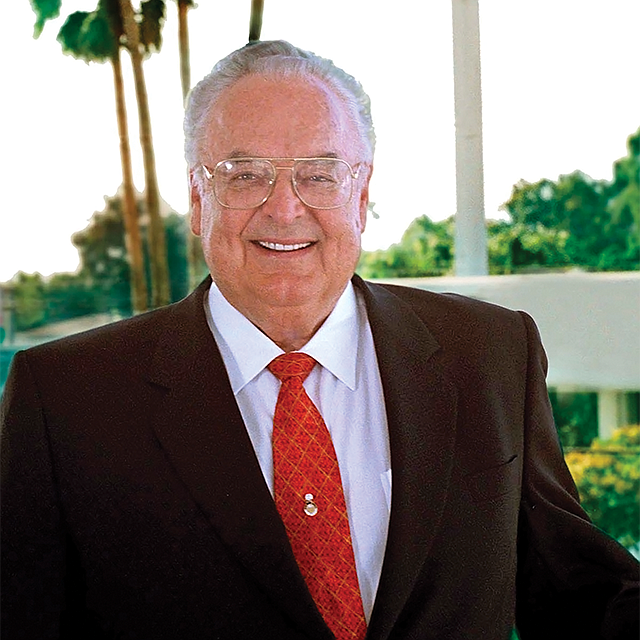 Chief Executive, Galpin Motors Inc.
H.F. "Bert" Boeckmann II began his career as a Galpin salesman in 1953 while attending USC. He took over as owner of the dealership in 1968. Under Boeckmann's leadership, Galpin Motors has been the top-selling Ford dealership for 29 consecutive years.
How many hours a week do you work?
Approximately 50 hours per week, Monday through Friday at Galpin, and Saturday at home. I work on Saturdays at home to complete any work that I did not get to during the week.
Why not retire?
I continue to enjoy working with our employees and customers at Galpin.
What is the one thing people often get wrong about retirement?
That it will be better than going to work. I fear that I would be bored without the human interaction and activities that I enjoy at work.
Do co-workers seek out your experience and knowledge?
Yes, most definitely they do, and they do quite often.
How do you keep the work you do fresh and interesting?
Every day brings something new. My work is fresh and interesting because it is ever-changing when you work with people. People are not only interesting; they can be fascinating. I am fortunate that my line of work affords me the opportunity to work with so many wonderful people — that is the best part of my job!
What are the biggest changes you've observed in your workplace environment across your career, and what are key aspects that have never changed?
The biggest change I've observed is the way we communicate with people. I know it is hard for some people to believe, but we haven't always had cellphones and email. What hasn't changed is how important we feel it is to properly communicate with our customers and get them the answers to their questions. We strive to serve every customer the best way that we can, and now we do that through whichever communication method our customers prefer.
How has working in Los Angeles changed over the years?
Every business faces challenges in their respective cities. A lot of changes came from the state of California as to the laws we operate under. As far as car dealerships go, some dealers became larger — we have fewer dealers than when I got into the business, but they are larger ... with much bigger service departments, bigger inventories, bigger showrooms.
What's next on your agenda?
This is my agenda — I am living my agenda. Working at Galpin is where I want to spend my time, interacting with people.
What do you do for fun?
My work is a heck of a lot of fun! I also very much enjoy spending time with my family and friends. My wife and I have traveled extensively in our life, and I did a lot of traveling for Ford. But the most we enjoy quite frankly is our home we have in Mexico and the home we have at the beach in Malibu.
If you could go back in time, what advice would you have for your 50-year-old self?
I would tell my 50-year-old self to have a strong married life, spend time with family and continue to work as long as you enjoy doing what you are doing. It looks like the 50-year-old Bert Boeckmann took my advice!
For reprint and licensing requests for this article, CLICK HERE.