Relativity Signs Launch Agreement with Momentus
Friday, September 13, 2019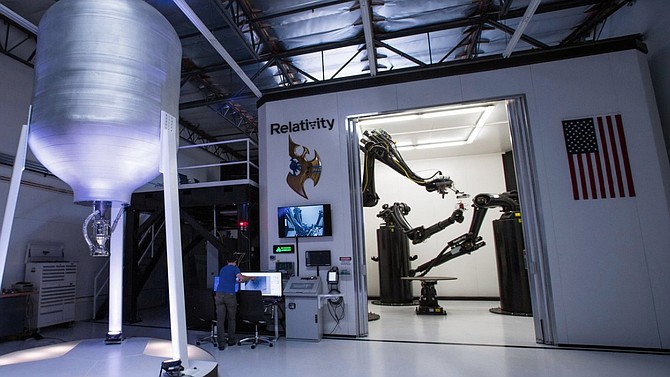 Aerospace startup Relativity Space Inc. will launch satellites built by Santa Clara-based Momentus into space on its 3D-printed Terran 1 rocket, according to a new launch agreement signed by the two companies September 12.
Inglewood-based Relativity was granted approval in January to launch its rockets from Cape Canaveral. The contract includes up to six launches of Momentus' small and medium satellites, which are powered through space by water plasma propulsion mechanisms.
Momentus specializes in creating systems such as water plasma propulsion to power satellites orbiting the planet using sustainable resources.
"With Momentus' innovations in sustainable in-space solutions, we look forward to working together to expand Terran 1's flexibility and offering beyond (low earth orbit), offering small and medium satellite launch opportunities with industry-defining lead time, flexibility, and cost," Relativity Chief Executive Tim Ellis said in a statement.
"This partnership will enable us to build the space economy faster and accelerate the future of humanity in space," Ellis added.
Relativity Space has experienced rapid growth this year. It recently inked two other satellite launch deals, first with Canadian-based telecommunications firm and satellite operator Telesat in April and another in May with Seattle-based Spaceflight Industries Inc.
Relativity Space would not disclose the value of any of its launch contracts.
Founded in 2015 by Ellis — a veteran of Jeff Bezos-led space firm Blue Origin — and former SpaceX propulsion engineer Jordan Noone, Relativity has raised roughly $45 million to date. Its most recent funding round, a $35 million Series C raise led by venture firm Playground Global was completed in March 2018. The company's other backers include Santa Monica-based Wavemaker Partners and Mountain View-based accelerator firm Y Combinator.
Both Relativity Space and Momentus are alumni of the Y Combinator accelerator program. Momentus has raised $34 million since its 2017 founding.
Tech reporter Samson Amore can be reached at samore@labusinessjournal.com or (323) 556-8335. Follow him on Twitter @samsonamore.
For reprint and licensing requests for this article, CLICK HERE.