SpaceX Fuels Industry's Rebirth
AEROSPACE: Company's alumni launch local ventures
Friday, July 19, 2019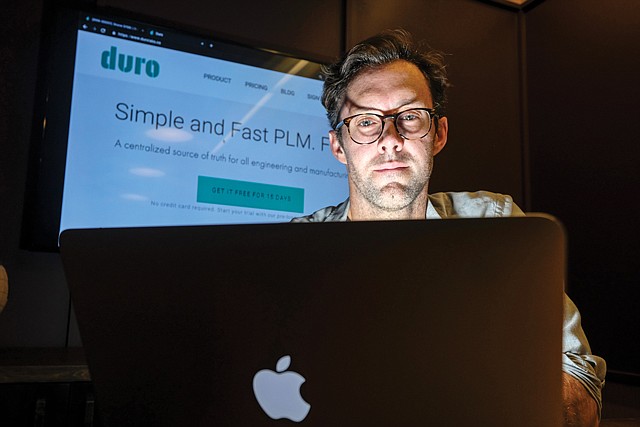 Kellan O'Connor, co-founder of software company Duro Labs Inc., always wanted to build things that would go to space.
When he learned as a college student about companies like Space Exploration Technologies Corp. that were commercializing space travel, he said he found his calling.
In 2007, after graduating from Northwestern University, O'Connor landed an engineering job at Hawthorne-based SpaceX where he discovered a community and a sense of drive that still propel his ambitions today.
And O'Connor isn't alone.
Southern California is dotted with SpaceX alumni and former interns who have started their own aerospace and technology companies, in part inspired by the audaciousness of entrepreneur and SpaceX founder Elon Musk and his army of engineers and designers who make space travel a reality.
"There was an energy level," said O'Connor, who left SpaceX in 2012 and eventually launched Los Feliz-based Duro Labs to serve companies in the aeronautic and other sectors. "There were a lot of people who were very passionate in the work and the mission."
Jordan Noone, who started at SpaceX as an intern and later worked there as a propulsion engineer, has since launched rocket-maker Relativity Space, based in Inglewood. His company — which he co-founded with Tim Ellis, an alum of the Jeff Bezos-led space company Blue Origin — is working to build 3D-printed rockets and aims to eventually automate rocket manufacturing on Mars.
The 26-year-old Noone said he and his peers are building out the fledgling commercial space industry, using their experience at established companies and the energy and creativity of their youth.
"It's what I refer to as the next generation of new space companies," he said.
Aerospace legacy
Southern California has long been a hub for the aerospace sector, stretching back to the turn of the 20th century when the Lockheed brothers first set up aircraft production here.
Since then, the industry has peaked and fallen in waves. A steep decline in aerospace manufacturing in L.A. in the 1980s and '90s contributed to the overall decline in the region's manufacturing base.
When Elon Musk launched SpaceX in El Segundo in 2002, detractors didn't think a company that sought to make space travel affordable could survive. Today the privately held commercial space company is valued at $33 billion, according to research firm Pitchbook Data Inc.
Musk's big plans, from travel to Mars to his latest push to develop a worldwide satellite network, have inspired many young engineers. SpaceX's Falcon Heavy rocket was seen as revolutionary in its ability to recover and recycle the rocket's boosters, which has significantly reduced launch costs.
O'Connor said he remembers looking around at SpaceX and feeling awestruck by his colleagues' intellect and skill. "A lot of early engineers primarily joined there because we knew we were going to learn more there than anywhere else," he said.
The company had the vibe of a startup, alums said, where everyone's passion was fueled by the mission.
Krisztina Holly, founder of Make it in LA, a nonprofit connecting local entrepreneurs, said having SpaceX located in the region helps fuel related smaller companies. SpaceX both incubates talent and inspires new companies to launch and grow, Holly said.
Los Angeles County Economic Development Corp. estimates there are 760 aerospace companies in Southern California, most of which are in L.A. County. Over the last 15 years, Southern California employment in aerospace vehicles and parts manufacturing has risen 62%, according to the LAEDC.
"SpaceX is really good for the ecosystem," Holly said. "I would call them an anchor tenant in an innovation ecosystem."
This second generation of the space industry — as David Barnhart, co-founder of the Space Engineering Research Center at USC, calls it — is still developing and is centered on not just launching equipment to space, but also servicing it.
They are companies like Santa Monica-based Flightwave Aerospace Systems Corp., launched in 2015 by Michael Colonno, an early SpaceX aerodynamics engineer. Josh Giegel left SpaceX to become co-founder of Downtown-based Virgin Hyperloop One Inc., and former SpaceX intern and Tesla Inc. alumni Spencer Gore, founded Impossible Aerospace Corp. in Silicon Valley.
Lemontree Technologies founder Tim Le, a former intern and engineer at SpaceX, is working to make robotics automation simpler. And another former SpaceX intern, Darren Charrier, co-founded San Diego-based Voyager Space Technologies Inc. is making a modeling system to design hardware.
Growing interest
Investors are jumping on companies like Relativity and others led by former SpaceX employees that are working to build out the industry in the years to come.
Relativity has raised $44.5 million since its incorporation, according to Pitchbook. Duro Labs has raised $1.5 million to date and aims to secure more funding this fall.
London-based financial data firm Preqin Ltd. estimates global investment in aerospace startups hit $1.68 billion last year as venture capital firms poured money into the sector. Preqin logged a record 127 deals for the year.
Those startups have a base to build off of.
Washington-based Blue Origin was founded in 2000 on the basis that "millions of people" can eventually live and work in space. Like SpaceX, it develops reusable rockets and engines.
Space flight company, Virgin Galactic and its Long Beach-based affiliate Virgin Orbit, part of the Virgin Group Ltd., were created in 2004 to capitalize on the business opportunities of international space tourism. It develops a suborbital spacecraft launched from beneath a modified carrier plane.
Together with SpaceX, the three companies have spawned many local startups.
"They have helped and been a driving force in the industry," Barnhart said. "The notion you can lower launch costs in essence means you can open up the market to lower tier individuals with less capital required. That's a big deal — especially in space."
For reprint and licensing requests for this article, CLICK HERE.