Who's Building L.A: And the Cycle Continues in West Los Angeles
Custom Content by the Los Angeles Business Journal
Monday, September 9, 2019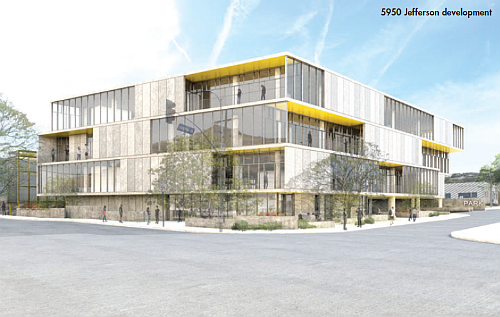 The dynamic market that is West Los Angeles has gone through a dramatic evolution in this real estate cycle. In exploring the market's changes and drivers, we have experienced a progression through this cycle that far exceeds all that came before it. Our market has stepped through a threshold we have not had the option of walking through before. We have realized roughly 3 to 4 dramatic leaps forward in rental rates and we have experienced expansion into secondary markets like the West Adams district east of Culver City, the repurposing of large obsolete malls and resurrection of the studio business in Los Angeles.
Let us begin with the review of this cycle's price increases in our most mature markets. This jump in rental rates has been the biggest driver of companies looking for alternative options such as West Adams and Hawthorne. Santa Monica has recently seen another leap forward in pricing and that is reflective in asking rates that have recently been introduced at the Sears building and Santa Monica Post office, which together will generate asking rates in the $9.00 gross per square foot range. In comparison, this same submarket would generate $3.00 gross per square foot in 2011. This pricing has lead developers with previous plans to build apartments to change directions and chase the increasing yields of the office segment. Additionally, we are seeing 80's office projects such as 1545 26th Street in Santa Monica, a 15,000 SF traditional office building, now converted and upgraded to modern office space. The developers of this project will capitalize on nearly 7,000 SF of exterior living area creating a workspace that seamlessly blends the indoors with the out, providing the type of lifestyle environment that is so sought after by today's tenants. Premium rents are achievable when owners provide the modern amenities that tenants want.
"I think properties in the market that check all the boxes such as exterior amenities, parking and large kitchens are seeing very good activity from tenants, and consequently they are leasing at record numbers," said Keith Fielding, Principal at Lee & Associates - Los Angeles West, Inc. "Alternatively, secondary spaces with low parking ratios and tired improvements may be passed over, with increasing competition from alternative spaces in emerging areas."
One very specific segment of the market that has produced a significant change to the West Los Angeles landscape is the need for large blocks of space. The business of content production has seen an appetite for large swaths of space that our market has not witnessed since aerospace and movie studios set their roots decades ago. Amazon made a strong entrance into Culver City, taking all of the Culver Studios along with an additional 75,000 SF at the Culver Steps project developed by Hackman Capital Partners. HBO has leased Ivy Station at the transit-oriented corridor and Netflix has been a juggernaut in Hollywood. Rental rates in Culver City, with the velocity created by these larger tenants, have experienced another step forward into the $6.00 per square foot gross range. Perspective is important, and we should keep in mind that the start of this cycle saw rental rates in Culver City in the high $2.50 gross range. With today's higher pricing we are seeing tenants explore alternative options such as the West Adams neighborhood. Though West Adams is traditionally a lower priced alternative, the sale prices and rental rates now achieved are staggering. Sale prices are reaching $600 per/sf and rental rates are $3.00 NNN. Another change in the Culver City area has been the flurry of new developments due to the appetite of large tenants and corresponding rental values, allowing developers to truly maximize the value of the land. One of these new projects is located at 5950 Jefferson Blvd, the developer Urban Offerings is building a brand new 65,000 sf state of the art creative office building across the street from the Hayden Tract in Culver City.
With the aggressive absorption of large office spaces and the trajectory of content production, the entertainment industry has once again provided us with significant growth in both work and lifestyle amenities throughout West Los Angeles.
"The great win has been the synergy of Silicon Valley and the movie industry, providing demand for spaces from 5,000 to 500,000 square feet," said Tibor Lody, Principal at Lee & Associates - Los Angeles West, Inc.
Aleks Trifunovic is President at Lee & Associates - Los Angeles West, Inc. For more information, visit leewestla.com.
For reprint and licensing requests for this article, CLICK HERE.