Most Influential Investment Bankers: Joel Montminy
Custom Content by the Los Angeles Business Journal
Tuesday, October 22, 2019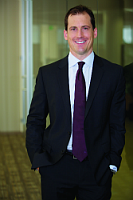 Joel Montminy
President & CEO
Creo | Montminy & Co.
Specialty or Industry Focus: M&A, Capital Markets, Strategic Advisory
Joel Montminy is the founder, president and CEO of CREO | Montminy & Co., an L.A.-based investment bank with 24 professionals in Los Angeles, New York, Seattle and Phoenix. For over two decades, Montminy has been a driving force in middle market mergers & acquisitions, having originated, led and closed nearly $6 billion of middle market transaction volume, including over $1 billion in cross-border transactions.

Montminy launched his firm in 2009 and today, CM&Co. has become well-known for providing highly customized corporate finance solutions to niche industry leaders. Montminy leads all aspects of CM&Co., and spearheads key client assignments across the globe, including domestic and international mergers and acquisitions. In the last year, he has expanded the firm's capabilities with the addition of industry specialist managing directors in Los Angeles and New York. Montminy has led many landmark local transactions.
For reprint and licensing requests for this article, CLICK HERE.