Most Influential Investment Bankers: Brian Webber
Custom Content by the Los Angeles Business Journal
Tuesday, October 22, 2019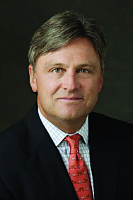 Brian Webber
Co-Founder & Partner
American Discovery Capital
Specialty or Industry Focus: M&A, Capital Raising, Restructuring for Growth Companies
After 25 years of investment banking for some of Wall Street's most prominent firms, Brian Webber co-founded LA-based merchant banking firm American Discovery Capital (ADC) in 2016 to provide M&A, capital raising and restructuring advice to leading publicly-traded and privately-held growth companies, Boards of Directors, entrepreneurs and family-owned businesses. As a true merchant bank, ADC also has raised a $60 million private equity fund to invest its own capital to alongside its client's growth initiatives, or in other promising growth opportunities.
Since its founding, ADC is among the most active advisers to leading companies in Los Angeles County. Among Webber's most notable recent transactions was advising on the sale of Burbank-based ESOP Entertainment Partners, the leading global end-to-end provider of workforce management and automated production software to the entertainment industry, to Texas Pacific Group.
For reprint and licensing requests for this article, CLICK HERE.