Most Influential Investment Bankers: Lloyd Greif
Custom Content by the Los Angeles Business Journal
Monday, October 21, 2019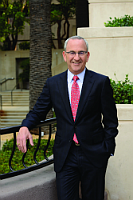 Lloyd Greif
President & CEO
Greif & Co.
Specialty or Industry Focus: Mergers & Acquisitions in Consumer Products & E-Commerce, Food & Beverage, Industrial Manufacturing & Distribution, Technology, Healthcare, Aerospace/Defense and Entertainment & Media
Lloyd Greif is a consummate dealmaker. Widely considered the dean of M&A deal-making in Los Angeles, Greif has engineered transactions ranging in size from $25 million to $1.5 billion (Patron Tequila) and $1.7 billion (C.R. Laurence Co.) over an illustrious career spanning from 1981 to 2019 — and counting!

Greif is resolutely focused on representing entrepreneurs where he routinely plays the role of equalizer, putting his sellside clients, most of whom have never sold a company before, on equal footing and an even playing field with savvy professional acquirers — strategic buyers and private equity firms who purchase multiple companies a year. Greif enjoys a hard-earned reputation as being tough, but fair and is known for being able to see both the forest and the trees, a rare trait that means he has a firm grasp of both the strategy and the tactics, the big picture and the details.
For reprint and licensing requests for this article, CLICK HERE.