The Business of Cannabis: Solutions for the Cannabis Industry's Packaging Needs
Custom Content by the Los Angeles Business Journal
Tuesday, May 28, 2019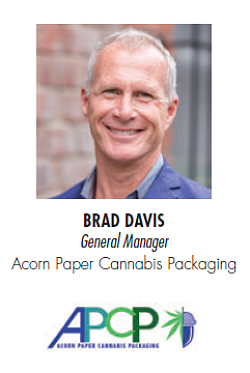 Everyone in the cannabis industry has a "story." Acorn is no different. A Los Angeles based family-owned and operated business since 1946, Acorn has been dedicated to serving the packaging needs of numerous California based industries. The business strategy has included embracing California centric lifestyle industries -- such as launching a dedicated wine division serving the wine industry, where Acorn counts over 100 major vintners as clients. Last year, Acorn embraced the nascent recreational cannabis industry in California, creating a dedicated department for meeting the needs of the entire cannabis supply chain. To differentiate itself from the competitive packaging landscape, Acorn built a strategy that is based on ideals including growing brand awareness of companies involved at every stage of the cannabis supply chain, furthering sustainable solutions and keeping regulatory compliance at the forefront.
Brand building is a key success metric in establishing market share in the highly competitive cannabis space. Many companies in packaging focus on Business to Consumer packaging solutions. This component of the supply chain is critical as it is the end stage of the marketing cycle, developing the external packaging that establishes the brand awareness with consumer at the time of purchase. Acorn "plays in this space" but the differentiation is that the company is dedicated to building brand awareness at the top of the supply chain funnel for cultivators, distributors and brands that work independently or within a verticalized structure. Acorn uses a consultative sales approach to understand which of its solution sets, across Acorn owned manufacturing facilities to numerous distributor relationships with domestic and international vendors, will most appropriately meet a client's needs.
"We possess the unique capability of meeting just about any need a client may have across the packaging and logistical shipping supply chain, within the cannabis industry," according to CEO David Weissberg.
Sustainability and environmental focus are another core value proposition that Acorn has embraced. Acorn begins its focus of sustainability at the manufacturing level, where their in-house produced corrugated packaging is created from recycled pulp and constructed to be fully sustainable. Acorn is working towards becoming 100% sustainable, start to finish, soon. The Cannabis industry is facing significant issues with sustainability. Acorn is taking a leadership position in not only their own manufacturing but in developing cannabis focused vendor relationships with other companies that hold the same core value of providing sustainable solutions. In addition, each of the Acorn sales consultants have been trained and certified on the requirements of Amazon's "Frustration Free Packaging" requirements. This will be a critical component to meeting the needs of the growing CBD marketplace.
Another difference with Acorn is it keeps compliance at the forefront of all its recommended solutions. Acorn's packaging specialist makes sure that all stock product and corrugated product meet and exceed industry standards. The company is part of a nationwide network of packaging manufacturers that guarantee the highest standard in compliant production standards. The cannabis department maintains constant attention to the latest rules and regulations in California and surrounding markets. It provides expert consultation on packaging, labeling and advertising compliance at the state and local level. As acting members of ASTM (American Society of Testing and Measurements), Acorn guarantees that the company is at the forefront of industry standards and compliance including with the cannabis industry.
Child safety is a primary concern, challenging consumer-friendly product packaging solutions in the cannabis industry. In keeping with their history of family, their focus on sustainability and compliance, and their understanding that brand building is important throughout the supply chain. Acorn will soon be rolling out its first proprietary Child Resistant Package, this solution will be 100% sustainable and recyclable. It will be child safe and senior friendly. The Child Resistant package will allow for printing customization for brand building and provide a ubiquitous design that can be used for a variety of cannabis consumer products.
Acorn has a history of deep roots in California. It continues to innovate and provide cutting edge solutions designed to meet the specific needs of companies throughout multiple California based industries, and now also within the cannabis supply chain.
Brad Davis is General Manager for Acorn Paper Cannabis Packaging. For more information on Acorn's cannabis packaging offerings or to request a free consultation, contact him at 323-980-8353, or via Bdavis@acorn-paper.com, cannabispckg.com.
For reprint and licensing requests for this article, CLICK HERE.