The Business of Cannabis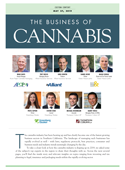 Custom Content from the Los Angeles Business Journal
---
The cannabis industry has been heating up and has clearly become one of the fastest growing business sectors in Southern California. The landscape of managing such businesses has rapidly evolved as well – with laws, regulatory protocols, best practices, consumer and business needs and industry trends seemingly changing by the day.
To take a closer look at how the cannabis industry is shaping up in 2019, we asked some of the subject's top experts in the region to share their thoughts with us. Across the next several pages, you'll find the inside story and relevant insights on topics ranging from investing and tax planning to legal, insurance and packaging needs within the rapidly evolving sector.
---
Inside this supplement:
Cannabis Insurance - From Seed to Sale
The level of complexity to operate a cannabis business and the myriad of federal, state and local requirements businesses face requires a diligent and thoughtful approach to bring "out of the box" results, and deliver on relevant solutions...
Read More
---
Counterfeit Cannabis: A Threat to Public Health
Walk into a cannabis dispensary and chances are you will see on display products of some of the top brands in California, such as Heavy Hitters, Absolute Extracts, and King Pen...
Read More
---
Solutions for the Cannabis Industry's Packaging Needs
Everyone in the cannabis industry has a "story." Acorn is no different. A Los Angeles based family-owned and operated business since 1946, Acorn has been dedicated to serving the packaging needs of numerous California based industries...
Read More.
---
Tax Planning for Cannabis Companies
Now legal in 33 states (as well the District of Colombia, Guam and Puerto Rico), cannabis has seen a rise in the percentage of Americans favoring legalization with a majority now in support of ending prohibition...
Read More
---
Investment Opportunities in the Cannabis Industry
In 2018, global legal cannabis sales were between $18-20 billion. The booming cannabis industry offers significant opportunities for investors and private fund managers, but is also fraught with risks and legal knots...
Read More
---