LA500 Leaders Reshape Region With Infrastructure Spending Boom
Special Edition: LA500
Monday, May 20, 2019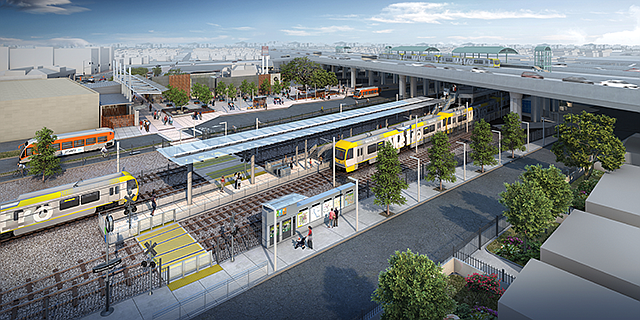 Los Angeles County is in the midst of one of its greatest infrastructure building booms, as tens of billions of dollars pour into construction for
local airports, ports, rail lines, water works, stadia and other projects.
All of this activity has pushed the leaders of several public agencies and contracting firms into the spotlight — and onto this year's LA500 list of the most influential business leaders in Los Angeles.
The amount of infrastructure work underway around the county is staggering: $14 billion worth of terminal and access improvements at Los Angeles International Airport, more than $12 billion in rail and subway projects, a $5 billion stadium and entertainment complex in Inglewood, more than $1.5 billion in bridge replacements, a $1.5 billion terminal at the Port of Long Beach — and the list goes on.
"We've had infrastructure investment before, but what's different now is how all this is coming together at the same time and on a scale much larger than any other city in the nation," said Kelli Bernard, executive vice president and national cities leader for Century City infrastructure giant AECOM. Bernard's boss, AECOM Chief Executive Michael Burke, makes a repeat appearance on the LA500.
The infrastructure surge is occurring in tandem with a private construction boom in mixed-use, residential and commercial projects around the county.
"Normally, when the economy booms, you see a lot of private investment, and then when the economy slows, public infrastructure investment kicks in as a stimulus," said Tom Donohue, Boston-based Suffolk Construction Co. Inc.'s new president and general manager for the Southern California region. "This time, both the public infrastructure investment and the private investment are occurring at the same time, which creates a huge opportunity for construction firms."
Donohue, who appears on the LA500 for the first time, said part of his mandate as the new top executive in Suffolk's downtown office is to secure a bigger piece of the infrastructure work, especially at LAX.
The public infrastructure investment comes as Los Angeles is looking toward its next stage as a global city.
"We've been through an economic recovery, and now we're focusing more on the future," said Somjita Mitra, director of the Institute of Applied Economics at the Los Angeles County Economic Development Corp. in downtown. (Mitra's boss, Chief Executive Bill Allen, makes a repeat appearance on the LA500.) "It's all about what we need to do to make Los Angeles a place we want to live 10 years from now and 20 years from now."
Prev Next
For reprint and licensing requests for this article, CLICK HERE.