Innovative Startup Founders Refashion the Fashion Business
Special Edition: LA500
Monday, May 20, 2019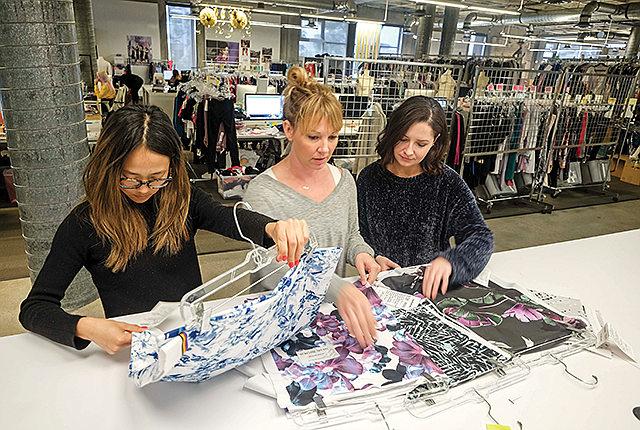 A new generation of L.A. fashion brands is taking cues from Silicon Valley startups. Armed with troves of customer data and well-versed in social media, these companies are drawing media attention and investment dollars to help them grow.
"My co-founder, Don Ressler, and I had experience building internet companies, but the fashion industry was entirely new to us," said Adam Goldenberg, co-founder and co-chief executive of TechStyle Fashion Group, which logged more than $700,000 in revenue last year.
The El Segundo company sells fast-fashion brands, including JustFab, Fabletics, ShoeDazzle and FabKids, using a direct-to-consumer, subscription model.
"We combined Silicon Valley with Fashion Avenue and found that there was so much traditional fashion talent in L.A. eager to take advantage of the digital revolution," he said.
Goldenberg was named to the LA500 for the second time this year. TechStyle isn't the only L.A. fashion label reworking the traditional wholesale model.
LA500 member Eddy Lu and partner Daishin Sugano saw an opportunity among die-hard "sneakerheads," when they launched their business, Goat Group, in 2015. Taking their name from the acronym for "Greatest of All Time," the online marketplace is a hub for buyers and sellers of high-end, limited-edition sneakers. The Goat app is one of the most popular iPhone applications for shopping.
Similarly, the founders of MVMT Watches Inc. had no background in the fashion business — or any business — when the two then-20-year-olds launched their watch brand in 2013. Savvy marketing and plenty of social media buzz helped grow the company, which now boasts more than 1.5 million MVMT watch owners.
Legacy brands and retailers have taken note of these innovators. So have investors.
TechStyle to date has raised $259.7 million in eight funding rounds, led by Shining Capital, Rho Capital Partners Inc. and Matrix Partners.
Lu and Sugano's company, 1661 Inc., raised $97.6 million from various investors including Matrix Partners, Accel and Index Ventures. In February, footwear giant Foot Locker Inc. swooped in with a $100 million investment.
MVMT founders Jake Kassan, who made this year's LA500, and Kramer LaPlante had no outside investment until Movado Group Inc. acquired the company in August 2018. The price tag: $100 million now with two payments that could total another $100 million.
In the fashion business, success breeds copycats, and there has been a rush of new apparel and accessories brands hoping to knock off the direct-to-consumer businesses. But industry analysts advise taking a cautious approach.
"Traditionally people thought building an online business was a cheaper way to build a brand," said Paul Altman, a managing director at Sage Group, an investment bank that frequently brokers deals in the fashion and beauty space. "They need an idea and a product, and the barriers for entry are down, but you very quickly need to compete on brand and product."
Many digital-native brands will spend heavily on expensive targeted ads for customers who aren't always loyal, and they'll fail to reach the volume needed to generate a meaningful profit, said John Kernan, an analyst with investment firm Cowen and Co.
Traditional retailers find ecommerce companies intriguing because they offer rich data sets about their online consumers.
"Brands no longer have to rely on traditional trade shows or showrooms," Goldenberg said. "The digital age has empowered entrepreneurs to build and scale brands on their own."
TechStyle's Goldenberg says technology has freed fashion brands from the need to follow traditional routes to success. In fact, they've literally flipped that model on its head: TechStyle has recently moved into two brick-and-mortar stores, and it plans to add about 100 more in the coming years.
For reprint and licensing requests for this article, CLICK HERE.