CRE Awards 2019: Best Public Project
Custom Content by the Los Angeles Business Journal
Friday, March 1, 2019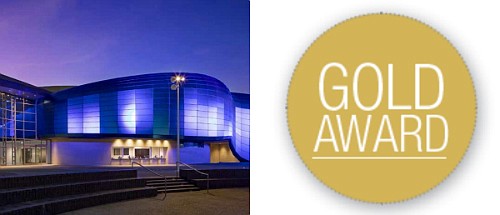 Pacific Visions Wing at the Aquarium of the Pacific
Location: 100 Aquarium Way, Long Beach
Developer: The Aquarium of the Pacific
Contractor: Clark Construction Group
Architect: EHDD
Subcontractors: Woodbridge Glass, Inc. | True North Steel | Snowden Electric Company, Inc.
The Aquarium of the Pacific's new Pacific Visions Wing offers visitors new ways to understand our connections to Earth, the Pacific Ocean, and contemporary scientific research. The $53 million project is the Aquarium's first major expansion since its founding in 1998. As the new focal point of the Aquarium, Pacific Visions will provide a platform to integrate the arts and sciences and will offer visitors innovative ways to explore their impact on planet Earth and the ocean and how to reduce it. Opening on May 24, 2019, the 29,000-square-foot wing features a state-of-the-art theater, art galleries, and space for live animal exhibits. Along with increasing the Institution's audience capacity to approximately two million visitors a year, Pacific Visions will provide a revitalized front plaza and exhibition hall with space for installations, performances, and cultural events. Pacific Visions has a unique glass facade that doubles as a ventilated rain screen, made up of more than 800 non-reflective glass panels covering an area of 18,000 square feet. Each panel is uniquely sized to accommodate the curves and angles of the building's form.

Poetic Structure: Art + Engineering + Architecture
Location: 835 N. Kings Rd., West Hollywood
Contractor: Taslimi Construction Company, Inc
Architect: Skidmore, Owings & Merrill
Subcontractors: Washington Iron Works | Western Allied Corporation | Ker-Mar Concrete
Presented at the historic Schindler House in West Hollywood, the exhibition illustrates SOM's multidisciplinary practice, past and present, and the way design and engineering can be integrated to achieve works of public art. Throughout various spaces in the house and garden, installations and conceptual visualizations show the intricate connections between these disciplines. The exhibition comprises four components: Scale and Form Pavilion; Models; Ideas Wall; and art installations and digital projections.
For reprint and licensing requests for this article, CLICK HERE.