Stake Sells in $171 Million Koreatown Project
Wednesday, December 18, 2019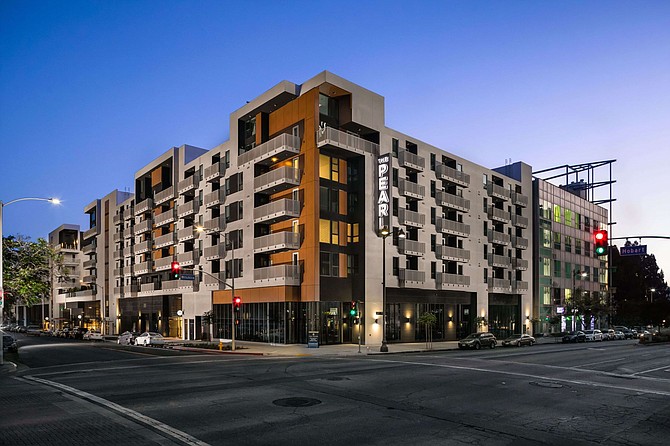 Multifamily developer Cityview has sold an equity stake in The Pearl on Wilshire, a 346-unit complex in Koreatown, that values the property at nearly $171 million.
Century City-based Cityview announced the transaction on Dec. 17. The company developed the property on land that was entitled by Hankey Investment Co. Cityview sold its interest to a group led by Hankey.
CBG Building Company, VTBS Architects and Nadia Geller Designs also worked on the building.
The property, at 687 S. Hobart Blvd., opened in the summer of 2018 and was leased in 10 months.
The complex has 17 different floor plans and 8,300 square feet of retail space, including an Orangetheory Fitness center, an Alchemist Coffee Project and The Carving Board artisan sandwich shop. The building also has a pool with cabanas, Korean BBQ grills, a gym and a dog grooming spa.
"Cityview is proud to have executed on its business plan for The Pearl and we are confident the buyer group will ensure it continues its success as Koreatown's market-leading community," Sean Burton, chief executive of Cityview, said in a statement. "The community exceeded our lease-up expectations and was sold at a record-breaking price per square foot."
IPA's Greg Harris represented Cityview in the transaction.
Multifamily properties in Koreatown are in high demand. Earlier this year Equity Residential purchased Next on Sixth for $189 million. The property was built by Century West Partners in 2017. It has 398 units.
The Kodo, a 60-unit property, sold recently as well. Alhambra Place Partnership purchased the property at 2867 Sunset Place for $29.25 million from CGI Strategies.
Commercial real estate reporter Hannah Madans can be reached at hmadans@labusinessjournal.com. Follow her on Twitter @HannahMadans.
For reprint and licensing requests for this article, CLICK HERE.