Koreatown Multifamily Property Sells for $29 Million
Wednesday, November 6, 2019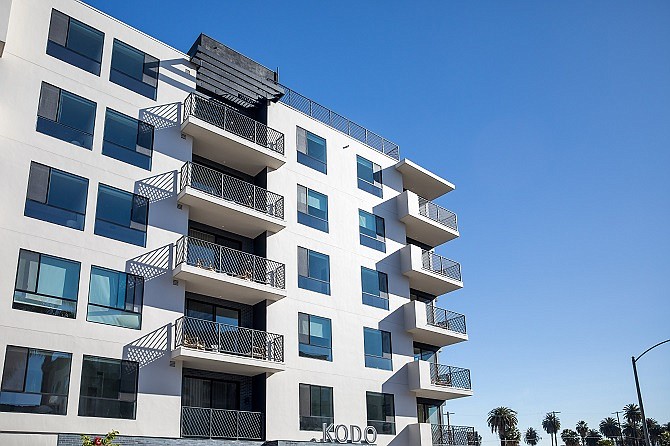 Kodo, a 60-unit property in Koreatown, is the latest multifamily sale in the desirable submarket.
Alhambra Place Partnership purchased the property at 2867 Sunset Place for $29.25 million from CGI Strategies. CBRE Group Inc.'s Laurie Lustig-Bower and Kamran Paydar represented the seller.
Kodo was built in 2018 and has a fitness center, rooftop lounge and a common area. At the time of the sale, roughly half the units were leased as short-term furnished rentals.
"Kodo is well located in Koreatown and attracted strong interest from the market," Lustig-Bower said in a statement.
Paydar said the building's mix of short-term and furnished rentals "provides a rental rate premium that set it apart from other assets in the area."
Kodo isn't the only recently built multifamily property to sell in Koreatown.
Earlier this year Equity Residential purchased Next on Sixth for $189 million. Century West Partners built the property in 2017. It has 398 units, a swimming pool, four roof decks, a yoga room and a business center.
Other transactions in the area this year include the 142-unit Sheraton Town House Apartments at 639 S. Commonwealth Ave., which was sold in September for $16.4 million; the 30-unit Alexandria Garden Apartments at 130 S. Alexandria Ave., which was purchased in March for $12.4 million; and the 32-unit Fusion Apartments at 855 S. Harvard Blvd., which closed in April for $10.9 million.
Koreatown-based developer Jamison is also betting big on the area with more than 1,000 units in development.
Multifamily investment has a huge upside for investors. Over the last five years, multifamily housing gave a 9.2% return on investment, according to CBRE.
Commercial real estate reporter Hannah Madans can be reached at hmadans@labusinessjournal.com. Follow her on Twitter @HannahMadans.
For reprint and licensing requests for this article, CLICK HERE.