Christofferson Departs Role at AECOM
Law: Executive has been with the firm since 2015
Friday, December 13, 2019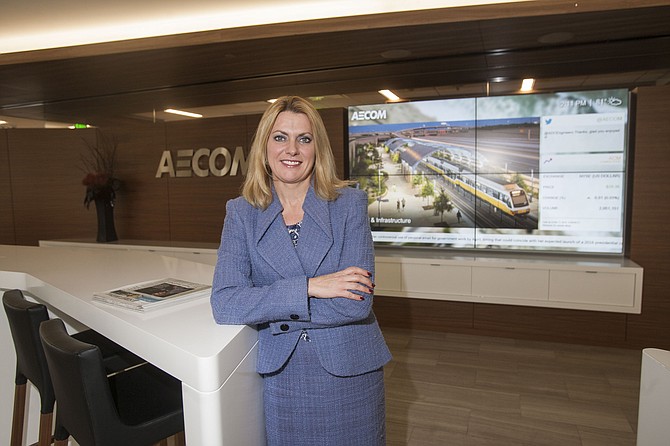 Prominent Los Angeles attorney Carla Christofferson has left her positions as executive vice president and chief legal officer of engineering giant AECOM and is exiting the company on Dec. 16.
The decision to part ways with the Century City-based firm was announced in a Nov. 29 Securities and Exchange Commission filing, which described the move as "mutually agreed." It comes amid a flurry of changes in AECOM's executive ranks, including the announced departure of Chief Executive Michael Burke, who will leave the company by March at the latest.
Christofferson joined AECOM in March 2015 after spending more than 20 years at the law firm O'Melveny & Myers. Hired as an associate in 1993 following her graduation from Yale Law School, Christofferson ultimately became managing partner of O'Melveny's Los Angeles office and was regularly cited on lists of the city's top litigators.
Christofferson made headlines in 2006 when she, along with friend and client Kathy Goodman, purchased the Los Angeles Sparks franchise of the Women's National Basketball Association from Jerry Buss.
They were among the first women entrepreneurs in a major sport whose ownership stake in the team didn't derive from an inheritance or a spouse's wealth. Attendance rose under their stewardship, but they could not succeed in earning a victory on the balance sheet and never turned a profit.
They remained part owners until 2014, when, to keep the team afloat and in Los Angeles, the Sparks franchise was bought by a group of investors led by Earvin "Magic" Johnson and Mark Walter.
During Christofferson's tenure, Burke-led AECOM became a global giant, largely via acquisitions, with 90,000 employees involved in designing, financing, constructing and maintaining infrastructure worldwide.
Revenues reached $20 billion, but hedge fund investors began to demand changes. In response, AECOM began trimming sail, selling off some assets until, ultimately, it shed Burke.
Christofferson's departure is not connected to Burke's exodus, according to AECOM. She leaves having been granted a severance package that includes cash, stock and one year of monthly COBRA health insurance payments. Christofferson could not be reached for comment regarding her future plans.
A former Miss North Dakota, and all-state basketball player, Christofferson is a sought-after speaker on issues of leadership and gender equality in the business world.
She serves on the board of the Public Library Fund of Los Angeles.
For reprint and licensing requests for this article, CLICK HERE.