Major Changes for AECOM
Engineering: Burke departs as CEO amid moves by activist hedge fund
Friday, December 13, 2019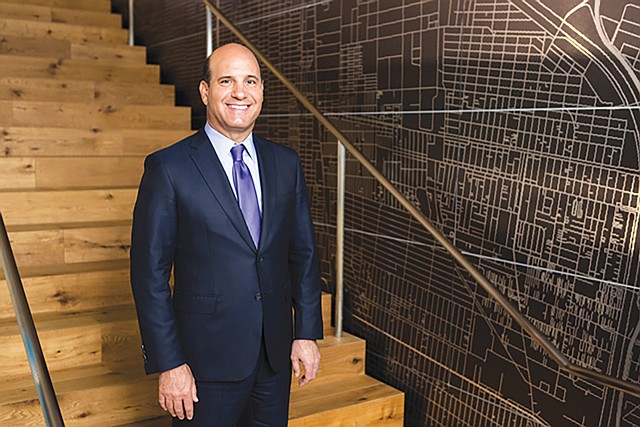 An activist investor hedge fund is driving a leadership change at Century City-based AECOM, one of the largest public companies in Los Angeles.
Starboard Capital Partners has effectively forced out Chief Executive Michael Burke, who built AECOM into a $20 billion behemoth through dozens of acquisitions in his 13 years at the company, including the last five as CEO.
Burke recently gave notice that he will be retiring from his post at the engineering and infrastructure giant once his successor is named next year. The leadership change will happen no later than March.
Observers say AECOM's next chief executive will likely come from the slate of new board members Starboard pushed to install. The new members include Starboard Managing Member Peter Feld, who led the push.
This leadership change springs from a governance agreement AECOM's board reached last month with Starboard, which holds a 4% stake in the infrastructure firm.
Starboard focuses on investing in underperforming companies and working with those companies' management teams to boost shareholder value, according to its website. Over the past year, Starboard has been pushing for higher returns for AECOM shareholders. It was the driving force behind the company's move in October to sell AECOM's management services unit to two private equity firms for $2.4 billion. The unit reported 2018 billings of $3.7 billion.
New blood
As part of the agreement between AECOM's board and Starboard, three new members were appointed to the board, including Feld, who also heads Starboard's research division. Both of his fellow new board members have experience running major engineering and construction companies: Robert Card, former chief executive of SNC-Lavalin Group Inc., a Montreal-based engineering and construction company with 40,000 employees worldwide; and Jacqueline Hinman, former chief executive of CH2M Hill Cos. Ltd., a Denver-based environmental and engineering firm that was purchased in December 2017 for $3.3 billion by Dallas-based Jacobs Engineering Group Inc.
Some observers applauded the change. "The two industry executives have excellent industry reputations and experience, which we believe will be welcomed by investors," Andrew Wittmann, senior research analyst with Milwaukee, Wis.-based Robert W. Baird & Co. Inc., said in a Nov. 22 research update note on AECOM. "Either Jacque Hinman or Bob Card are likely candidates for the CEO position after the Board conducts its internal and external search."
A tight timeframe also argues in their favor. AECOM's board, in announcing the new governance agreement set a deadline for choosing a new chief executive of "by or prior to AECOM's 2020 Annual Meeting of Shareholders." While the company has not yet publicly specified that date, past annual meetings have been held in early March, which would leave little time for an exhaustive global search for a chief executive.
Burke's legacy
Burke, 55, honed his financial chops at accounting giant KPMG before joining AECOM in 2006 as chief financial officer and rising to chief executive in 2014.
Between 2006 and 2018, Burke led AECOM through more than four dozen acquisitions in his quest to turn the company into one of the world's largest design and construction firms.
The biggest acquisition came in 2014, just months after Burke became chief executive. AECOM executed a $6 billion buyout of San Francisco-based contractor URS Corp. At the time, URS was the bigger company by revenue.
For these accomplishments, Burke was chosen as the Business Journal's 2018 Businessperson of the Year.
But the constant acquisitions took a toll on its stock price, especially as AECOM neared $20 billion in annual revenue. By June, AECOM's three-year annualized shareholder return was about 5.8%. While that was just above its peer group average of 4.6%, it substantially lagged behind rival Jacobs' 19.3% and Houston-based KBR Inc.'s 25.3%.
AECOM attempted a course-correction, taking steps to dismantle Burke's empire. In May, the company announced it was exiting its riskiest construction work, which consisted of fixed-price bids or projects in which AECOM supplied the construction workers.
And in June, AECOM announced plans to spin off its government contracting unit into a separate publicly traded entity, effective in 2020.
Despite those moves, Starboard wanted more. In June, Feld sent a letter to AECOM's board and to Burke urging the board to take more steps to "unlock value" for shareholders.
Feld also advocated that AECOM sell its government services unit, rather than spinning it off to generate more immediate returns for shareholders.
In October, Burke and AECOM's board acceded to Starboard's demands, opting to sell the management services unit for $2.4 billion to affiliates of New York-based private equity firms American Securities and Lindsay Goldberg The deal is expected to close in March.
At that time, Burke hinted that more restructuring moves would follow. But there was no indication that would include his departure from the company.
Under the governance agreement with Starboard, in addition to Burke stepping down, AECOM's board announced that the roles of chief executive and board chair would be separated. The board had combined those positions under Burke in 2015 as part of the agreement in which AECOM purchased URS Corp.
In summing up Burke's recent tenure as chief executive, AECOM board member Steven Kandarian said in the announcement, "Through Mike's stewardship, we have created substantial value for the company and our shareholders over the past year, and we are well-positioned to continue those value creation initiatives as we move into this next phase for AECOM following the completion of the sale of our Management Services business."
The board also announced the retirement of two members: James Fordyce and Linda Griego, who had served on AECOM's board since 2006 and 2005, respectively.
Fordyce is co-chair of Century City-based private equity firm Stone Canyon Industries. Griego, who runs a business management company, is a familiar name to Angelenos. She was chief executive of Rebuild LA, the organization that led riot recovery efforts in South Los Angeles in the 1990s. She also founded the popular downtown restaurant Engine Co. No. 28, running it for more than 20 years.
For reprint and licensing requests for this article, CLICK HERE.