Wealth Management - Trust and Estates Roundtable
Custom Content by the Los Angeles Business Journal
Thursday, April 25, 2019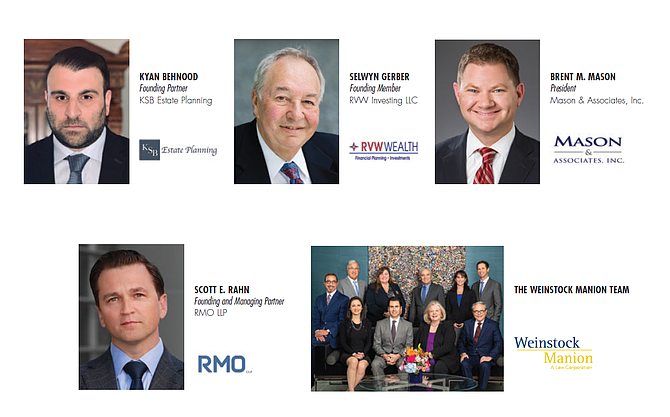 What are the benefits to having an estate lawyer?
Rahn: There are innumerable benefits to having an estate lawyer. First, the estate lawyer will be a part of your financial well-being team, looking after issues your financial advisor, insurance agents, etc. cannot, adding value to your family's overall security. Second, an estate lawyer can help ensure that your wishes, whether for your family, charities, etc., are fulfilled after you pass. Third, an estate lawyer can help ease the transition for your loved ones after you pass. As a consistent member of your financial well-being team, your estate lawyer will understand your affairs and can help your family manage financial transition during a difficult time in their lives. Fourth, an estate lawyer is experienced in administering estates and handling all of the nuanced issues that may arise, issues that your loved ones, especially while grieving your loss, may not be equipped to handle. At a minimum, an estate lawyer can help the loved one you've appointed to administer your affairs, provide guidance, and take some of that burden off of him or her.
What are some mistakes individuals make when working with their wealth management advisors?
Gerber: Blindly trusting the advisor without understanding the investment philosophy or the process is a key mistake. Complexity is often a way to hide costs and fees - and to mislead. In addition, the investment process should ensure that there are absolutely no conflicts of interest between the advisor and the investor. "Flavor of the Month" is for ice cream not for portfolios and we ignore the latest trends or fads in investing like hedge funds, alternatives, structured products and venture capital. Concentration risk in a specific region, sector, or stock can lead to permanent loss of capital, and diversification is the only free lunch for investors because it can transform risk into volatility. Portfolio design is not a one-size-fits-all exercise and you should expect your advisor to design an investment program responsive to your own situation, needs and risk-tolerance.  The most common mistake investors make is to follow the crowds – buying near the top and panicking out when the bear growls. The problem is that normal market volatility never feels normal when you're in it. Our education process deals with this.
For reprint and licensing requests for this article, CLICK HERE.
Prev Next