Wealth Management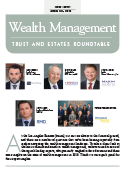 Custom Content from the Los Angeles Business Journal
---
Trust and Estates Roundtable
At the Los Angeles Business Journal, our ears are always to the financial ground, and there are a number of questions that we've been hearing repeatedly from readers navigating the wealth management landscape. To take a closer look at the latest concerns and trends in wealth management, we have turned to some of the region's leading experts, who graciously weighed in for a discussion and share some insights on the state of wealth management in 2019. Thanks to our superb panel for their expert insights.
---
For the Roundtable Discussion
Click Here.
---
Inside this supplement:
A Closer Look at What Financial Advisors Bring to the Table
In a society that grows more complex every day, consumers are presented with the constant pressures of family, career, and community responsibilities and personal enrichment. The financial marketplace is ever-changing with new laws, regulations, economic events, market changes, product offerings...
Read More
---
Why Purchase Life Insurance?
We've all heard about the importance of having life insurance, but is it really necessary? Usually, the answer is "yes," but it depends on your specific situation. If you have a family who relies on your income...
Read More
---
ABA Shares Consumer Tips for Budgeting, Saving and Reducing Debt
The American Bankers Association last month highlighted personal finance resources and urged consumers to take an active role in managing and protecting their money...
Read More
---
How to Keep Your Money from Slipping Away
As with virtually all financial matters, the easiest way to be successful with a cash management program is to develop a systematic and disciplined approach. By spending a few minutes each week to maintain your cash management program, you not only have the opportunity to enhance your current financial position, but you can save yourself some money in tax preparation, time, and fees....
Read More
---
Top 10 Money Tips Your Kids Should Know Before Going Off to College
As college students head to campus for the fall semester, money management should be on their personal syllabus, according to the American Bankers Association...
Read More
---
Seven Ways to Protect Your Data Online
In an attempt to curb the current onslaught of cyber thieves and unscrupulous data miners, the American Bankers Association have highlighted eight tips to help online users protect their data and guard against online threats...
Read More
---