Pasadena Regional Report: A Great Place for Business
Custom Content by the Los Angeles Business Journal
Thursday, April 25, 2019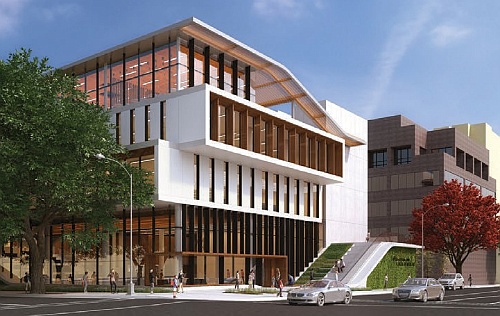 Business life in Pasadena continues on a rosy path. With the breadth of amenities available, from transit-friendly services and walkability scores in the top 5% of the nation, to cultural landmarks, and shopping and dining flavors from every corner of the globe, Pasadena continues to attract a variety of businesses, shoppers, and visitors.
With a diverse and thriving employment base, Pasadena is home to some of the most successful companies in the world as well as best-in-class institutions like Art Center College of Design, Caltech, and NASA's Jet Propulsion Laboratory (JPL). Pasadena's local institutions are continuing to grow. Art Center College of Design is adding hundreds of student housing units and dozens of new design studios while Caltech is currently expanding their academic footprint with the construction of the Chen Neuroscience Building.
Healthcare represents a strong cluster, with resources expanding within Pasadena. Created specifically to meet the demands of a rapidly changing health care system, the Shriner Medical Center, which finished construction in 2017, is a state-of-the-art pediatric outpatient medical center to service families and children in the greater Pasadena community. The recent completion of the Huntington Medical Research Institute's (HMRI) world-class facility provides lab space for research programs that target conditions such as liver, cardiovascular, and Alzheimer's disease. Wanting to be part of the Pasadena community, the Doheny Eye Institute is set to move to Pasadena's famed Orange Grove Boulevard. The Doheny Eye Institute ranks as one of the top vision research institutions according to US News and World Report. Their research includes studies on glaucoma and age related vision loss. These three developments strengthen a corridor of medical research and discovery in Pasadena.
Pasadena has many new development projects under construction. The Lincoln Properties Project just held their groundbreaking ceremony. Located directly adjacent the 134 and 210-freeway interchange, the first phase of the 1,000,000 square-foot project will include nearly 400 new apartment units, 200,000 square-feet of office space and 20,000 square-feet of retail space. The project is within two blocks of both the Metro Gold Line and the energetic Old Pasadena commercial district.
Another exciting project is under construction in the Civic Center. Alexandria Real Estate Equities is building a stunning new headquarters scheduled to be completed later this year. The development will include the latest technology in office amenities and an innovation lab, the third of its kind with the other two only found adjacent to MIT and in New York City. The Kaiser Permanente School of Medicine is currently under construction on the corner of Los Robles and Green. The Kaiser School of Medicine will help shape the future of medical education and train physicians to serve the needs of society.
A city synonymous with science and tech and home to Caltech and NASA's Jet Propulsion Laboratory, Pasadena has many innovative companies are pushing towards the next technological achievement. In 2017, Cruise Automation (GM Cruise), a vehicle subsidiary of General Motors, bought Pasadena based company Strobe Inc. and its technology to aid the automaker in the development of autonomous vehicles through the use of LIDAR (Light Detection and Ranging). Headquartered in Pasadena, Industrial Toys, indie gaming company, produces high quality games for mobile devices. Electronic Arts (EA), the largest producer of electronic games, recently acquired the small gaming company making it part of the EA brand. Bluebeam, company known for their innovative markup and collaboration technology, was looking to expand their footprint within Pasadena. Bluebeam sought out a location where the company could grow from 50k to 75k and their new location on Raymond Ave in Pasadena gave them the creative environment they were seeking.
Serving cuisines from all corners of the world, Pasadena offers more restaurants per capita than New York City, according to the LA Times. Granville, a modern casual restaurant chain, just opened their newest location within Pasadena. Their main dining area offers booth seating and long communal tables, patio seating, and a rooftop bar. Right off of Green Street in Old Pasadena, in what was formally a recording studio, Crack Shack opened their latest location. Known for their wide variety of chicken dishes, Crack Shack offers a unique dining experience with a full bar and elevated classic comfort food with a twist. In the East Washington commercial area, Millie's Café opened their second location late last year. The light-filled space echoes their original location with its own unique look and feel. Millie's Café is a popular brunch spot on the weekends and known for their extensive menu.
"Our city continues to be an attractive place for business investments," said Pasadena City Manager Steve Mermell. "Our Economic Development staff is eager to hustle for the entrepreneurs and innovators looking for opportunities."
Pasadena's Economic Development Team offers a variety of business concierge services to assist businesses on their road to success. Call the team to assist you with site selection, to navigate permits, or to schedule a one-on-one appointment with a small business consultant. Whether you are scaling up or just starting out, Pasadena's Economic Development Team are available to help.

For more information, visitfutureyourselfhere.com or call (626) 744-4660.
For reprint and licensing requests for this article, CLICK HERE.