Pasadena Regional Report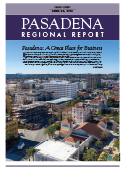 Custom Content from the Los Angeles Business Journal
---
Inside this supplement:
Pasadena: A Great Place for Business
Business life in Pasadena continues on a rosy path. With the breadth of amenities available, from transit-friendly services and walkability scores in the top 5% of the nation, to cultural landmarks, and shopping and dining flavors ...
Read More
---
Pasadena Convention Center: 10 Years of Excellence
Nestled ten miles from downtown Los Angles, the Pasadena Convention Center is a premier Southern California meeting and events venue in the heart of Pasadena...
Read More
---
Pasadena Hotels Offer More Guest Rooms, Larger Meeting Spaces and Amenities
Pasadena's growing reputation as a hospitality leader for domestic and international meetings and events, saw a major transformation between 2017-2018 when several of the city's hotels underwent multi-million dollar...
Read More
---
Pasadena's Iconic Rose Bowl Stadium to Serve as Finish Line for Amgen Tour of California 2019
The 2019 Amgen Tour of California cycling race will be the longest and most challenging in its 14-year history, according to details announced earlier this year by AEG, owner and presenter of America's only UCI WorldTour race...
Read More
---
Pasadena: A Unique History and Legacy
Pasadena is truly one of the Los Angeles region's crown jewels. Here's a look back at some details about the city's origins and some facts you may not be aware of...
Read More
---
LightBox Expo is Coming to Pasadena in September
Celebrated character designer and illustrator Bobby Chiu (Disney's Alice in Wonderland) and Emerald City Comic Con founder Jim Demonakos are launching LightBox Expo, a three-day celebration of the visual arts in Pasadena...
Read More
---