CFO Awards 2018 Nominees: Eco-Friendly, Energy Savings with Solar Water Heating
Custom Content by the Los Angeles Business Journal
Friday, September 21, 2018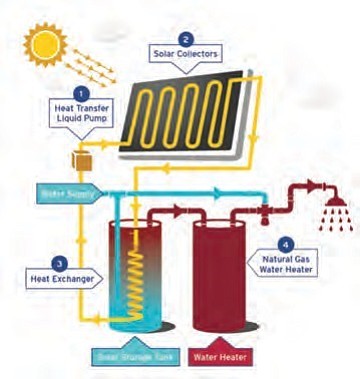 SoCal residents and businesses are taking important steps to reduce their environmental impact and conserve natural resources. Solar water heating is a great way to make your business more sustainable by relying on the clean, unlimited energy of the sun. Plus, the numerous financial incentives available and reduced energy costs could offer significant savings.
THE BENEFITS AND USES OF SOLAR WATER HEATING
Installing a solar water heating system offers many valuable advantages. Natural gas is already an affordable energy source and a solar water heating system further reduces the amount of energy needed for heating water. This could help business owners and property managers improve their bottom line by reducing their natural gas energy use and lowering their SoCalGas® bill.
In addition, by using the renewable energy of the sun, solar water heating is a more environmentally friendly way to maintain a reliable and efficient supply of hot water. It makes your business or property more sustainable by reducing your overall carbon footprint. Finally, solar water heating is a proven technology that typically lasts for 20 years or longer.
SOLAR WATER HEATING INCENTIVES EXTENDED THROUGH 2020
California commercial businesses and multi-family residential properties can still take advantage of the valuable rebates being offered for installing a solar water heating system. Income-qualified customers may be eligible for rebates at an even higher incentive rate. These rebates have been extended through 2020 and may cover up to 80% 1 of a qualifying system's cost. The rebates are funded by the California Solar Initiative (CSI) Thermal program and are made available through SoCalGas.
These rebates can be quite significant. Commercial businesses and multi family properties can receive a rebate of up to $800,000 for installing a qualifying solar water heating system or up to $500,000 for a solar pool heating system. Federal and local tax credits may cover up to an additional 30% 2 of the installed equipment costs making solar water heating a smart investment. Ted Bavin, President of All Valley Solar, a solar energy installation company, says, "Between the SoCalGas rebates and available tax credits, many customers can recover installation costs within the first or second year."
Businesses can heat much more than just tap water with the sun. Solar water heating systems can be used for process heating, space heating and cooling. Hotels, gyms, schools, and community centers can heat swimming pools, spas and showers. Water intensive facilities like restaurants, laundries, hospitals and manufacturing and industrial operations can also save money with the sun's clean energy.
Prev Next
For reprint and licensing requests for this article, CLICK HERE.