Still Strong
Office market chalks up gain in average asking price despite additions of new space
Friday, October 12, 2018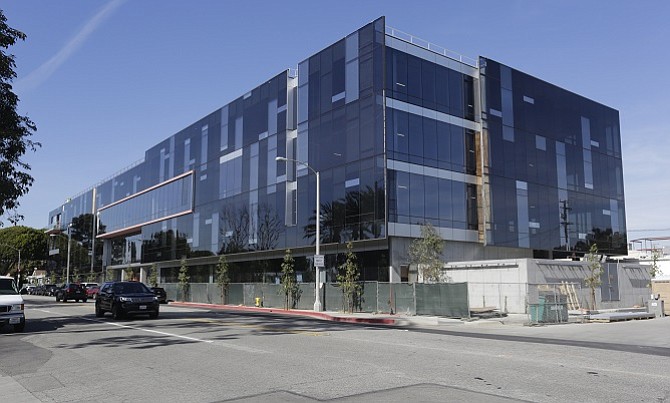 Demand for office space in Los Angeles County continued to be strong enough to push rents higher despite new supply coming onto the market in the third quarter.
Office construction countywide declined 15 percent from the previous quarter to 2.3 million square feet − although that total still was good enough to nearly double the year-earlier period's output.
The average asking price of Class A office rent grew 12 cents per square foot quarter-over-quarter, a dynamic driven by new, high-end Class A office space fetching higher rates to offset the effects of additional vacancies.
Class A rents rose 23 cents year-over-year on average countywide in the third quarter, finishing the quarter at $3.87 per square foot.
Rents rose on an annualized basis in most submarkets throughout Los Angeles County.
Westside rents rose 5 cents in the third quarter compared to the prior period, and the vacancy rate fell 0.2 points to 13.3 percent.
Hollywood rents rose 30 cents quarter-to-quarter, reaching $5.95 per square foot to become more expensive than office rates in Beverly Hills and Century City. Hollywood now is challenging Santa Monica, the county's most expensive office market at $6.20 per square foot (see related story, page 1).
Downtown Los Angeles rents rose 3 cents from the previous quarter to $3.58, a drop of a penny from a year earlier.
Negative net absorption
Net absorption – the net change in occupied space over a period of time – fell to negative 296,000 square feet as the vacancy rate rose to 15.1 percent from 14.9 percent during the third quarter. Second-quarter net absorption countywide was negative at nearly 13,500 square feet.
The net absorption rate continued to turn negative because of new office space being built, with around 81 percent of all office construction in Los Angeles County – nearly 1.9 million square feet – rising on the Westside and Hollywood, with 885,000 and 976,000 square feet, respectively.
Noteworthy office properties to open during the third quarter included Shift at 2834 Colorado Ave. in Santa Monica (140,000 square feet); Ascend at 2330 Utah Ave. in El Segundo (80,000 square feet); and The Romaine at 7007 Romaine St. in Hollywood (60,500 square feet).
Net absorption was positive in downtown at 88,300 square feet in the third quarter. The 116,000 square feet under construction in the area was due to the renovation of the Herald Examiner Building at 1111 S. Broadway. Arizona State University has announced plans to occupy the vast majority of the property, which has sat mostly unused since the Herald Examiner newspaper closed operations in 1989.
The Tri-Cities submarket of Burbank, Glendale and Pasadena saw net absorption turn negative with 129,100 square feet – most of it in Glendale, where Nestle USA is relocating its U.S. headquarters. Yet office rents rose 2 cents quarter over quarter.
"The most alarming statistic (of the third quarter) primarily relates to the fact that L.A. County is experiencing peak rates in most submarkets and continued exponential demand, and yet, there is only 2.3 million square feet of new office construction under way," said Josh Wrobel, a managing director at Jones Lang LaSalle Inc., which provided the data, via email.
Rising rents are likely to continue for office tenants, with close to double-digit increases possible in submarkets that hit single-digit vacancies, Wrobel said.
Content, co-working
The biggest appetites for office real estate in Los Angeles County have come from content creation companies such as Netflix Inc., Apple Inc., and Amazon.com Inc.
Los Gatos-based Netflix went from a renter of 20,000 square feet of office space in Beverly Hills to upwards of 1 million square feet in Hollywood. Apple and Amazon are expanding in Culver City while Facebook Inc. reportedly is close to leasing the majority of Playa Vista's Brickyard project.
Co-working companies, led by New York-based WeWork Cos. Inc., also are grabbing what space is available.
WeWork opened its second Playa Vista location during the third quarter, leasing two floors at 12130 Millennium Drive. The company also nearly doubled its office space at the Pacific Design Center's Green Building in West Hollywood, expanding to 124,000 square feet. WeWork also plans to occupy about 75,000 square feet on three floors at PCT in El Segundo.
Meanwhile, traditional office tenants such as banks, law firms and accounting firms either are trimming their footprint or not expanding, according to Andrew Lustgarten, a senior managing director at Savills Studley.
Digital content and co-working companies typically eschew corporate towers in downtown for more expensive creative office space in the Arts District, Lustgarten said.
Looking ahead
Various projects are scheduled to break ground this year and in 2019 with the bulk of development concentrated in media- and technology-rich submarkets such as Culver City and Hollywood, Wrobel said.
The Westside and Hollywood remain popular destinations, but downtown offers relative bargains for some tenants, including Spotify Technology, which signed a lease for nearly 110,000 square feet in the At Mateo complex in the Arts District.
"They can go from $5 (per square foot)rents to $3.50 rents and shrink their space for more efficiency on one floor," said Jonathan Larsen, principal and managing director at Avison Young.
The local office market remains strong, but possible headwinds include rising interest rates, low unemployment that pushes up construction costs and makes it difficult to find labor, and California's political climate regarding housing. Proposition 10, which is on the Nov. 6 ballot,
seeks to repeal the Costa-Hawkins Rental Housing Act, a 1995 state law that placed limits on municipal rent control ordinances.
"Everyone's a little bit leery about some of the things going on in L.A. with some of the propositions proposed," said Chris Runyen, a senior managing director at Charles Dunn Co.
Industrial still hot
L.A. County's tight industrial market tightened further in the third quarter, with a 1.3 percent vacancy rate that was a 0.1-point decline from the previous quarter.
Industrial rents rose 7 cents from a year earlier to 85 cents per square foot. The South Bay was the most expensive submarket at 98 cents per square foot, up 11 cents year over year.
Nearly 4 million square feet of industrial space was under construction during the third quarter – a meager 0.5 percent of the county's total inventory of 801.7 million square feet.
The hot demand for industrial property was highlighted by the sale of Echelon Business Park – seven industrial buildings owned by Dedeaux Properties, a Commerce-based real estate firm. The buildings were under contract for sale since last year, before their foundations had been laid.
Prologis Inc., a San Francisco-based real estate investment trust, purchased 31.2 acres of undeveloped land, roughly 1.2 million square feet, at the northeast corner of Del Amo Boulevard and Prairie Avenue in Torrance.
The industrial-focused real estate investment trust paid $49.3 million to PBF Energy of Parsippany, N.J., for the land.
Prologis also is building two of the county's largest 10 largest industrial projects – 228,000 square feet at 5215 S. Boyle Ave. in Vernon and 195,000 square feet at 1901 W. Pacific Coast Highway in Long Beach.
The growth of Amazon.com Inc. and other e-commerce companies continues to drive vacancy rates downward and rents upward.
"When you look at the L.A. County submarkets, there is virtually no space to continue to supply the growth of e-commerce and early-stage omnichannel requirements," said Bret Hardy, an executive managing director at Newmark Knight Frank.
Though most industrial tenants opt to renew their leases, sometimes years in advance, other companies seeking to expand either must pay a premium in rent or move outside Los Angeles County.
One of those businesses, New York-based beauty company L'Oreal USA, agreed to relocate SalonCentric, its professional salon distribution operation, from Valencia to Tejon Ranch Commerce Center in Kern County.
"Lack of quality choice in the market will leave users that want to expand being put in a really difficult spot," Hardy said
For reprint and licensing requests for this article, CLICK HERE.