Net Gain?
Deals for studio space highlight robust demand, constraints
Friday, October 12, 2018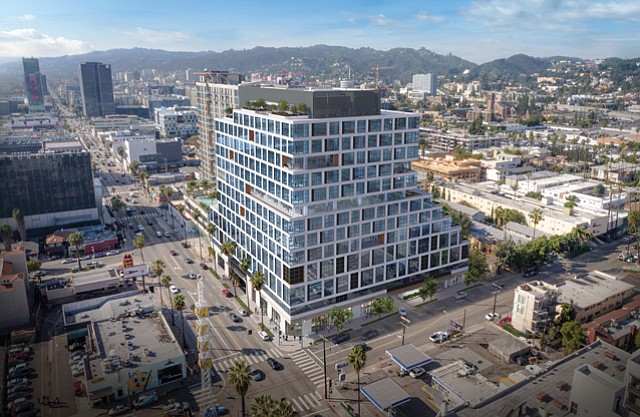 A couple of recent real estate deals by Netflix Inc. has put a spotlight on the Los Angeles area's status as the king of content creation but also the limits of its dominance.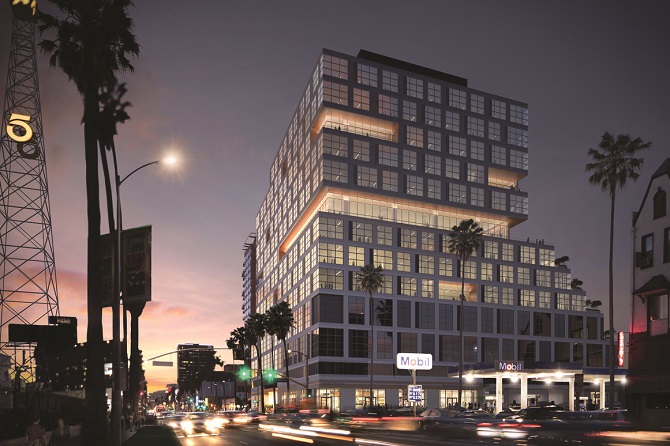 The Silicon Valley-based streaming giant earlier this month leased a 13-story, 328,000 square foot building named Epic in Hollywood until 2031, solidifying Los Angeles as the site of production for the majority of Netflix's original content.
"The L.A. competitive advantage is longstanding," said Alysa Hannon, a research analyst at Beacon Economics. "This is the foothold for film."
Indeed, there is an unprecedented L.A. market demand for office space at or near soundstages and production space, said Bill Humphrey, senior vice president of Hudson Pacific Properties Inc., which owns the Epic building Netflix leased for an undisclosed amount.
Word of the Hollywood lease came Oct. 4, just four days before Netflix made public its first studio purchase – in Albuquerque, N.M.
The first announcement might have confirmed Los Angeles' decisive advantages as the hub for motion picture personnel and infrastructure, but the second brought into play the limited capacity of the real estate market here.
Studio spaces are generally 95 percent booked across L.A. County, according to data from Film LA. The packed picture appears to fuel aggressive moves from Albuquerque to Atlanta to lure show business.
"Netflix is on an explosive growth pattern," said Carl Muhlstein, international director with commercial real estate firm Jones Lang LaSalle Inc., where he works with several Los Angeles production facilities. "But there are no large tracts of entitled land to grow in the heart of Los Angeles."
Few options
The recent leases signed by streaming content providers have taken some of the last readily available studio space off the market, Muhlstein explained, and there are few plots of land in the county to convert into studio space.
Netflix moved production facilities into Los Angeles in February 2017, renting 418,000 square feet of studio space at the Sunset Bronson lot in Hollywood, which sits across the street from the Epic building. The company also announced last week it extended its Sunset Bronson lease until 2031.
The Netflix lease deals come one year after Amazon.com Inc.'s Amazon Studios announced its move from Santa Monica to an expanded headquarters in Culver City, where they lease 350,000 square feet.
Hulu has stayed put in the past year, leasing 267,000 square feet in Santa Monica, though its operations may change once Walt Disney Co. takes a controlling share of the company through its pending acquisition of 21st Century Fox Inc.
Another likely streaming content provider on the horizon is Apple Inc., which announced a lease in January of 128,000 square feet in Culver City to produce original content.
Apple made its move even though it had yet to make any original programming at the time – which remains the case for the company.
Future uncertain
It's unknown whether more leases will come. Netflix and Hulu declined comment while messages left with Amazon and Apple were not returned.
The recent lease deals nonetheless illustrate that how shows are made has largely stayed the same, even as viewing habits and distribution channels change.
"The sound stage is still a sound stage," Muhlstein said. "And you still need the support services," such as dressing rooms, green rooms, plus nearby editing and visual effects space and companies.
Here, Los Angeles enjoys a clear advantage of other markets, in its sound stage infrastructure – and designation as the hub for motion picture employees and employers.
"The concentration of decision-makers, producers, writers, and talent here in L.A. remains a huge regional advantage," said Kevin Klowden, executive director of the Milken Institute.
But Los Angeles' nearing saturation is a key impediment to further growth in motion picture-making, according to a Beacon Economics report released in September.
"It is more difficult than industry actors would like to facilitate new projects," Hannon said, a position the Beacon researcher said was shared by both streaming providers and traditional studios.
The shortage, though, could have a greater effect on the streaming content providers. Netflix's 725,000 square feet of leased Los Angeles production space is a fraction of the space occupied by traditional studios.
For example, 21st Century Fox's lot in Century City includes 2.3 million square feet of space, which Disney is set to partly lease as part of its Fox acquisition.
Outside allure
Markets outside of Los Angeles have calling cards besides more plentiful space, with public financing and tax incentives that exceed what's on offer from the State of California, City of Los Angeles and Los Angeles County.
New Mexico provided $10.5 million for Netflix's new studio, and the City of Albuquerque kicked in $4 million.
The California Film Commission does not provide equivalent incentives for owning or leasing physical space.
The state does provide tax credit reimbursements for selected movies and TV shows that shoot in California. But Netflix has almost no state tax liability due to the research and development credits California provides it.
"They literally do not pay enough taxes to be able to take that credit," Klowden said.
Tax credit programs of other states such as New Mexico and Georgia, where Netflix has a production office in Atlanta, are of greater appeal to the company, Klowden said, and they are a not determinative but significant factor of where motion pictures are made.
For reprint and licensing requests for this article, CLICK HERE.