Freezer Burn: Halo Top Creamery No. 1 Fastest Growing for Second Straight Year
Fastest-Growing Private Companies 2018
Friday, November 9, 2018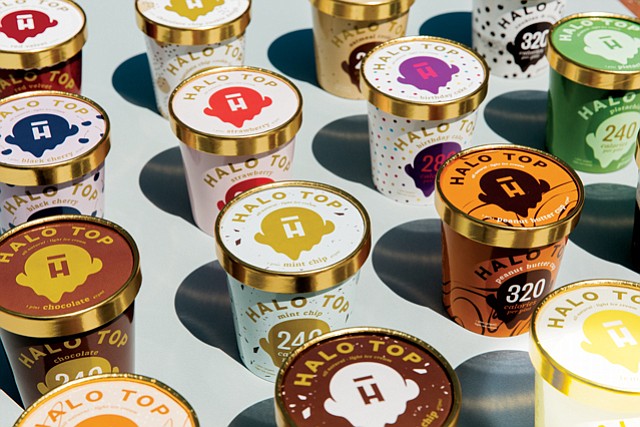 Halo Top Creamery seems to have found the winning formula.
The Los Feliz-based low-calorie ice cream-maker – incorporated as Eden Creamery – topped the Business Journal's 2018 list of fastest growing private companies for the second year in a row with 17,621 percent revenue growth, outstripping last year's 7,391 percent surge in sales.
The three-year revenue sample saw the company's sales grow to $350.6 million in 2017 from $2 million in 2015.
Halo Top President and Chief Operating Officer Doug Bouton described the low-fat ice cream-maker as "very analytical," relying on customer data to drive its sales growth. The company gained notoriety as a social media brand but is now expanding toward other more traditional advertising methods as a way to keep increasing market penetration.
"We are trying to do a test-and-learn system with more typical strategies," Bouton said. "We're going to look at television ads as well as ads in public spaces. Our goal is to be a household name just like Ben & Jerry's."
The 100 companies on the 2018 fastest growing list saw an average revenue growth of 341.5 percent, with the top five companies averaging a 4,468.1 percent increase. Halo Top's five-figure growth was head-and-shoulders above the pack, but No. 2 ranked NMS Capital Group, a Beverly Hills-based investment banking and securities brokerage firm, cracked the four-figure mark with a healthy 2,589 percent spike in revenue to $17.5 million in 2017 from $700,000 in 2015. No. 3 SnackNation, a Culver City-based snack curation and delivery service, saw its revenue increase 831 percent to $16.9 million in 2017; Pasadena-headquartered digital advertising agency Fox Dealer Inc. clocked in at No. 4 with 761 percent growth and $18.7 million in 2017 revenue; and private real estate lender Anchor Loans Inc., of Calabasas, rounded out the top five with 539 percent growth to $122.6 million in 2017 revenue.
Companies on the list combined for $7.4 billion in revenue in 2017 – more than double the combined revenue of companies on last year's fastest growing private companies list. That number was helped by the inclusion this year of Mid-Wilshire-based Westlake Financial Services, which saw its revenue grow to $1.1 billion from $738.7 million, or 52 percent, good for No. 80 on the list (for more on Westlake, see page 16).
Nearly half the companies on the 2018 list were firms that also appeared on the Business Journal's 2017 list. Of those 49 returning, only four saw year-over-year revenue drop between 2016 and 2017. Those companies included No. 77 Matt Construction Corp., which had $490 million in 2017 revenue but brought in $537 million in 2016; and No. 78 Sage Millimeter Inc., which brought in $6.7 million revenue in 2017 compared to $8.2 million in 2016.
Prev Next
For reprint and licensing requests for this article, CLICK HERE.