Construction Rises: Local Firms Show Big Growth During Region's Building Boom
Fastest-Growing Private Companies 2018
Friday, November 9, 2018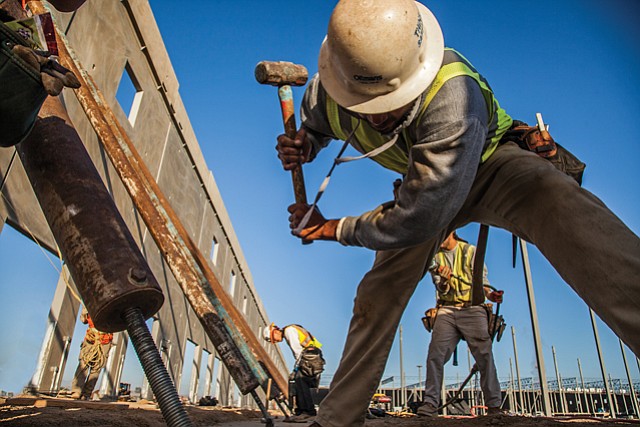 One in 10 companies on this year's Business Journal list of the 100 fastest-growing private companies in Los Angeles County were construction contractors, showing just how impactful the recent building and infrastructure boom has been to the local economy.
There are 10 construction companies on the 2018 list; that's up from eight on last year's list and three in 2016.
Six of the 10 were general contractors; all but one of those grew revenues more than 50 percent from a nine-figure base revenue over the three years (2015 through 2017) measured for the list. That gross revenue growth for these firms is larger than for most firms on the Business Journal's list. Three were subcontractors or suppliers, and one was a specialty contractor focused on seismic retrofit and foundation repair.
"Construction has been hot, hot, hot," said Barbara Kotsos, marketing director for Giroux Glass Inc., a glass pane installer based near USC in South Los Angeles. It placed No. 68 on the list with a three-year revenue growth of 71 percent to $56 million. Giroux recently installed glass panes atop the Paul Hastings Tower at City National Plaza downtown.
"You can't look in any direction in downtown Los Angeles without seeing cranes. Some of our contractors tell us they have 10 years of work in the pipeline," Kotsos said.
Of course, the stretch from 2015 through 2017 were years of plenty for the construction industry across California and the nation: Revenues grew 15 percent on both fronts over that time span, according to figures supplied by Gary Tulacz, senior editor with New York-based trade publication Engineering News-Record.
"Southern California has benefited from an overall strong construction market," Tulacz said. "Part of this has been fueled by a variety of bond issues passed over the last few years, funding transportation and infrastructure upgrades, and school construction. Southern California has also benefited from an influx of foreign money coming into the region to fund real estate development."
Rapid growth at giants
Adding to the boom was pent-up demand from the real estate downturn of 2008 through 2012, according to Dafna Zilafro, vice president of marketing for Matt Construction Corp., a Santa Fe Springs general contractor that placed No. 77 on the list with 58 percent revenue growth between 2015 and 2017 to reach $490 million in revenue last year. Matt Construction recently completed work on the Waldorf Astoria hotel in Beverly Hills.
For reprint and licensing requests for this article, CLICK HERE.
Prev Next