Daughters' Dominion
Do businesses get boost from '& Daughters' moniker?
Friday, December 21, 2018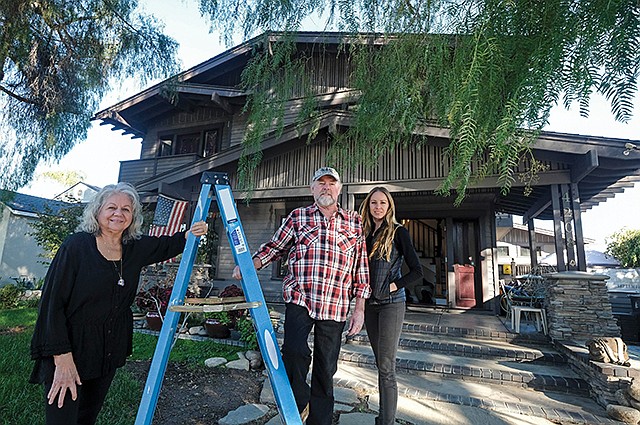 Cal Nordhagen, president of Nordhagen and Daughters, founded in 1990, declined to be interviewed for this story, but the company website touts the family business angle, saying Nordhagen's "two beautiful daughters" grew up in the business, which the website said was launched in a one-bedroom apartment.
What the family name means
Mike Vils, who has worked in the motorcycle industry where he met Irma some 50 years ago, and in construction, said that at his age, he's glad his daughters have a business they can continue to grow after he retires.
Because Long Beach native Vils is well-known in his community, he said it was only natural to put the family name on the company.
"I'm proud of what I do. If I put my hands on it, then I put my name on it," he said during a conversation at the family home, which he rebuilt from an 850-square-foot two-bedroom house into a 3,400-square-foot four-bedroom. "It's not ACME Construction Company. It's Vils & Daughters."
Lido Advisors' Weinberger said it's becoming less common to find a family surname as part of the company moniker at all, possibly to allow for greater flexibility in company structure and ownership as the company is handed down through the generations. "Even if they've kept the legacy, they're steering away from that," she said.
A more memorable brand
Company name guru Jurisich said embracing "& Daughters" in a company name is a way for a small business to stand out from the crowd.
"If there are thousands of companies all named Blank & Sons, being one of the few to be Blank & Daughters immediately differentiates that company and generates creative friction by violating the expectations of a cliche," he said.
No daughters are currently involved in Jack & Daughters, and neither is original owner Jack Bohorodzaner, who died 26 years ago. Tibby Grunfeld, Jack's son-in-law, bought the business after Jack's death.
Grunfeld said he turned Jack & Daughters from what he described as a struggling retail operation into a successful wholesale fabric business. He said he was the one who suggested the company name to his father-in-law. "You are Jack; you have two daughters. What are you going to call it?" Grunfeld joked.
Grunfeld is married to one of Jack's two daughters, Beatriz. Jack's other daughter, Marta, left the company when Grunfeld bought it. Grunfeld's own two daughters, Karyn, 44, and Jennifer, 40, are not involved in the company.
And despite the fact that no daughters remain involved, he said the name helps. "I profited by it," Grunfeld said "I'll tell you what, nobody remembers the name Jack, but they always say: 'Who is the guy with the daughters?' It's distinctive."
Of course, Jurisich added, "as with any naming trend, if too many companies start doing it, then it becomes a new cliche," he said. "Think 'online,' 'dot com,' the '-ster' suffix that Napster begat, or the many vowel-droppings that followed in the footsteps of Flickr."
Prev Next
For reprint and licensing requests for this article, CLICK HERE.