Catasys Thrives on Data Dives
Health Care: Firm helps providers lower costs
Friday, December 7, 2018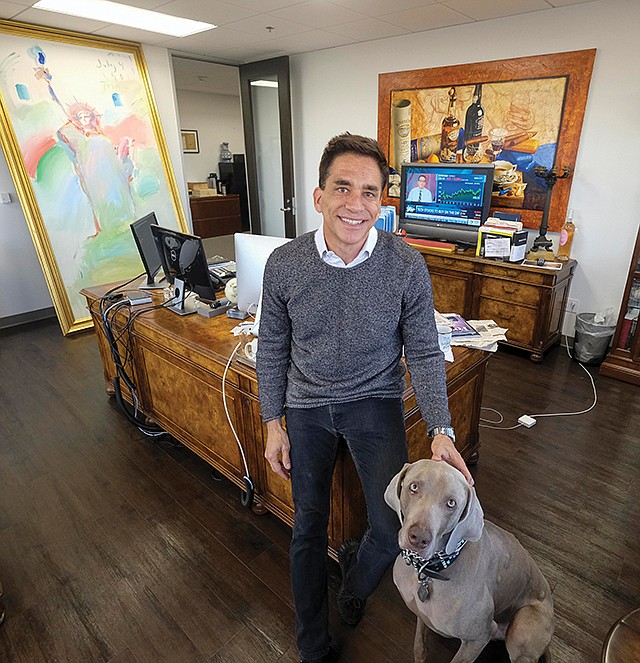 Catasys Inc. is thriving by finding people who don't want what the company sells.
The Brentwood-based health tech company, which administers behavioral health programs, has doubled its earnings this year by pinpointing patients inclined to avoid the type of care it provides.
"It was illogical, counterintuitive, to create a product – and even crazier, build a company – around a product that the consumer doesn't want," said Catasys founder Terren Peizer, its chairman and chief executive. "Getting them into our 52-week patient program is our secret sauce."
The 14-year-old firm employs artificial intelligence to pour through tens of thousands of health insurance claims to identify high-cost, chronically ill managed-care clients who may have avoided treatment for substance abuse, anxiety and depression.
Catasys then convinces clients to enroll in a yearlong outpatient program to treat their behavioral health conditions. The company claims its programs result in a more than 50 percent reduction in annual medical costs to health insurance companies.
The company provides predictive analytics and health care treatment for seven of the nation's eight largest health plan providers.
It's been a banner year – with a surge in enrollments for its OnTrak behavioral health treatment program.
Catasys has enrolled approximately 10,000 members in 22 states. Managed-care health companies Humana Inc., Cigna Corp. and Anthem Inc. each signed contracts with Catasys early this year, followed by Capital Blue Cross while Aetna Inc., Health Alliance Medical Plans Inc. and Health Care Service Corp. all expanded their existing contracts.
"By proactively engaging members facing the burden of depression, anxiety or substance abuse disorders, we hope to overcome the barriers – including stigma – by surrounding these members with the support they need to get on the path to a full recovery, both mentally and physically," Doug Nemecek, chief medical officer for behavioral health at Cigna, said in a statement early this year.
Investment darling
Catasys last month reported it had more than doubled year-over-year revenues in the first three quarters to $9.6 million, with 2018 earnings expected to reach $13.5 million. The company has approximately 400 employees.
Its third-quarter enrollment of OnTrak patients surged 65 percent year over year, with a record 210 percent jump in billings to health insurance clients.
Insurance billings were expected to hit $20 million this year – and reach upward of $45 million in 2019 through accelerated enrollment growth, according to Catasys. The company lost $4.4 million in the third quarter of this year as it focused on growing the number of enrollees.
Investors seem to like the company's trajectory. Shares in the publically traded company have risen more than 200 percent over the past year, boosting the company's value to $170 million. Its stock closed at $11.70 on Dec. 6.
"We just started," Peizer said. "We're in the first batter in the first inning … but the numbers will get very big, very quickly."
The game has also completely changed for Catasys – originally launched as Hythiam Inc. in 2004 – and its founder Peizer, a financier once dubbed a "Zelig of Wall Street" for his investments in dozens of private firms.
A former trader at Beverly Hills-based Drexel Burnham Lambert, Peizer is also known for testifying against Michael Milken, who pleaded guilty to violating securities laws during the junk bond scandal of the 1980s.
Peizer, spurred by a half-brother's struggle with addiction, launched Hythiam in order to market a drug cocktail to treat substance abuse. But the so-called Prometa treatment ran into headwinds after its effectiveness was criticized.
A decade ago, Peizer, a native of Ohio, changed the company name to Catasys, and developed a proprietary system aimed at creating a leading AI- and tech-driven health care company.
Its mission: to solve the hidden, high-cost problem of untreated behavioral health conditions.

Cost reduction
Nearly a third of the total medical bills for managed care patients – or $400 billion, according to Catasys – stems from claims made by those with chronic illnesses such as diabetes, hypertension and congestive heart failure, coupled with depression, anxiety, and alcohol and drug abuse.
There are 4 million patients with these chronic illnesses who also have behavioral health disorders. Patients who fall into both these categories can cost health plans an average of $30,000 a year.
Catasys employs a proprietary analytics platform to search health care claims to ferret out such high-cost patients.

Then it reaches out to enroll them for OnTrak treatment at an average cost to health plans of $6,400 per patient. The program stresses human engagement by a support team of doctors, psychologists and nurse-care coaches.
The company has spent $220 million since its inception to get to this point, Peizer said.

The result, he said, is a drastic reduction in managed care costs. Health care providers see a 54 percent savings per enrolled member – an average of $16,200 a year. Catasys claims that nets out to a 5-to-1 return on a two-year investment. The savings allow health plans to pay all of the patient's treatment costs.
"We were the first ones to have real data to present to the health plans," Peizer said, in a Brentwood office adorned by a Peter Max Statue of Liberty painting, Lakers jerseys and a Cleveland Browns football, and accompanied by his large gray Weimaraner. "You need to use technology – (artificial intelligence), and our analytics – because these patients are care-avoidant. The health plans don't know where they are.
"We find them," he said. "Catasys' success is measured by health care improvement: less visits to the hospital, less ER visits, less inpatient stays. And a longer life."
For reprint and licensing requests for this article, CLICK HERE.