YouWorld's New World
Firm helps retailers reach Chinese millennials
Friday, August 3, 2018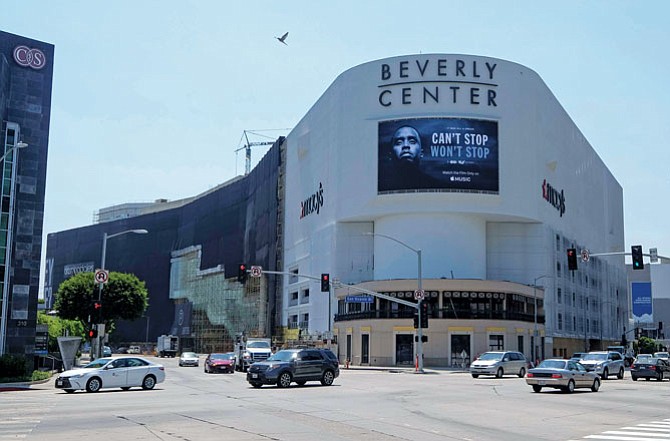 Busloads of Chinese tourists arriving at high-end retailers have been a common sight in Los Angeles for years, and many upscale shopping centers cater to the crowds with events and amenities tailored to the visitors' tastes.
The trend hasn't slowed, with tourism from China to Los Angeles up 6 percent in 2017 to 1.1 million, according to the Los Angeles Tourism and Convention Board. But there's a new challenge for local retailers: Chinese millennial tourists who aren't so keen on the brick-and-mortar shopping experience.
The shift in buying habits has prompted retailers to seek new ways to the draw younger members of the well-heeled crowds from China. It's a push that means new business opportunities for some, including Pasadena-based digital advertising agency YouWorld. The startup aims to connect millennial tourists to local retail centers and other attractions using third-party platforms that are popular among Chinese, such as social media messaging app WeChat and the payment platform app Alipay.
"Millennial tourists from China travel independently and leave their itineraries wide open," said Yuanbo "Bo" Wang, who cofounded the company with Jacqueline Zhao in February 2017. "Nothing is super planned."
The open schedule is a target for YouWorld, which crafts local ads and uses data and location information from WeChat and Alipay to drive foot traffic into brick-and-mortar stores. A Chinese tourist shopping at the Grove, for example, could get ads offering discounts from shops or restaurants at the adjacent Original Farmers Market on their cell phones.
YouWorld has raised $2.2 million in funding, and expects to reach $2 million in revenue this year, Wang said. The company started with a team of four in Pasadena and now counts 20 employees on its payroll, including the employees in an office in Shenzhen, known as China's version of Silicon Valley.
YouWorld clients include brands Tommy Hilfiger, Lancome and Giorgio Armani. It also attracted interest from well-known shopping centers in Los Angeles, including the Beverly Center and the Original Farmers Market, who are interested in reaching millennials visiting from China.
"Our partnership with YouWorld is definitely successful from our point of view," said Carlos Montenegro, manager for tourism and customer service at the Beverly Center. "Utilizing technology in this way is great, the data is there but they have made it useful. It's an easy format for end users and this is yet another avenue in bringing tourists into our stores."
Travel hub
Los Angeles was the No.1 destination for Chinese tourists for the last three years, with a total of 1.1 million Chinese travelers landing in Los Angeles in 2017 alone. Many of them come here specifically to shop.
"There is a thriving Asian-American community in L.A., but that's not the draw," said Lin Wang, director of China market services at Lexington, Ky.-based National Tour Association, or NTA. "Los Angeles is the most convenient gateway from China."
Wang said older Chinese travelers spend their money on electronic and luxury items because of huge price markups on these goods in China.
"The price points for these products if they were to buy in China are 30-50 percent more," he said.
The relative bargains translates to big dollars spent by visitors, and National Tour Association data shows the average Chinese tourist spends somewhere between $6,000 to $7,000 on a U.S. visit.
The younger generation has a similar budget, but spends very differently than older Chinese tourists. The younger tends to spend more on cultural activities as well as food and beverages, NTA's Wang said.
Another key difference: millennial Chinese tourists aren't big on group tour buses, preferring ride-sharing services accessed via apps from Uber Technologies Inc. and Lyft Inc.
That tends to take them away from bigger centers and towards more "experiential" attractions and boutique shopping, according to Kathy Smits, vice president of international tourism at the L.A. tourism board.
"The shift to Chinese millennials also means a shift for us in how we market," she said. "For the older generation, it's all about the big brands, luxury. But with millennials, there's an interest in buying local, getting a bit off the beaten track and exploring neighborhoods. There's much more interest in what's unique rather than group mentality."
Malls fight back
The demographic shift has some retail centers here investing in facilities and programs to help attract Chinese millennial travelers.
"What we want to do is create a seamless experience and increase accessibility for mobile payment options for Chinese travelers, particularly millennials who are on these apps," the Beverly Center's Montenegro said. "A lot of them don't pull out credit cards."
The mall is in the midst of a $500 million renovation slated for completion this fall, and plans to integrate in-store payment options popular among Chinese visitors, including Alipay, Ant Financial Services Group's digital payment system, which is nearly ubiquitous in China. Details about what exactly the Beverly Center's Alipay point-of-service integration will look like are hazy, but shopping center's Marketing and Sponsorship Director Susan Vance said catering to tourists – especially those from China – is critical.
"42 percent or more of our customers are tourists," she said. "We generally don't break it down by country but we do know that our Chinese customers have a very high spend."
Programmatic offerings are also a big attraction – the Beverly Center puts on an extravagant Lunar New Year celebration every year – but traditional marketing like flyers decorations may soon be joined by digital appeals.
"As we look to 2019, we're thinking: how does the Lunar New Year look digitally?" Vance said.
That's a smart play, according to NTA's Wang, who said the Chinese millennials are cellphone-centric.
"Chinese millennials are very mobile-first, they rely on cell phones for everything," he said. "Wechat is the No.1 social media platform where they share their travel experiences and rely on mobile phones for payment. I don't know much about YouWorld but they seem to be on to something."
For reprint and licensing requests for this article, CLICK HERE.