Holiday Planning & Venue Guide: Unforgettable Holiday Parties at L.A. Zoo Lights
Custom Content from the Los Angeles Business Journal
Monday, October 16, 2017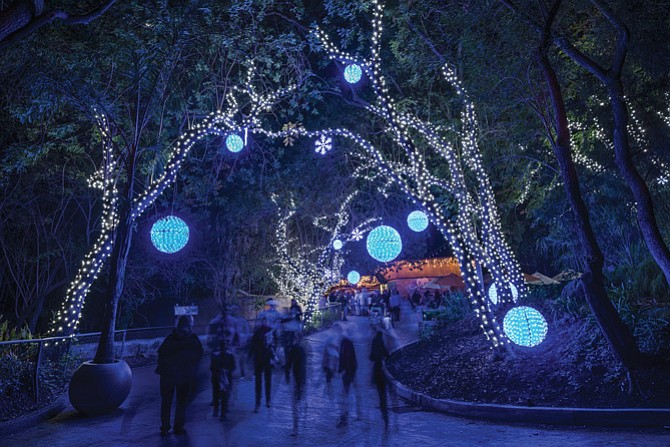 When L.A. Zoo Lights launched at the Los Angeles Zoo in 2014, a new holiday tradition was born. The Zoo was transformed into a dazzling wonderland aglow with spectacular light displays. Each year since then, L.A. Zoo Lights has been bigger, brighter, and merrier than ever before, setting a new standard for holiday magic.
Guests will be enchanted as they make their way to your picturesque party location, gazing at a flurry of giant illuminated animal-motif snowflakes, stunning 3-D animated projections, a glittering light tunnel, a fanciful menagerie of light animals, and so much more.
Your company holiday party can be in the heart of it all, at one of two spectacular venues with breathtaking views of landscapes of light that guests are free to explore before or after your event.
At the larger party location – "Treetops Terrace" – the curved, sweeping ceiling will be draped with hundreds of twinkling lights, with giant LED-lit ornaments of all shapes and sizes suspended from the center. This venue is ideal for up to 500 guests, with adjacent gazebos for smaller gatherings, and a beautiful carousel and glittering photo op nearby.
The smaller location – "Rainforest Stilt House" – is a stunning VIP retreat where up to 150 guests will be ensconced in an open-air traditional Amazonian structure, the second level of which offers unobstructed views of the lights and crowds below. From the lower level, guests can come eye-to-eye with natural wonders – stingrays, red-bellied piranhas, and other aquatic species.
All L.A. Zoo Lights guests can view real animals such as live reindeer at Reindeer Range and the amphibians, invertebrates, and reptiles of the LAIR, which will be aglow with lights. But your party guests can have special, up-close animal encounters as well, with available keeper-led walkabouts featuring your choice of a sugar glider, porcupine, bearded dragon, or many others. Our zookeeper will share fascinating facts about the animal – including the challenges it may face in the wild – and answer guests' questions.
The Zoo is a conservation leader, and encourages everyone – including holiday party hosts and guests – to make good choices for the environment by offering a variety of sustainable options. As a partner in the Monterey Bay Aquarium Seafood Watch program, for example, in-house caterer Taste of the Wild is dedicated to serving in-season, sustainable menu and bar options, including wine, for parties of any size and budget. Compostable tableware is also available.
Not only is the Zoo shining a light on holiday fun, it's lighting the way toward a more sustainable future, by participating and funding vital conservation projects here at home and around the globe. Private events support this very important work. So, by hosting your party at the Zoo, not only will you be giving the gift on an unforgettable experience to your guests, you'll be contributing to the future of wildlife as well.
The Zoo is an exceptional event location any time of day or year. During L.A. Zoo Lights, however, it's nothing short of magical. So treat your guests to a holiday experience that's as iconic as it is unexpected, and as fun as it is meaningful.
Learn more at lazoo.org
For reprint and licensing requests for this article, CLICK HERE.