Private Aviation Guide: Jet Center Los Angeles - Transforming Ordinary to Extraordinary
Custom Content by the Los Angeles Business Journal
Wednesday, October 4, 2017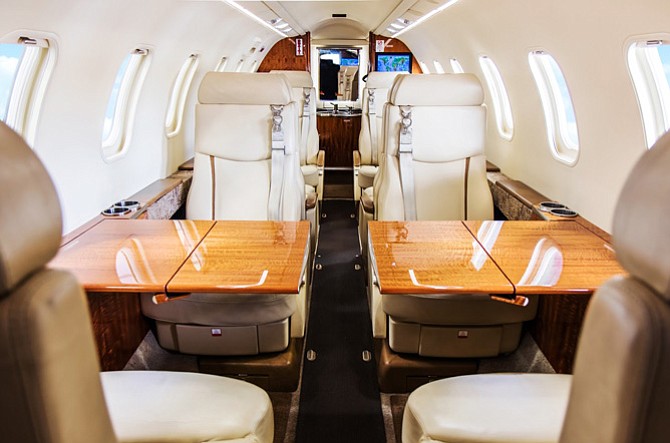 Here in La La Land, it's hard to keep something extraordinary under wraps. The secret is out! Hawthorne and the cities that surround it are, quite literally, booming. Can you hear the rocket blast from local SpaceX's latest launch? How about the roar from the new NFL Stadium currently under construction in Inglewood? Maybe you've heard that Elon Musk and his Boring Company are digging a tunnel under Crenshaw Boulevard? These are just a few indicators of the area's revitalization. We are all witnessing history and the evolution of the previously unknown little communities just east of LAX.
A partner in this revitalization is Jet Center Los Angeles, the premier full-service FBO located at Jack Northrop Field in Hawthorne. Travelers may not realize that Hawthorne (HHR) is the closest airport to downtown Los Angeles and the most accessible location for all of your West LA destinations. With easy access to new sports and entertainment venues (Los Angeles Stadium at Hollywood Park, The Forum, Staples Center and LA Live), top public and private universities (UCLA, LMU and USC), studios and start- ups from motion picture and gaming to Silicon Beach, Jet Center Los Angeles is the most conveniently located FBO and master lease holder of the most convenient private airport in the city.
Don't be fooled into thinking this is simply a matter being in the right place at the right time. Definitely not! The real story involves more than a decade of commitment, collaboration and capital from a dedicated team of entrepreneurs and professionals who share a passion for aviation. Born of this passion was Advanced Air, an innovative aircraft management and charter company that represents the anchor of Jet Center Los Angeles.
Advanced Air's approach to aircraft management is essentially quite simple. The aircraft owners represent the foundation of the company. Perhaps different than many companies approach business, Advanced Air and Jet Center Los Angeles understand that people make the difference. People in this case does not just refer to the exceptional staff but also their clients. They value loyalty and longevity in everything they do. They understand that people have personal relationships with their planes and strive to build relationships with both the people and the planes. These relationships are built on trust and transparency and each aircraft entrusted to the care of this team represents a true partnership between owner and operator.
Said Sales Director, Aaron Krieger, "We have a unique opportunity to shine in this city of glitter and glamour. Relationships mean everything. The market has reacted to our investment in safety, service and crew resources and our management clients are enjoying a steady increase in charter revenue."
Prev Next
For reprint and licensing requests for this article, CLICK HERE.