Corporate Citizenship & Giving Guide: American Cancer Society - Culver City Office
Custom Content by the Los Angeles Business Journal
Thursday, November 30, 2017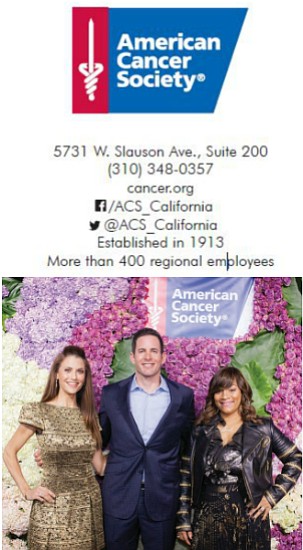 SERVICE AREA
We believe that the 100 years of experience of the Society can be leveraged to make a difference in lower-income countries. This is why we have chosen to work across the full cancer continuum, predominantly in national referral hospitals, often the only facilities where cancer is currently addressed. We seek measurable results in countries where Ministries of Health, hospitals and civil society partners can make the most significant impact.
MISSION STATEMENT
The American Cancer Society is the nationwide, community-based, voluntary health organization dedicated to eliminating cancer as a major health problem by preventing cancer, saving lives, and diminishing suffering from cancer, through research, education, advocacy, and service.
The American Cancer Society's international mission concentrates on capacity building in developing cancer societies and on collaboration with other cancer-related organizations throughout the world in carrying out shared strategic directions.
COMMUNITY IMPACT
At the American Cancer Society, we're on a mission to free the world from cancer. Until we do, we'll be funding and conducting research, sharing expert information, supporting patients, and spreading the word about prevention. All so you can live longer —
and better. Visit cancer.org or call us anytime, day or night at 1-800- 227-2345.
The Society, the largest non-government, not-for-profit funding source of cancer research in the United States, has approved funding for 732 research and training grants totaling $390,000,000.
LEADERSHIP
EXECUTIVE LEADERSHIP
Dan Witzling
Executive Director, LA Central Coast Area
www.cancer.org
Velma Brooks-Benson
Senior Manager, Distinguished Events
BOARD OF DIRECTORS
Los Angeles/Central Coast Board
Carolyn Rhee
Chair
Cody Carras
Lynda Fisher
Willie Goffney, MD.
Deanna Haines
Jen Minard
Melissa Park
Christy Russell, MD.
Bernice Sanders
Stephen Sener, MD.
Rita Singhal, MD.
Brandon Stephenson
Debora Wright
FUNDRAISING EVENTS
Long Beach "Reach for the Stars" Gala on Saturday, June 3, 2017 at Maya Hotel
"California Spirit 32 Gala" on Sunday July 16, 2017 at Sony Studios
San Gabriel Valley Hope Gala on Saturday, September 16, 2017 at the Noor Restaurant
Making Strides Against Breast Cancer Torrance on September 24, 2017 at Charles H. Wilson Park
Los Angeles "Giants of Science" Gala on Saturday, October 14, 2017 at The Four Seasons
Making Strides Against Breast Cancer Los Angeles on October 21, 2017 at LA Convention Center
Making Strides Against Breast Cancer Santa Monica on October 28, 2017 at the Santa Monica Pier
VOLUNTEER OPPORTUNITIES
Want to do a lot of good with a little of your time? Whether it's giving a cancer patient a ride to chemotherapy, helping with the planning of an event, putting together a team for Relay For Life®, or sending an email to friends and family about our cancer screening guidelines, there are multiple ways you can join the fight against cancer, see www.cancer.org for these and many more opportunities.
As an American Cancer Society volunteer you can honor a survivor or a loved one lost to cancer, help people in your local community, and join the fight to cure cancer. Your unique talents will make a real difference, and you can choose from volunteer positions that match your interests, offer flexible scheduling, and allow you to learn new skills. Join us and discover how rewarding it is to be an American Cancer Society volunteer.
GIVING OPPORTUNITIES
Generosity: Cancer's Downfall
Lifesaving cancer research
24/7 patient support
Programs for early detection and prevention
There are many Giving Opportunities such has Event Sponsorship, Corporate Giving, Planned Giving, Personal Fundraising, Memorial and Honor Giving, IRA Donations, and Air and Hotel Points just to name a few, for a complete list or to contact someone for assistance see www.cancer.org.
For reprint and licensing requests for this article, CLICK HERE.