Cava Group Inc. Expands Mediterranean Restaurants, Food Wholesaling, in Los Angeles
Friday, May 19, 2017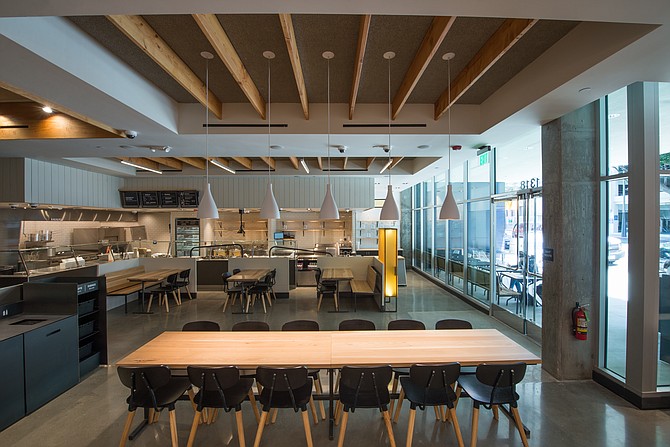 Cava Group Inc., a young Mediterranean food company, is in the midst of an aggressive expansion in Los Angeles after raising a $30 million C series round in March.
The company plans to open the fifth L.A. location of its fast-casual Cava Grill next week, with another scheduled to open later this year, bringing its nationwide total to 43 stores. The Washington, D.C.-based company, backed by America Online co-founder Steve Case, has a Culver City production kitchen where it makes dips and spreads sold in more than 30 Southern California Whole Foods Markets and other specialty stores, as well as another facility on the East Coast.
The company, which began as the Cava Mezze restaurant in 2006 in Washington, D.C., has raised more than $96 million, according to Chief Executive Brett Schulman, from Case's Revolution and from Swan & Legend, both of Washington, D.C., and New York's Invus Group.
Cava Group opened its first L.A. restaurant in Woodland Hills in 2015. Cava Grill allows customers to customize grain or salad bowls for around $10 and has its own online ordering platform.
In March, it opened Cava Grills in Venice and Culver City. Next week it will open a Santa Monica store, and later this year, one at the new USC Village.
Schulman said he saw more room for expansion in the region.
"We're actively looking for additional locations in L.A.," he said. "We feel there's a lot more opportunities in Southern California that we're excited about."
Schulman declined to share revenue figures, but said sales from all restaurants and wholesale accounts increased 80 percent last year, and were projected to do the same this year.
The company, which was founded by Ike Grigoropoulos, Ted Xenohristos, and Executive Chef Dimitri Moshovitis, plans to open 10 more restaurants across the country this year.
Staff reporter Caroline Anderson covers retail, restaurants, and hospitality. She can be reached at canderson@labusinessjournal.com.
For reprint and licensing requests for this article, CLICK HERE.