Wireless Provider's Bell Rung by FCC Chief
INTERNETt: FreedomPop loses line on phone program.
Friday, June 2, 2017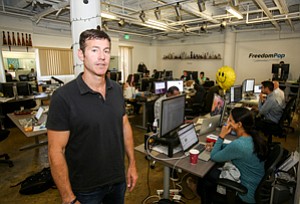 Wireless carrier FreedomPop spent more than $1 million building regulatory-compliant software to participate in the Federal Communications Commission's cellphone subsidy program, Lifeline.
Then came the Trump administration, whose new FCC chairman, Ajit Pai, rescinded FreedomPop's entry to the program, along with that of eight other companies, in February.
FreedomPop's tenure in Lifeline, which provides a $9.25 monthly cellphone subsidy to Americans earning less than 135 percent of the federal poverty level, $16,300, lasted just 2½ months. More than 900 service providers participate in the program, which was launched in 1985 as a way to ensure all Americans have access to phone service.
Stephen Stokols, FreedomPop's co-founder and chief executive, said the Westwood firm still is pursuing direct participation in Lifeline.
"We are still having ongoing discussions with the FCC on multiple fronts," Stokols said.
Pai's rescissions came after he decided the nine firms' approvals were hastily pushed through in the waning days of the Obama administration. Some of those companies were granted entry as late as Jan. 18.
Still, FreedomPop hasn't abandoned efforts to generate revenue from the program, though it's had to come up with workarounds. The company has started licensing proprietary marketing software, which it intended to use to digitally target Americans eligible for the program, to Lifeline-approved vendors such as PWG Solutions. FreedomPop charges those customers an undisclosed fee for every subscriber its software helps sign up.
"(PWG is) going to leverage our technology to reach a much larger population," said Stokols, who noted that though more than 40 million Americans are eligible for the subsidy, only 13 million have signed up.
"Using our digital platform, our carrier partners will be able to reach all 40 million people eligible for the Lifeline program," he said.
That underserved market is a big opportunity for Lifeline service providers, said Nathan Johnson, co-chief executive of TruConnect, a Westwood prepaid cellphone provider that participates in the program.
"There still is a wide unmet gap in that universe that has to be filled," he said. "There is this pent-up demand or unfilled demand for a broad cross section of the public that has not had broadband access except for getting Wi-Fi from the library."
New life
In September, FreedomPop landed a $50 million investment from Luxembourg-based LetterOne. It was the second $50 million infusion the company received last year, following a Series C round in January at what Forbes reported was a $250 million valuation. LetterOne's stake was not disclosed, nor was the most recent valuation.
The company expanded its service to the United Kingdom and Spain last year, and planned to bow in eight Asian, Latin American, and European markets this year.
Its plans include free voice and data service up to a point, after which there are charges for additional usage or services such as a second phone number, more data usage, or anonymous web browsing. The firm, which also sells phones, uses its software to target and upsell customers on extra services, such as extra data for customers who bump up against their allotment of free bandwidth. It operates in a similar manner to no-frills airlines that charge little for flights but tack on fees for baggage, extra leg room, and other features.
FreedomPop has signed up more than 2 million subscribers since its founding in 2011. The company reported to the Business Journal last year that it generated nearly $40 million in revenue in 2015 – an increase of more than 200 percent from the roughly $13 million reported a year earlier.
In addition to its Lifeline customers, FreedomPop signed a software licensing deal in February with one of Italy's largest carriers, Wind Italy, which plans to use the software to identify, qualify, and retain mobile users through a similar freemium offering.
That capability could be useful to Lifeline carriers that have typically relied on grassroots marketing efforts, industry players said.
"The further you get out of urban settings, there is a lack of understanding that this program actually exists," added TruConnect's Johnson.
Marketing for Lifeline is sparse because the FCC subsidy isn't enough to support expensive digital advertising efforts, he said, noting many carriers use street teams to sign up customers. Carriers receive subsidy payments as reimbursements every month.
"The margin overall is so thin," Johnson said. "The first thing to fall is advertising."
That's where FreedomPop wants to insert itself. The company claims its platform can streamline enrollment and microtarget low-income suburban and rural pockets of the nation at one-tenth the cost of the industry's average for customer acquisition, Stokols said.
That should be attractive to a large number of carriers, he added, noting the revenue FreedomPop generates from software licensing could eventually outpace its cell service business.
"It's still a little nascent, but it's growing at a very fast rate," he said. "At some point, it may eclipse the retail business."
For reprint and licensing requests for this article, CLICK HERE.