Trader Joe's Yet to Join Rivals in Push for Delivery, Online Services
Sold on Stores
Friday, July 21, 2017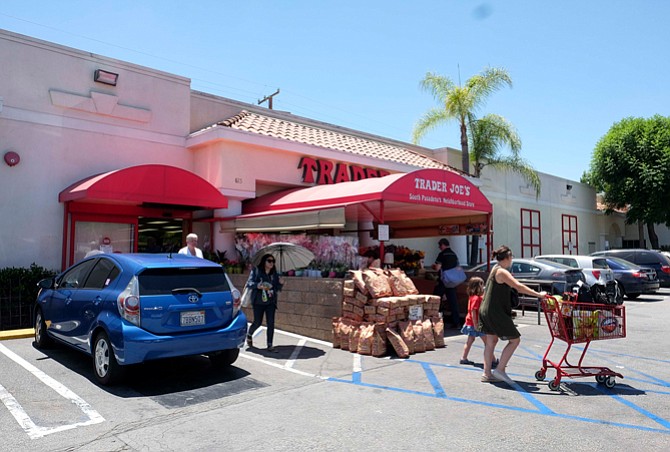 The announcement last month that Amazon.com Inc. planned to acquire Whole Foods Market Inc. lent a sense of urgency to brick-and-mortar grocery retailers dabbling with online ordering.
Except, apparently, for Trader Joe's.
The Monrovia-based chain – which is estimated to have more than $13 billion in annual revenue – has yet to make any of its products available online or for delivery.
The grocer, which like Whole Foods has more than 400 stores, might be able to get away with taking a pass on delivery for now, according to several experts.
"Trader Joe's is one of the few retailers in the near term, up to three years, which is pretty secure," said Diana Sheehan, director of retail insights at London-based industry research firm Kantar Retail. "As we look at who is going to be most impacted by Whole Foods, Trader Joe's is kind of sitting in a little sweet spot."
A Trader Joe's spokeswoman declined to comment. The company is owned by a family trust established by German grocery pioneer Theo Albrecht, and is controlled by German grocery company Aldi Nord, itself a unit of Aldi Einkauf GmbH & Co.
Trader Joe's has created strong customer loyalty with its branded products that often sell for less than national brands, Sheehan said. A reputation for a convenient shopping experience and customer service has won the chain a loyal following.
How that holds up as online shopping and home delivery enters the grocery business remains to be seen.
Less than 2 percent of the $800 billion spent on consumer packaged goods last year came from online sales, according to research firm Tab Analytics Chief Executive Kurt Jetta. But the recent fallout among big apparel retailers caused by a shift to online shopping has made grocers nervous.
"People think even if it's not big now, I don't want to miss the boat when it does get big," Jetta said.
Chains ranging from Whole Foods, Wal-Mart Stores Inc., Kroger Co.'s Ralphs, and City of Commerce-based Smart & Final Stores Inc. offer some form of online delivery, whether through their own company or another party such as San Francisco-based Instacart.
Sheehan expects online sales' share of the U.S. grocery market to reach 5 percent by 2022.
Private label
Joe Coulombe opened the first Trader Joe's store in 1967 in Pasadena. The chain was acquired by Albrecht's family trust from Coulombe in 1979. The company opened its first East Coast store in 1997 and its first Midwest locations in 2000. By 2013, it had 400 stores across the country.
Prev Next
For reprint and licensing requests for this article, CLICK HERE.