Here Comes Newhall
Developer bills project as new green standard, relief on housing crunch
Friday, July 21, 2017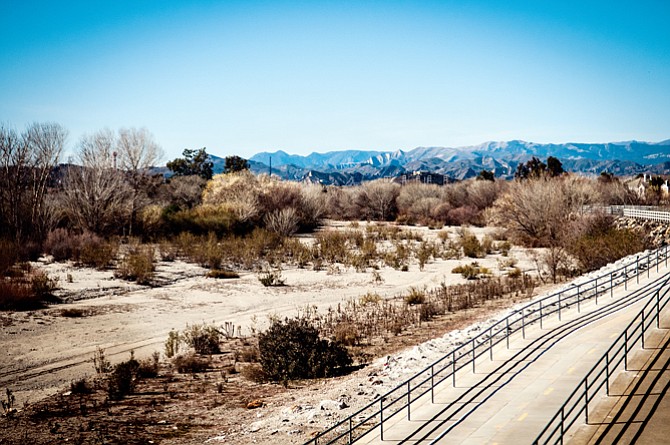 The developer of the master-planned $14-billion Newhall Ranch project on the northern edge of Los Angeles County bills the site as setting a new bar on environmental standards for developers and having a region-wide effect on the residential real estate market.
The effect on the market comes in the form of a rare and significant stock of new housing amid supply that looks to be permanently tight. The first two phases of Newhall Ranch alone call for 5,100 units amid 2.5 million square feet of commercial space that will come online as changes in personal transportation reshape the commuting landscape for the local labor force.
The overall number of units in the first two phases would represent an increase of more than 25 percent of the total units for which permits were issued in Los Angeles County last year, according to reports based on recent data.
The Santa Clarita Valley site of the Newhall Ranch project is "one of the only areas in proximity to greater Los Angeles job centers – downtown, Burbank, the San Fernando Valley and others – that can provide a significant addition to housing in a county that's going through a housing crisis," said Emile Haddad, chief executive of Aliso Viejo-based Five Point Holdings.
Five Point is publicly traded developer with a market capitalization of nearly $2.1 billion. It has an ongoing development on the market next to the Newhall Ranch land in Valencia, and large master-planned projects in various stages at the Great Park in Orange County and the Shipyard in San Francisco.
Haddad earlier this year accepted an appointment as chair of USC's Lusk Center for Real Estate.
Affordable housing
Much of the housing at Newhall Ranch will offer the opportunity for single-family units at prices ranging from affordable by standards of government policy to reasonable according to market conditions.
A total of 550 units in the first two phases – about 10 percent – will be set aside for low-income buyers. Market-rate units will start at around $350,000 and range upward. The median price for single-family detached homes at Five Point's neighboring developments in Valencia is $630,000, and $575,000 including attached units.
Haddad said the development will offer some relief in a market where a shortage of new units compared with population and job growth is "pushing prices up, and there's a compounding effect."
"Everybody thinks the answer is vertical development downtown and infill," he said. "But you can't build homes affordably that way – building a high-rise is basically building an expensive home."
The relative distance from the Newhall Ranch project to downtown and other similar employment centers could become less of a factor as ride-sharing services such as Uber and Lyft – and the seemingly inevitable advent of autonomous vehicles – play an increasing role in supplementing fixed transit assets such as rail lines.
"You still need a car for rail in Southern California because you have to get to the stations," Haddad said. "But now you can take Uber or another service to and from the station, and that's going to change the way people view rail – and we have two train stations" in the Newhall Ranch area.
Environmental standard
The new bar on environmental standards that Haddad cited for the Newhall Ranch project has been set with a plan that makes the project what the developer bills as a "zero-net greenhouse gas emissions community." Elements such as electric vehicle subsidies and charging stations throughout the 21,500-home project, among others, are part of a commitment to steps that are estimated to offset emissions elsewhere to render the greenhouse effect of the project neutral.
Five Point's other offsets will range from funds to pay for environmental upgrades to buildings in low-income areas around Los Angeles County to providing cleaner cookstoves in a bid to cut emissions in Africa.
Bridges
Five Point also figured bridges over waterways into its plan, removing the threat to a species of fish that had drawn the attention of the California Department of Fish and Wildlife.
The supervisors' vote last week looks to have cleared the way after nearly 20 years of challenges and although there's still the possibility of challenges delays (see related Commentary, page 36).
The immediate effect of any further challenges to the first phase would likely be a delay on work on the 5,500 units of housing – with about 620 lots for single-family homes – along with 2.5 million square feet of commercial space and spending on attendant improvements to public infrastructure.
The first two phases of the development mark the initial steps in bringing to fruition the entire Newhall Ranch plan – 21,500 residential dwellings, 11.5 million square feet of commercial and industrial space, seven schools, 275 acres of parks and 60 miles of trails on 15,000 acres.
The development could spur as many as 60,000 jobs and as much as $800 million in annual tax revenue.
Newhall Land & Co., the company that master planned and built Valencia starting in the 1960s, is now part of FivePoint.
Haddad has been involved with the Newhall Ranch proposal for 14 years. He said the next phases of the project – approvals for the additional subdivisions – should be easier to get because it now has state approval of environmental permits, and those relate to all of Newhall Ranch.
"This allows us to move forward," he said. "It's very important for us to keep going."
Newhall Ranch was controversial from the start.
As proposed, the development sits adjacent to Valencia between the 5 freeway and the Ventura County line near the Six Flags Magic Mountain theme park.
Ventura County and its cities of Santa Paula and Moorpark, as well as Santa Clarita itself, opposed its size and cited potential traffic congestion, air pollution, school overcrowding and strains on infrastructure, water and resources.
Environmentalists dogged the project as well, winning appeals in the courts to various government approvals and filing lawsuits. They pointed out potential dangers to the Santa Clara River's 14 endangered bird species and the area's air quality.
A state Supreme Court ruling in 2015 overturned the county's approval that Newhall Ranch won 10-plus years ago, and determined that an environmental impact report prepared for the project by the Army Corps of Engineers and the California Department of Fish and Wildlife didn't sufficiently analyze potential greenhouse gas emissions and protection measures for an endangered fish species.
FivePoint came back with its plan to build Newhall Ranch as a net-zero greenhouse gas emissions community through measures within and outside the community. The California Air Resources Board, the Department of Fish and Wildlife and L.A. County's Department of Regional Planning have given the plan their approvals.
Opponents
Some longstanding opponents of the project questioned the developer's plan to create what could be a one-of-a-kind zero-net greenhouse gas emissions community with onsite and offsite measures to minimize and offset emissions.
David Warren, member of the conservation committee of the Angeles chapter of the Sierra Club, testified that there was strong opposition to the project expressed in letters in the Environmental Impact Report.
"There are many greenhouse gases that remain unaddressed in this," Warren said.
Others pointed out what they felt were oversights, such as not addressing industrial and road surface emissions, whether people will buy electric cars even with the developer's plan to provide subsidies, alleged insufficient water and increased traffic.
Numerous business groups, executives and a local labor union, meanwhile, cited the benefits of pending jobs and potential future employers who would be attracted to a zero-net community and new industrial space.
Bill Allen, chief executive of the Los Angeles County Economic Development Corp. in Los Angeles, called the two villages and the overall Newhall Ranch project potentially a "game-changing project for Santa Clarita Valley and L.A. County as a whole."
"This would be a powerful engine for prosperity countywide," he said.
Matthew Shepherd, chief financial officer for Scorpion internet marketing in Valencia, said most of his company's 400-plus employees live in and near Valencia.
"This is critical for long-term job growth and development; it's critical to a thriving future in this part of L.A.," Shepherd said.
Sustainable incubator
The jobs and tax numbers that Five Point estimates will result from its massive project are tempting to economic development officials and politicians.
L.A. County Supervisor Kathryn Barger of the 5th District, which includes Santa Clarita Valley, motioned to approve both projects at the hearing, saying "it's been a long time coming" through the changes Newhall was required to make during project construction.
"They brought back a project I think is far better, that will be a model in the state, and I believe the nation," Barger said.
Net Zero Newhall is expected to be one of the leading job and company attractors to the area, according to local economic development officials.
Holly Schroeder, chief executive of the Santa Clarita Valley Economic Development Corp., said that incorporating clean technology, advanced transportation, digital city technology and other elements will help Newhall Ranch attract companies in those spaces that will be able to work on building it from the start, rather than retrofitting an existing community.
"We think that the project gives us a significant business attraction advantage from that ground-up opportunity," Schroeder said.
Construction also will attract jobs, she explained, as the typically temporary jobs that come to an area for building projects will really be permanent ones.
"It will be an economic driver for decades to come," Schroeder said.
Carol Lawrence is a reporter for the San Fernando Valley Business Journal, a sister publication.
For reprint and licensing requests for this article, CLICK HERE.