Profit From In-Game Sales Not Easily App-arrent
INTERNET: USC report says transactions concentrated among few hits, big spenders.
Friday, February 10, 2017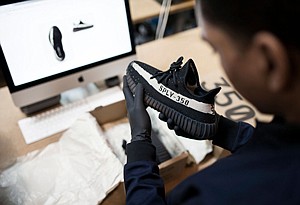 The company's funding will be used to accelerate its planned push for domestic and international revenue growth. Goat anticipates hiring employees for engineering, operations, product, and marketing roles to support its expansion. The company also plans to open facilities to improve operations and logistics.
Eddy Lu, chief executive and co-founder, said in an email that he believes the sneaker resale market is worth more than $2 billion annually and is growing. The company has been able to tap into that market by focusing on building trust and ensuring safety between buyers, issues which slowed sneaker reselling on websites such as eBay.
Also, he credits clever marketing tactics.
"It was just a few months after we launched and we decided to take a loss leader marketing approach, where we offered the year's most coveted sneaker releases at their original retail price," said Lu. "This means sneakers like the Yeezy Boost 350 (an Adidas sneaker designed by rapper Kanye West) that can go for $2,000 or more were available at the original price of $200 again. Several streetwear publications covered it and that's when we really started to grow."
Goat has raised a total of $37.6 million in venture funding since its founding in 2015. Its $25 million round also included existing investors Matrix Partners, Santa Monica's Upfront Ventures, and Webb Investment Network.
Ryan Sweeney, general partner at Accel, will join Goat's board.
Residual Checks
After years of stalled negotiations among entertainment union SAG-Aftra, movie studios, and other entertainment firms, a direct-deposit residual payment system for union members has been agreed upon, facilitated by tech startup Exactuals of Westwood.
"There have been a number of initiatives in the past that were efforts to build an industrywide direct deposit residual payment system," said David White, SAG-Aftra national executive director. "Those efforts fell apart."
Exactuals succeeded where others had failed because it was a third party with no political or institutional ties, he said.
"It took them some time to learn the system, but they were patient and they built the system in a way that worked for SAG-Aftra, and for the studios, and the (other) payers," said White.
Staff Reporter Garrett Reim can be reached at greim@labusinessjournal.com or (323) 549-5225, ext. 232.
Prev Next
For reprint and licensing requests for this article, CLICK HERE.