Gifts for Cedars-Sinai Accelerator Grads: Contracts
Microsoft, Amazon.com among customers for various health apps, devices
Friday, December 15, 2017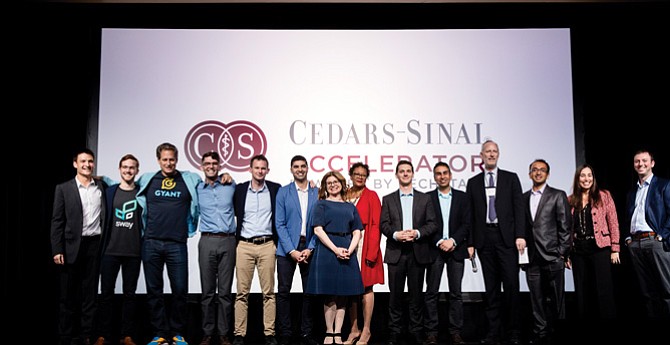 They each weathered a 90-day business boot camp at Cedars-Sinai Medical Center designed to jump-start health care startups from across the world.
And the 10 fledgling firms that graduated from the program at the Beverly Grove campus this month sauntered off with a combined $1.2 million in financial backing.
Some emerged with more, too, thanks to new contracts to sell digital health apps or medical devices to Amazon.com Inc., Microsoft Corp. and various hospitals, health care providers and university researchers.
"We're excited," said Omkar Kulkarni, director of the Cedars-Sinai health care accelerator program. "Technology can always support better quality, and better efficiency. This program … allows us to closely work with these companies to select the best emerging tech for our organization."
The third Cedars-Sinai Accelerator Powered by Techstars, as it is formally known, provided 10 companies out of more than 600 applicants with 90 days of business training, mentors, access to world-class physicians and exposure to global network. The next accelerator will start Jan. 8.
Each firm received $120,000 in backing, including a $20,000 stock purchase and $100,000 in a convertible note for future investments by Cedars-Sinai and Techstars.
On Dec. 6, entrepreneurs from each company paraded their products during a "Shark Tank"-style Demo Day at the Beverly Hilton before 75 venture capital firms and angel investors.
The upshot for Aiva Health, a Culver City company founded by tech guru Sumeet Bhatia that pioneered the first bedside voice assistant for hospitals and clinics: signed contracts with Amazon, Sheridan In Home Care, Cedars-Sinai and Henry Mayo Newhall Hospital, Cedars-Sinai officials say.
The company aims to have a thousand devices – at $100 per bed, per month - in use by mid-2018.
CancerAid of Sydney, Australia, signed with Cedars-Sinai to provide a mobile app that alerts doctors of unusual patient symptoms. The company now plans to open an office in Los Angeles.
Seremedi's CareScriptions of Houston, Texas, devised a mobile app that helps patients with complex cancer surgeries. It not only signed with Microsoft to sell its app to hundreds of hospitals nationwide, but Seremedi also plans to soon move its headquarters to L.A., a decision made in the wake of Hurricane Harvey earlier this year.
USC in Alzheimer's Consortium
Alzheimer's disease research got a big boost from the National Institutes of Health this month that will be shared by the Keck School of Medicine of USC.
The federal funds will go to a consortium that includes USC, the Mayo Clinic and two hospitals affiliated with Harvard University.
The new Alzheimer's Clinical Trial Consortium, expected to receive $70 million in the next five years, will create a central brain trust, USC researchers say.
It will provide a centralized service to recruit diverse participants for Alzheimer's studies, run clinical trials, collect and analyze troves of data and share information, software, instruments and biologic samples.
The consortium aims to build an initial network of 35 Alzheimer's disease trial sites at top universities across the nation to conduct between five and seven trials within the next five years.
Treatment of Alzheimer's – a neurodegenerative disease that affects nearly 6 million mostly elderly Americans – has been hampered by a bottleneck in clinical studies for potential treatments.
"A new therapy for Alzheimer's disease has not been approved in the past 14 years, and none of the approved therapies actually change the course of the disease," said Paul Aisen, director of the USC Alzheimer's Therapeutic Research Institute in San Diego, a principal investigator of the NIH grant, in a statement.
Biotech Update
Puma Biotechnology Inc. of West Los Angeles last week fended off a challenge to its European patent licensed for its Nerlynx (neratinib) breast cancer drug. The drug, approved in the U.S. in July, is awaiting approval overseas.
Arrowhead Pharmaceuticals Inc. of Pasadena said results of a Phase 2 clinical trial of its genetic therapy for chronic hepatitis B infection known as RNAi showed favorable results.
Genervon Biopharmaceuticals of Pasadena presented findings of its GM604 amino acid peptide drug for Lou Gehrig's disease it said showed some favorable indicators. It has filed a patent for its novel treatment for the disease – formally called amyotrophic lateral sclerosis – and has a Phase 3 study in the works.
Dana Bartholomew is a staff reporter. He can be reached at dbartholomew@labusinessjournal.com or 323-556-8333.
For reprint and licensing requests for this article, CLICK HERE.