Bankrupt Shipping Line in Fight Over Fuel Bill
TRADE: Federal marshals arrest Hanjin cargo ship as creditors pursue payment.
Friday, September 16, 2016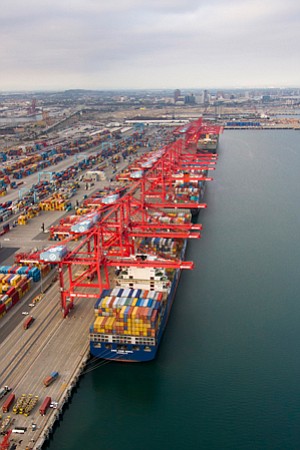 Almost two weeks after Hanjin Shipping Co. filed for bankruptcy protection, a cash infusion allowed its vessels to begin moving again. But while two ships were able to unload their cargo at the ports of Long Beach and Los Angeles, one vessel remained at anchor last week.
That ship, the Hanjin Montevideo, is now in the cross hairs of a legal battle between the South Korean company and two of its creditors, and it's just one of dozens around the world that may remain in legal limbo until Hanjin's fate is decided.
After offloading its cargo in Long Beach just as Hanjin was filing for court receivership in South Korea, the Montevideo was arrested by the U.S. Marshals Service under orders of a U.S. District Court judge, who ordered the ship to remain in the harbor until two fuel companies were paid a combined $778,000 owed by Hanjin.
World Fuel Services Inc. of Miami and OceanConnect Marine of Singapore filed complaints against Hanjin for allegedly failing to pay for fuel they had provided the Montevideo. According to court documents, World Fuel is owed almost $489,000, while OceanConnect is owed about $288,000.
"We're waiting to get paid and then they can go," said Neil B. Klein, a partner with McKasson & Klein in Irvine who represents the fuel companies.
Split Picture on Cargo at Ports
Los Angeles sees rise in August while Long Beach numbers dip
The Port of Los Angeles had the second-busiest month in its 109-year history in August, while the neighboring Port of Long Beach saw overall cargo numbers decline year over year.
Los Angeles handled 798,932 20-foot equivalent units, a measurement based on 20-foot-long cargo containers, port officials announced last week. That was up 1.5 percent from August of last year, including a less than 1 percent rise in imports and about a 6 percent increase in exports.
Those cargo numbers were only surpassed in October 2006. For the first eight months of 2016, port officials said, year-to-date volume has increased 4.3 percent compared with 2015.
"Strong numbers on both our import and export cargo during the industry's peak season indicates confidence in our ability to meet supply chain expectations," Gene Seroka, executive director of the Port of Los Angeles, said in a statement.
By comparison, Long Beach saw exports surge 14.8 percent in August compared with the same month in 2015, while imports dropped 10 percent. Year to year, overall cargo traffic was down 8.9 percent.
For the calendar year, cargo volumes are down 2.9 percent at the Port of Long Beach compared with the first eight months of 2015.
The dual ports, which together handle 40 percent of the goods brought into the United States, haven't seen the usual surge in traffic that precedes the holiday shopping season, which has been attributed in part to an unusually large inventory held by many retailers.
Cargo carriers have struggled to make ends meet postrecession as shipping demand and prices have fallen while many shipping companies have added vessels to their fleets.
– Paul Eakins
After Hanjin filed for bankruptcy protection in U.S. Bankruptcy Court in New Jersey, a judge last week issued a stay that affected many such ship arrests, allowing many vessels at ports around the country to sail.
The Montevideo was exempt from the stay, however, in part because Hanjin was leasing the ship and isn't the owner. Klein said the United States has a rare maritime law that allows a ship that has been supplied with fuel or other necessities to be seized if money is owed, even if the vessel's operator isn't the actual owner.
"It gives Hanjin the option of paying off the claim or gives the vessel's owners the option of paying off the amount owed," Klein said.
Relief arrives
Around the world, dozens of Hanjin ships were seized or denied access to ports because of their inability to pay docking fees, as the world's seventh-largest cargo carrier drowned under $5.5 billion in debt.
This led to a global tumult in goods movement, as cargo has gone undelivered or has piled up at docks. Hanjin handles more than 10 percent of the cargo at the Port of Long Beach and operates the largest terminal there.
Last week, shippers got some relief after Hanjin Shipping's parent company, Hanjin Group, pledged $90 million to get the vessels moving again and the shipping company's largest shareholder, Korean Air Lines Co., approved $54 million in funding.
The good news helped one client of Richard P. Ormond, a senior partner at downtown law firm Buchalter Nemer who represents a number of West Coast manufacturers.
He said the textile company, which he wouldn't name but produces luggage and apparel, had about $3 million in goods waiting to be offloaded from two ships at the Port of Long Beach. That cargo, which was bound for retailers such as Target, Wal-Mart, and Macy's, finally reached the ports of Los Angeles and Long Beach over the past week.
Still, Ormond said, the company is very cautious about the prospects of getting the rest of its products moved.
"I have heard from some of my clients that they're worried that these goods won't make it to the shelves by Black Friday," Ormond said.
He said he wondered whether there will be enough money to allow other Hanjin ships forced to stop midvoyage to dock as well. More vessels are expected to arrive at West Coast ports in the coming days, including two more at the Port of Long Beach, according to the Marine Exchange of Southern California.
"Unfortunately, we're now in a wait-and-see mode to see what gets unloaded," Ormond said.
Even if all of the Hanjin ships got moving again, this could be just a short-term solution. The courts will decide whether Hanjin will survive in the long term, what will ultimately become of its fleet, and what remedy its clients and creditors might have.
Klein isn't optimistic about the outcome.
"I think that the bankruptcy in Korea is a liquidation not a rehabilitation," he said. "I don't think Hanjin will rise from the ashes."
For reprint and licensing requests for this article, CLICK HERE.