Facebook Sending Message to Snapchat
INTERNET: Social media giant vies with upstart for millennials.
Friday, October 21, 2016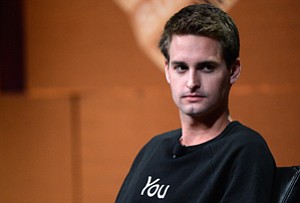 If you can't buy it, you can always try building it yourself.
Three years after Facebook Inc.'s $3 billion acquisition offer for Snapchat was rejected, the Menlo Park social network is busily trying to reverse-engineer its rival one feature at a time. And it has seen some success.
Facebook's Instagram platform earlier this month announced that its photo and video slide-show feature called Stories – a clone of Snapchat's feature of the same name launched in 2013 – had grown to more than 100 million daily active viewers in just two months. Facebook has also started testing a similar feature within its Messenger app in Poland and Australia.
Facebook's effort to reconstruct Snapchat's most appealing feature comes at a critical time for Venice-based Snap Inc., parent of the ephemeral messaging and content app. The company, helmed by Chief Executive Evan Spiegel, is reportedly eyeing a March initial public offering at a $25 billion valuation. That sum is based largely on the perceived worth of the app's youthful audience, which is enticing to advertisers. In September, it was reported that Snapchat had 150 million daily active users; the company said in March that about 23 percent of its monthly active users fell between the ages of 13 and 18.
Yet while Snapchat has become the vanguard of the social media scene, the threat posed by Facebook (market cap $377 billion) cannot be overlooked.
Instagram's Stories feature is a clear attempt to go after Snapchat's youthful market, and Facebook hasn't stopped there. It updated its WhatsApp messaging app this month to allow users to share drawings and cartoon figures with one another – again, something Snapchat did first.
While it has not yet started monetizing these features, Facebook sees value in younger users not only for their present-day advertising potential but also because it hopes to keep them as active users for years to come, a proposition Snapchat has not yet established.
"Copying a lot of Snapchat features is not so much them trying to bury Snapchat, but (Facebook) can see the writing on the wall," Will Thompson, associate director of New York digital agency Giant Spoon, said of Facebook's efforts. He noted that Snapchat's functionality has become favorite way for users to share video content. "There's no shame in blatantly copying something that's obviously going to be the future of how we consume content."
The short-term impact is clear, too: Snapchat is projected to generate $367 million in advertising revenue this year and nearly $1 billion in 2017, according to a report by eMarketer.
"If you look at the numbers, it's got to be concerning to Facebook to see that interest level going vertical for Snapchat," said Gene Munster, an analyst with Piper Jaffray in Minneapolis who tracks Facebook.
Representatives of Snap and Facebook declined to comment.
Substantive threat?
Should Facebook succeed, Wall Street analysts could potentially view its gains as a threat to Snapchat's core asset.
Consider: Shares of GrubHub Inc. fell more than 2 percent on the morning of Oct. 19 after a report emerged that Facebook plans to add a food-delivery option. While GrubHub's share price rebounded, it's clear that Facebook's moves can have a major impact on competitors.
But that hasn't happened yet with Snapchat, said Munster.
"They've been trying to beef up (Facebook) over the past year and it hasn't had an impact on Snapchat," he said. "My general sense is Snapchat's vertical growth will continue."
Facebook still has some work to do in terms of attracting young people. Despite its massive base of 1.1 billion daily active users, only 52 percent of U.S. teenagers said they use Facebook once a month, on average, compared with 80 percent who said they use Snapchat, according to a survey conducted by Piper Jaffray.
"Facebook as a company has a growing and aging audience and they are going to be in a battle against Snapchat for engagement with youth," said Mike Jones, chief executive of Santa Monica startup studio Science Inc. Jones also served as CEO of Myspace between 2009 and 2011.
Working in Snapchat's favor is that the company has yet to fully monetize its platform, Jones said, noting that the firm's ad platform has a limited ability to target individual users based on their behavior and implied demographics – functions that marketers highly value.
"Snapchat's core audience is extremely undermonetized," he said.
While both companies have more room for growth, it's not clear if the social media rivals will be able coexist over the long term without negatively impacting each other's business.
"I think Facebook would like to own all social media just like (Amazon.com Inc.) would like to own all retail," said Michael Pachter, managing director of downtown's Wedbush Securities Inc.
Jones said the two companies will likely be trying to one up each other for years to come.
"Facebook is certainly playing a winner-take-all game with Snapchat," he said.
For reprint and licensing requests for this article, CLICK HERE.